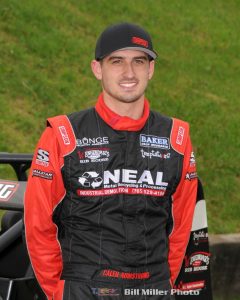 By T.J. Buffenbarger
ANDERSON, Ind. (May 25, 2017) – For the second consecutive year Caleb Armstrong will lead the field to the green flag during the Pay Less Little 500. Armstrong won the pole position for the second year in a row during Thursday's first round of qualifications. Armstrong's four lap time of 15.164 seconds edged out Kyle Hamilton for the pole by one hundredth of a second.
Armstrong will share the front row for Saturday's event with Hamilton and defending champion Kody Swanson. The top 15 qualifiers are locked into Saturday's Little 500 while positions 16-33 can requalify on Friday.
High profile Little 500 rookies Tony Stewart and Ken Schrader also made their first qualifying efforts for the race on Thursday. Stewart ended up 18th while Schrader was 21st.
69th Pay Less Little 500
Anderson Speedway
Anderson, IN
Friday May 25, 2017
First Round Qualifying (Top 15 qualifiers locked in to Saturday's Little 500)
Pos. Car # – Driver, Lap 1, Lap 2, Lap 3, Lap 4, Time
1. 7c – Caleb Amrstrong, 11.383, 11.228, 11.296, 11.257, 45.164
2. 5 – Kyle Hamilton, 11.571, 11.298, 11.156, 11.149, 45.174
3. 4 – Kody Swanson, 11.584, 11.317, 11.232, 11.150, 45.283
4. 4 – CJ Leary, 11.404, 11.324, 11.322, 11.377, 45.427
5. 7 – Jacob Wilson, 11.410, 11.370, 11.379, 11.316, 45.475
6. 16 – Austin Nemire, 11.440, 11.354, 11.292, 11.394, 45.480
7. 3 – Jerry Coons Jr., 11.475, 11.336, 11.365, 11.334, 45.510
8. 22A – Bobby Santos III, 11.637, 11.423, 11.328, 11.257, 45.645
9. 5g – Chris Windom, 11.647, 11.422, 11.324, 11.301, 45.694
10. 27 – Brian Gerster, 11.523, 11.345, 11.368, 11.464, 45.700
11. 8 – Chris Neuenschwander, 11.671, 11.420, 11.331, 11.326, 45.748
12. 59 – Scott Hampton, 11.755, 11.438, 11.337, 11.228, 45.758
13. 51 – Russ Gamester, 11.544, 11.403, 11.429, 11.393, 45.769
14. 4 – Shane Cottle, 11.616, 11.515, 11.465, 11.432, 46.028
15. 88 – Jimmy McCune, 11.575, 11.531, 11.493, 11.474, 46.073
16. 12 – Nick Hamilton, 11.605, 11.521, 11.487, 11.503, 46.116
17. 26 – Aaron Pierce, 11.707, 11.521, 11.510, 11.462, 46.200
18. 69 – Tony Stewart, 11.640, 11.546, 11.617, 11.405, 46.208
19. 18 – Travis Welpott, 11.704, 11.589, 11.518, 11.516, 46.327
20. 20 – Shane Hollingsworth, 11.776, 11.568, 11.581, 11.464, 46.389
21. 99 – Kenny Schrader, 11.745, 11.550, 11.533, 11.571, 46.399
22. 31 – Don Hamilton, 11.983, 11.653, 11.421, 11.366, 46.423
23. 55 – Shane Butler, 11.821, 11.628, 11.577, 11.501, 46.527
24. 1 – Davey Hamilton Jr., 11.840, 11.674, 11.645, 11.461, 46.620
25. 44 – Brian Tyler, 11.795, 11.608, 11.662, 11.600, 46.665
26. 71 – Brian Vaughn, 11.918, 11.672, 11.596, 11.585, 46.771
27. 0 – Doug Dietsch, 11.797, 11.757, 11.742, 11.664, 46.960
28. 2 – Issac Chapple, 11.863, 11.782, 11.756, 11.722, 47.123
29. 4 – Donnie Adams, 11.934, 11.861, 11.769, 11.704, 47.268
30. 9 – Jason Fuller, 11.931, 11.712, 11.986, 11.741, 47.370
31. 64 – Tyler Roahrig, 12.035, 11.938, 11.777, 11.752, 47.502
32. 68 – Mickey Kempgens, 12.145, 12.041, 11.935, 11.754, 47.875
33. 27 – Chris Jagger, 11.937, 12.043, 11.827, 12.129, 47.936
34. 45 – Mark Hall, 12.183, 12.121, 12.039, 12.195, 48.538
35. 5 – Dameron Taylor, 12.755, 12.449, 12.405, 12.487, 50.096
36. 97 – Grant Thormeier, 12.802, 13.035, 12.820, 12.850, 51.507
37. 14 – Doug Fitzwater, 13.038, 12.833, 13.102, 12.942, 51.915
38. 11 – Tom Patterson, 12.516, 12.338, 12.218, 12.440, 49.512