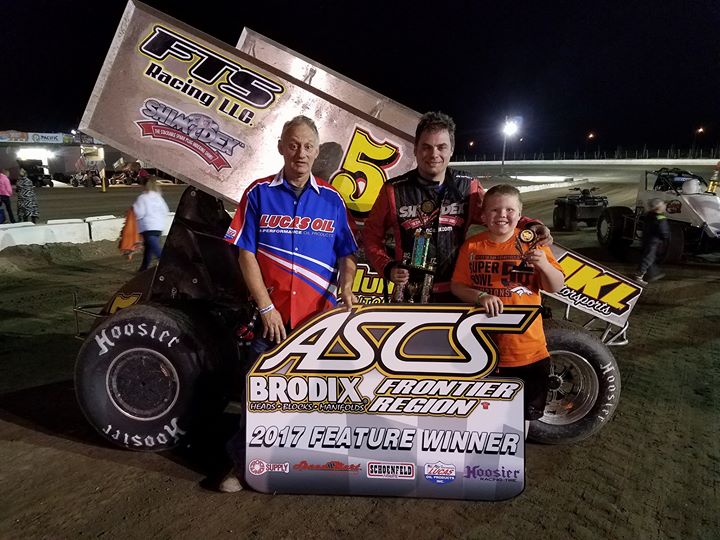 Andrew Kunas
RAPID CITY, S.D. (June 2, 2017) Eric Lutz was wanting to do something a little different from the usual, so he went west. The move paid off as he took the win in Friday's season opening event with the Brodix ASCS Frontier Region at Black Hills Speedway. Opening weekend for the ASCS Frontier Region provided the opportunity to face some different competition. The win comes in his second visit to the Rapid City half-mile.
Driving his own No. 5 Maxim, Lutz worked around Clint Anderson for the lead early in the 25-lap feature after starting outside the front row. He then held off a determined D.J. Brink to take the victory, his first with the Frontier Region.
"We learned the layout of the place the first time we were here, and we learned a bit of what not to do," said Lutz. "We used some of that experience tonight, and we're basically learning to race against different racers and gain some experience."
Lutz's machine was on par with most others in Turns 1 and 2, but was superior to most others using the bottom of the track in Turns 3 and 4. He used that to make the move on Anderson.
"Clint was better in one and two, but we found the bottom in three and four and it really helped us," commented Lutz.
Anderson eventually dropped out with mechanical issues.
Brink, who finished second in the ASCS Frontier Region point standings last year, made a number of runs at Lutz, but simply ran out of laps.
"We were close. The car got a lot better at the end of race, for sure," commented Brink. "I had that run off of 3 and 4 on the last lap. One or two more laps might have been a difference, but Eric was very consistent. He's a good driver."
Ned Powers placed third to make it all South Dakota podium. David Hoiness, from Billings, was able to hold off Helena, Montana's Trever Kirkland, who had one of the better runs in feature after starting 11th on the grid.
Rich Martin, Eric Flatmoe, Mark Chisholm, Shad Petersen and Robert DeHaan completed the Top 10.
A field of 20 was on hand Friday at Black Hills Speedway. The series will return to the Rapid City oval on Friday and Saturday, July 14 and 15, along with the Lucas Oil ASCS National Tour.
Racing continues this weekend at Gillette Thunder Speedway on Saturday, June 3 with a 7:00 P.M. (MDT) start time.
More information on the ASCS Frontier Region, National Tour and other ASCS regional tours, including schedules and results, can be found onine at ascsracing.com. You can also find the series on Facebook.
Race Results:
ASCS Frontier Region
Black Hills Speedway – Rapid City, S.D.
Friday, June 2, 2017
Car Count: 20
Heat 1 (8 Laps): 1. 9A-Clint Anderson, [5]; 2. 27DD-David Hoiness, [7]; 3. 2-Shad Petersen, [2]; 4. 4-Adam Speckman, [6]; 5. 33-Robert DeHaan, [4]; 6. (DNF) 10-Anthony Farnsworth, [1]; (DNS) 77-Damon McCune,
Heat 2 (8 Laps): 1. 5-Eric Lutz, [6]; 2. 29-Eric Flatmoe, [3]; 3. 24M-Rich Martin, [5]; 4. 11-Mindy McCord, [2]; 5. 8X-Randy Dolberg, [1]; 6. 7-Mike Sires, [7]; 7. 56-Butch Capshaw, [4]
Heat 3 (8 Laps): 1. 75-D.J. Brink, [1]; 2. 0-Ned Powers, [6]; 3. 56X-Mark Chisholm, [5]; 4. 37-Trever Kirkland, [4]; 5. 00-Roger Cummings, [2]; 6. (DNF) 66-Lany Reber, [3]
A Feature (25 Laps): 1. 5-Eric Lutz, [2]; 2. 75-D.J. Brink, [6]; 3. 0-Ned Powers, [3]; 4. 27DD-David Hoiness, [5]; 5. 37-Trever Kirkland, [11]; 6. 24M-Rich Martin, [7]; 7. 29-Eric Flatmoe, [4]; 8. 56X-Mark Chisholm, [8]; 9. 2-Shad Petersen, [10]; 10. 33-Robert DeHaan, [13]; 11. 11-Mindy McCord, [12]; 12. 4-Adam Speckman, [9]; 13. 7-Mike Sires, [14]; 14. 77-Damon McCune, [20]; 15. 00-Roger Cummings, [15]; 16. 56-Butch Capshaw, [19]; 17. (DNF) 8X-Randy Dolberg, [16]; 18. (DNF) 9A-Clint Anderson, [1]; 19. (DNF) 66-Lany Reber, [17]; 20. (DNF) 10-Anthony Farnsworth, [18]