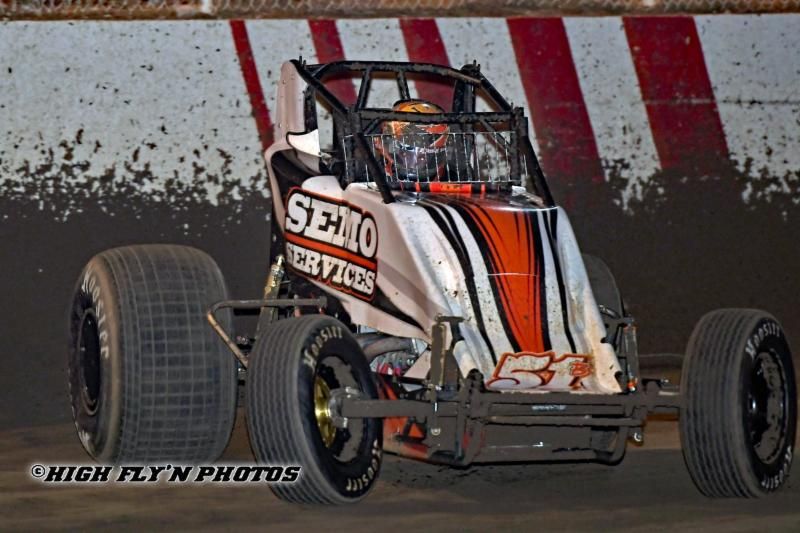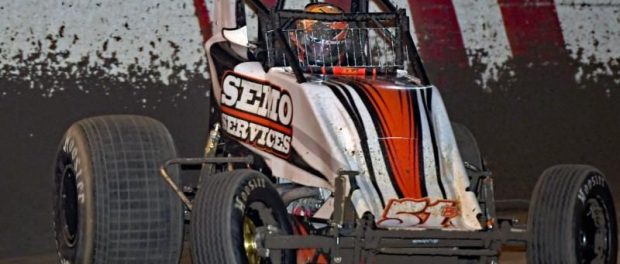 From Chad Buford
GRAIN VALLEY, Mo. (July 14, 2017) – In the last POWRi Lucas Oil WAR Sprint Car show at Farmington, MO, Joe B. Miller dominated to only be found light at the scales taking away his win. Tonight at the Valley Speedway, Miller got redemption as he passed Zach Daum just past the midway point and went on to his second career win during the first night of Thunder in the Valley.
Zach Daum led the first thirteen laps as Miller challenged him multiple times for the top spot even leading at certain points, but he could not make the pass stick as the duo came across the flag stand. That changed on lap fourteen as Miller got a good run off of the top side and used the momentum to move down in front of Daum as the duo went into turn three.
Miller would go on to his second career WAR win in his SEMO Services/Insight Wildlife Nutrition Speed Shack-powered Maxim. Daum would run second in his Daum Crop Insurance/5D Composites/Bell Helmets/Hinchman Indy Eagle. Running a strong third was Cody Baker in the Ultra-Shield/Hinchman Racewear/Bell Helmets Maxim with Ott power. Wyatt Burks was fourth in the RCB Motorsports/Clem Signs/Bumper to Bumper Maxim with Salina power. Rounding out the top five was Korey Weyant in the Weeble's Bar and Grill/Ealey Transportation/Tosti's Transmission Eagle with Automotive Machine power. Clinton Boyles rebounded from an early spin to come back to sixth as he was followed by Chris Parkinson. Rounding out the top ten were Rob Caho Jr, Ty Hulsey, and Mitchell Moore.
The POWRi Lucas Oil WAR Sprints will be in action again on Saturday, July 15 at Valley Speedway as they will run the second night of the Thunder in the Valley in Grain Valley, Missouri.
POWRi Lucas Oil WAR Sprints
7/14/17
Valley Speedway – 29 cars
Hinchman Racewear Heat 1 – 8 laps
1. 5D-Zach Daum, Pocahontas, IL (1); 2. 38-Cody Baker, Lone Jack, MO (6); 3. 77-Clinton Boyles, Greenwood, MO (5); 4. 65-Chris Parkinson, Gladstone, MO (3); 5. 70-Pete Palazzolo, Pacific, MO (4); 6. 8D-Terry Babb, Decatur, IL (7); 7. 82-Vinny Ward, Warrenton, MO (8); 8. 10-Will Register, Green Ridge, MO (2)
Wilwood Disc Brakes Heat 2 – 8 laps
1. 24H-Ty Hulsey, Owasso, OK (3); 2. 78-Rob Caho Jr, Wyoming, MN (6); 3. 41-Brad Wyatt, Kearney, MO (1); 4. 88-Chad Tye, Independence, MO (2); 5. 42-Warren Johnson, Overland Park, KS (5); 6. 93-Steve Mahannah, Springfield, MO (4); 7. 50-Chris Cochran, McLoud, OK (7)-DNF
Bell Helmets Heat 3 – 8 laps
1. 93X-Taylor Walton, Warrensburg, MO (1); 2. 99-Korey Weyant, Springfield, IL (3); 3. 51-Mitchell Moore, Edgerton, KS (2); 4. 27X-Tucker Klaasmeyer, Paola, KS (7); 5. 27-Danny Thoman, Lexington, MO (5); 6. 2-Zach Clark, Lenexa, KS (4); 7. 4F-Chad Frewaldt, Kansas City, KS (6)-DNF
Schure Built Suspensions Heat 4 – 8 laps
1. 51B-Joe B. Miller, Millersville, MO (3); 2. 11W-Wyatt Burks, Topeka, KS (7); 3. 21C-Chris Desselle, Richmond, MO (1); 4. 15B-Quinton Benson, Emma, MO (5); 5. 77H-Rob Hockett, Lone Jack, MO (4); 6. 22S-Slater Helt, Harrisonville, MO (2); 7. 56X-Mark Chisholm, Cheyenne, WY (6)-DNF
B-Main – 12 laps
1. 27-Danny Thoman (2); 2. 50-Chris Cochran (10); 3. 70-Pete Palazzolo (3); 4. 77H-Rob Hockett (4); 5. 42-Warren Johnson (1); 6. 8D-Terry Babb (5); 7. 93-Steve Mahannah (7); 8. 2-Zach Clark (8); 9. 82-Vinny Ward (6); 10. 10-Will Register (11); 11. 22S-Slater Helt (9)-DNF; 12. 4F-Chad Frewaldt (DNS); 13. 56X-Mark Chisholm (DNS)
POWRi Lucas Oil WAR Sprints A-Main – 25 laps
1. 51B-Joe B. Miller (2); 2. 5D-Zach Daum (1); 3. 38-Cody Baker (5); 4. 11W-Wyatt Burks (6); 5. 99-Korey Weyant (8); 6. 77-Clinton Boyles (9); 7. 65-Chris Parkinson (15); 8. 78-Rob Caho Jr. (4); 9. 24H-Ty Hulsey (3); 10. 51-Mitchell Moore (11); 11. 77H-Rob Hockett (20); 12. 27-Danny Thoman (17); 13. 93X-Taylor Walton (7)-DNF; 14. 70-Pete Palazzolo (19)-DNF; 15. 41-Brad Wyatt (13)-DNF; 16. 27X-Tucker Klaasmeyer (16)-DNF; 17. 21C-Chris Desselle (14)-DNF; 18. 15B-Quinton Benson (12)-DNF; 19. 50-Chris Cochran (18)-DNF; 20. 88-Chad Tye (16)-DNF