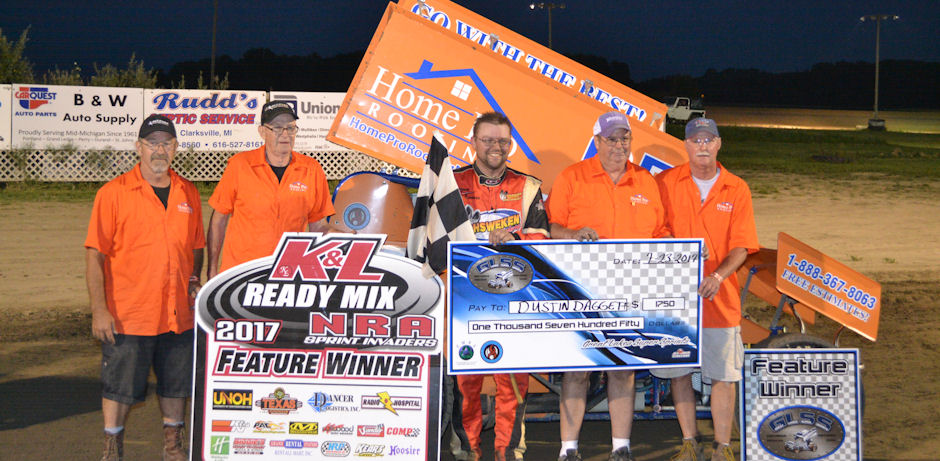 By Bob Buffenbarger
Lake Odessa,Mi. (7-23-17)- Dustin Daggett came from his 17th starting position to win the Great Lakes Super Sprints/NRA 25 lap feature Sunday evening in front of a large crowd at I-96 Speedway.
As the field was about to go four wide for the parade lap, current points leader Jared Horstman pulled off the track into the work area, but could not make repairs and retired to the pits.
At the drop of the green the 11R of Ridenour was off like a shot on the very fast 3/8ths. Kyle Sauder and Andy Teunessen were strong and kept Ridenour in in their sights early on with Sauder eventually dropping out as visitor John Schulz had a strong run going and was moving up running 3rd with 15 laps in.
As the laps were clicking off, 17th starting Dustin Daggett was the fastest car on the track and was closing on the leader quickly and had taken over 2nd when a red flag for Andrew Scheid on lap 20 put Daggett on race long leaded Chase Ridenour's tail for the re-start. As the green flew, some contact was made at the stripe with Daggett coming out on top and he led the final five circuits to take the win over Ridenour, John Schulz, Shawn Murray and Kelsey Ivy.
Heats were won by Horstman, Steinbach, Sauder and Shawn Murray. Daggett picked up the B main win with Ridenour taking the dash.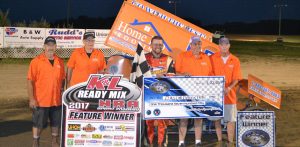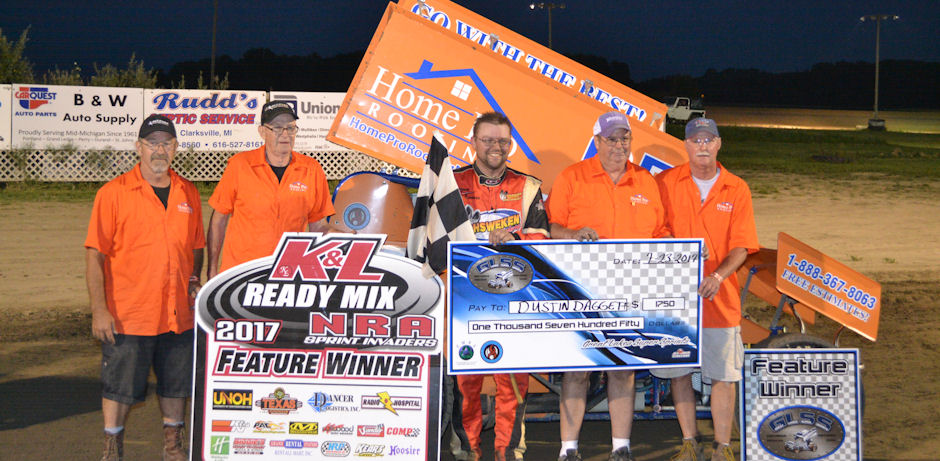 Feature finish
1) Dustin Daggett, 2) Chase Ridenour, 3)John Schulz, 4) Shawn Murray, 5) Kelsey Ivy, 6) Joe Swanson, 7) Gregg Dalman, 8) Andy Teunessen, 9) Jay Steinbach, 10) Linden Jones, 11) Devon Dobie, 12) Brad Lamberson, 13) Kyle Poortenga, 14) Joe Geibe, 15) Kyle Locke, 16) Andrew Scheid, 17) Tony Bures, 18) Kyle Sauder, 19) Chris Pobanz, 20) Jared Horstman