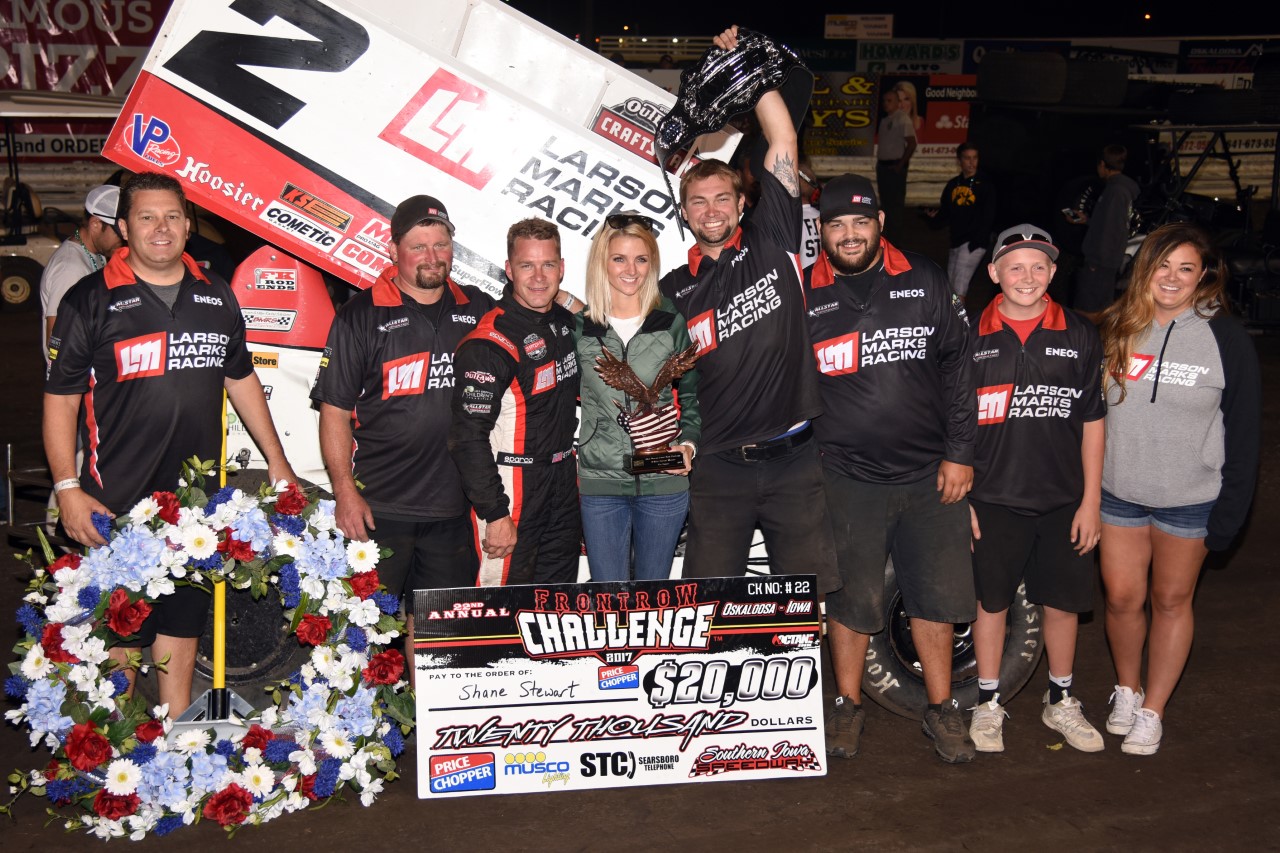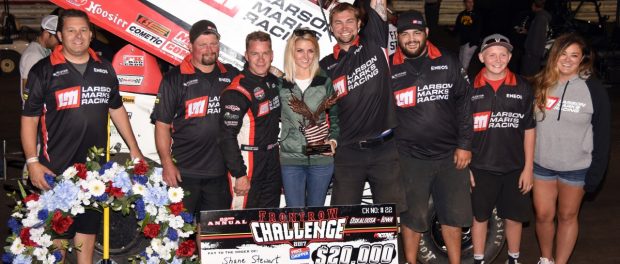 From Bill Wright
OSKALOOSA, Iowa (August 7, 2017) — Shane Stewart topped a three-way battle for the lead with two laps to go to come out on top in the $20,000 to win 22nd Annual Price Chopper Front Row Challenge presented by Musco Lighting and Searsboro Telephone Company. It was the Bixby, Oklahoma driver's first appearance at the event in six years, and he made it pay off big time in the 30-lap feature aboard the Larson-Marks #2!
Stewart grabbed the early lead in the main event, ahead of Daryn Pittman and Brad Sweet. Pittman, a three-time winner of the Front Row Challenge, shot to the point on the second lap, and pulled away a bit, while Stewart's car was smoking profusely. Sweet would followed into the second spot on lap four.
Fifth running Ian Madsen came to a stop with four laps down, bringing the only caution of the event. Pittman led Sweet, Stewart, Brian Brown and Carson Macedo back to green flag racing. Sweet would dive in front of Pittman in turn one on the restart, and repeat the move a lap later, only to have his Kasey Kahne Racing teammate drive back by him. As the leaders, entered lapped traffic on lap ten, Sweet would gain the lead in turn two, to become the third leader.
At the halfway point, Sweet was pulling away, but all eyes were on Kyle Larson, who was up to sixth. On lap 18, he would take fifth, and a circuit later, would take fourth from Brown. On lap 20, Stewart would gain traction again, passing Pittman for second. Larson would use the low side to gain third from Pittman on lap 24.
Both Stewart and Larson would close on Sweet, who was in heavy lapped traffic. With two laps to go, all three made bids for the lead in turn two, with each holding it if only for a split second. With the crowd on its feet, Stewart would gain the point and pull away, with Sweet and Larson following him to the finish. Pittman finished fourth, while Chad Kemenah earned a KSE steering gear for his hard-charger run into fifth. Carson Macedo, Brown, James McFadden, Tim Kaeding and Jac Haudenschild completed the top ten.
Sweet emerged victorious, taking $1,000 and the pole in the first ever DeBerg Concrete Keith Hutton Memorial "King of the Hill Max". Sweet topped two four car two-lap showdowns to earn his cash.
Pittman earned $500 from Country Builders Construction for setting quick time. Heat winners Cory Eliason, Kaeding, Stewart and Austin McCarl earned $500 bonuses from Country Builders Construction, Seafoam Motor Treatment, Superflow Dynamometers & Flowbenches and True Value of Oskaloosa. Heat winners also received a wing from HRP, a shovel from TheSnowPlow.com, and "Protein 7" from Nutrishop of Maple Grove, Minnesota.
Stewart's crew chief, Lee Stauffer, was selected as Mechanic of the Race, accepting a 3/8 Micro Lithium Impact Kit courtesy of Mark Stuchel Snap-On Tools franchisee.
Dusty Ballenger led the 15-lap distance in the Seafoam Motor Treatment IMCA Racesaver Sprint feature. The Harrisburg, South Dakota driver earned $1,000 for his win, thanks to a bonus from Badger Contracting for $250. Nebraskans Tyler Drueke and Jason Martin battled tooth and nail for the second spot, with Martin eventually grabbing the position and $500 and a $500 gift certificate from Hinchman Racewear. Drueke held on for third, $400 and a $500 gift certificate from Hinchman Racewear. Trevor Serbus was fourth, followed by Mike Moore, Mike Houseman Jr., Corey Kautz, Kayla Stoops, Tyler Thompson and Colin Smith. Smith, Ballenger and Martin won heat races. Both Devin Wignall and Ben Woods took scary rides on the frontstretch, but both emerged uninjured.
22nd Annual Price Chopper Front Row Challenge presented by Musco Lighting, Don Long's Searsboro Telephone Company and Hiland Dairy Results
Front Row Challenge Main Event (started), 30 laps: 1. 2, Shane Stewart, Bixby, OK (2) 2. 49, Brad Sweet, Grass Valley, CA (1) 3. 57, Kyle Larson, Elk Grove, CA (13) 4. 9, Daryn Pittman, Owasso, OK (4) 5. 10H, Chad Kemenah, Alvada, OH (16) 6. 3G, Carson Macedo, Lemoore, CA (8) 7. 21, Brian Brown, Grain Valley, MO (3) 8. 3H, James McFadden, Alice Springs, NT, Aust. (9) 9. 3, Tim Kaeding, San Jose, CA (20) 10. 17, Jac Haudenschild, Wooster, OH (5) 11. 35, Jamie Veal, Warrnambool, VIC, Aust. (7) 12. 5H, Cory Eliason, Selma, CA (19) 13. 4P, Paul McMahan, Nashville, TN (14) 14. 2KS, Austin McCarl, Altoona, IA (17) 15. 24, Lucas Wolfe, Mechanicsburg, PA (12) 16. 44s, Trey Starks, Puyallup, WA (21) 17. 10, Kyle Reinhardt, Neptune City, NJ (18) 18. 44, Chris Martin, Ankeny, IA (24) 19. Dominic Scelzi, Fresno, CA (10) 20. 49x, Tim Shaffer, Aliquippa, PA (11) 21. 26, Tayler Malsam, Sammamish, WA (22) 22. 1B, Dustin Selvage, Indianola, IA (15) 23. 1x, Don Droud Jr., Lincoln, NE (23) 24. 18, Ian Madsen, St. Mary's, NSW, Aust. (6). Lap Leaders: Stewart 1, Pittman 2-9, Sweet 10-28, Stewart 29-30. KSE Hard-charger: Kemenah. $425 "BC Bonus": Reinhardt. $500 BMRS "Back it Up" Award: Haudenschild.
True Value of Oskaloosa Heat one (started), 8 laps: 1. Cory Eliason (1) 2. Daryn Pittman (4) 3. Chad Kemenah (2) 4. Brian Brown (5) 5. Lucas Wolfe (3) 6. 71A, RJ Johnson, Tampa, FL (6) 7. Don Droud Jr. (7) 8. 22, Rager Phillips, Pleasantville, IA (8) DNS – 1m, Danny Lasoski, Dover, MO
Country Builders Construction Heat two (started), 8 laps: 1. Tim Kaeding (1) 2. Dustin Selvage (2) 3. Carson Macedo (4) 4. Brad Sweet (6) 5. Ian Madsen (5) 6. Chris Martin (7) 7. 00, Dane Lorenc, Lancaster, NY (3) 8. 7w, Tasker Phillips, Pleasantville, IA (9) 9. Dakota Hendrickson, Omaha, NE (8)
Superflow Dynamometers & Flowbenches Heat three (started), 8 laps: 1. Shane Stewart (6) 2. Kyle Reinhardt (2) 3. Dominic Scelzi (4) 4. Paul McMahan (3) 5. Jamie Veal (5) 6. Trey Starks (7) 7. 99, Skylar Gee, Leduc, ALB, Can. (8) 8. 71, Robert Bell, Colfax, IA (9) 9. 21K, Thomas Kennedy, Winnipeg, MB, Can. (1)
Seafoam Motor Treatment Heat four (started), 8 laps: 1. Austin McCarl (2) 2. Tayler Malsam (1) 3. Kyle Larson (3) 4. Tim Shaffer (4) 5. James McFadden (5) 6. Jac Haudenschild (6) 7. 68, Chase Johnson, Penngrove, CA (7) 8. 85, Chase Wanner, Agency, IA (8) DNS – 19, Bob Weuve, Newton, IA
DeBerg Concrete Keith Hutton Memorial "King of the Hill" Max, 2 laps: Round one: Brad Sweet, Daryn Pittman / Jac Haudenschild, Jamie Veal Round two: Shane Stewart, Brian Brown, / Ian Madsen, Carson Macedo. Final Round: Brad Sweet, Shane Stewart, Brian Brown, Daryn Pittman.
Taso's Steak House B Main (started), 12 laps: 1. Trey Starks (4) 2. Tayler Malsam (3) 3. Don Droud Jr. (2) 4. Chris Martin (5) / 5. Dane Lorenc (1) 6. RJ Johnson (6) 7. Rager Phillips (10) 8. Tasker Phillips (9) 9. Skylar Gee (8) 10. Bob Weuve (11) 11. Chase Johnson (7) 12. Robert Bell (12) DNS – Thomas Kennedy, Dakota Hendrickson, Chase Wanner, Danny Lasoski
Seafoam Motor Treatment IMCA Racesavers
A main (started), 15 laps: 1. 2D, Dusty Ballenger, Harrisburg, SD (1) 2. 36, Jason Martin, Lincoln, NE (2) 3. 12, Tyler Drueke, Eagle, NE (4) 4. 10, Trevor Serbus, Olivia, MN (3) 5. 69, Mike Moore, Des Moines, IA (9) 6. 4L, Mike Houseman Jr., Des Moines, IA (6) 7. 51, Corey Kautz, Des Moines, IA (8) 8. 18K, Kayla Stoops, Omaha, NE (7) 9. 48, Tyler Thompson, Des Moines, IA (18) 10. O5, Colin Smith, Sheldon, IA (5) 11. 68, CJ Houseman, Des Moines, IA (16) 12. 11s, Shadrach Sporaa, Boone, IA (10) 13. 12K, Koddy Hildreth, Iowa Falls, IA (12) 14. 11B, Ben Woods, Newton, IA (19) 15. 3TJ, Joel Thorpe, Urbandale, IA (11) 16. 11, Frank Rodgers, Lucas, IA (13) 17. 99, Bailey Elliott, California, MO (14) 18. 14J, Mike Johnston, Des Moines, IA (17) 19. 53, Greg Black, Des Moines, IA (15) 20. 55KC, Bob Hildreth, Iowa Falls, IA (20) DNS – 21, Devin Wignall, Altoona, IA, 29, Russ Hall, Pleasant Hill, IA, 51A, Elliot Amdahl, Flandreau, SD
Heat one (started), 6 laps: 1. Colin Smith (1) 2. Trevor Serbus (4) 3. Tyler Drueke (6) 4. Joel Thorpe (3) 5. Frank Rodgers (5) 6. Greg Black (7) 7. Mike Johnston (2) DNS – Bob Hildreth
Heat two (started), 6 laps: 1. Dusty Ballenger (6) 2. Mike Houseman Jr. (3) 3. Shadrach Sporaa (1) 4. Koddy Hildreth (2) 5. Bailey Elliott (4) 6. Devin Wignall (7) DQ (spring pressure) – Elliot Amdahl
Heat three (started), 6 laps: 1. Jason Martin (4) 2. Mike Moore (8) 3. Kayla Stoops (5) 4. Corey Kautz (7) 5. Russ Hall (1) 6. Chase Johnson (6) 7. Tyler Thompson (2) 8. Ben Woods (3)