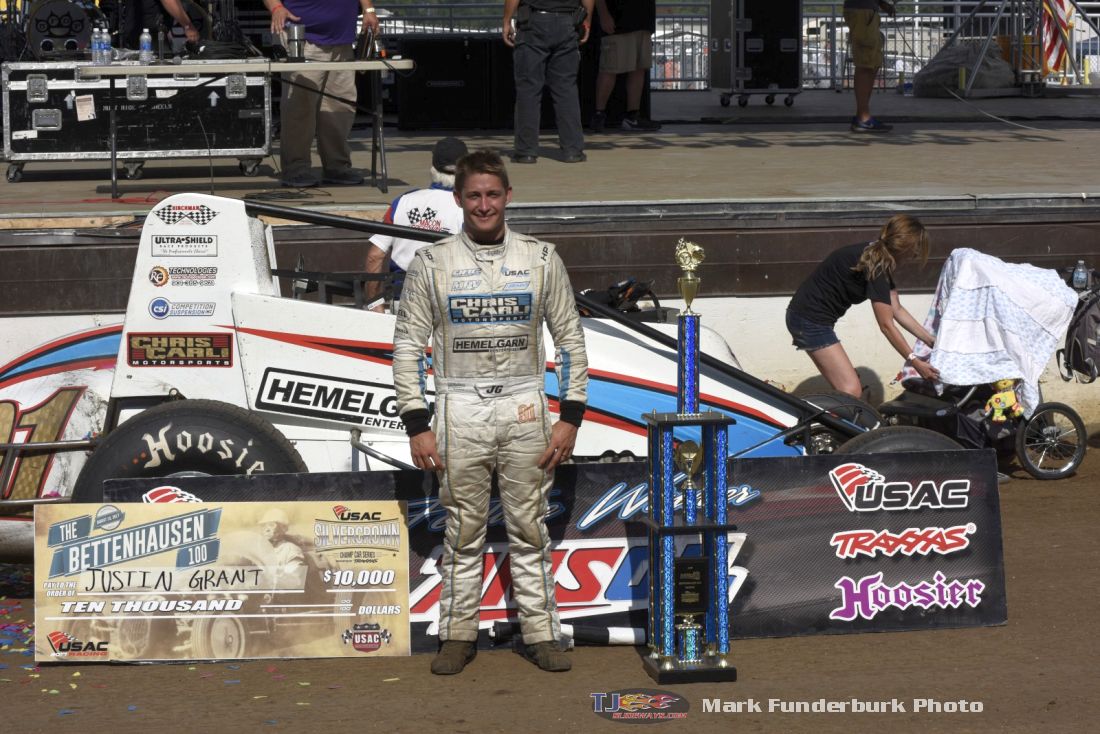 From Richie Murray
On eight occasions in 2017, Justin Grant was atop the board in time trials, leading all USAC National drivers in that category to capture the season's ProSource Fast Time Award Challenge.
Grant, of Ione, California, was the only USAC AMSOIL National Sprint Car driver during the season to record ProSource Fast Qualifying time and win the feature in the same night, which he did in the season-opening "Winter Dirt Games" at Bubba Raceway Park in Ocala, Fla.
Along the way, Grant was quick time on six other occasions in a sprint car at Lawrenceburg (Ind.) Speedway, Lincoln (PA) Speedway, Port Royal (PA) Speedway, Indiana's Tri-State Speedway, Missouri's Randolph County Raceway and Kokomo (Ind.) Speedway. Additionally, Grant was the fastest qualifier at the USAC Midget "Kokomo Grand Prix" in April.
Grant has picked up several honors this season, including being just one of two drivers to win in all three USAC national divisions in 2017. Furthermore, he topped all USAC drivers by accumulating the most combined national points between all three series to win the Mike Curb Super License.
Kevin Thomas, Jr. was Grant's closest challenger with six while 2016 ProSource Challenge winner Brady Bacon was involved in a three-way tie for third with Chase Stockon and Kody Swanson who each scored five apiece.
Please join Justin and the rest of USAC's 2017 champions at the Indiana Roof Ballroom as the United States Auto Club celebrates its best at the 62nd Annual USAC Night of Champions at the Indiana Roof Ballroom in downtown Indy on Friday night, December 8, 2017.
Each of USAC's champions and special award winners will be honored in the ceremony that will take place on PRI weekend at the beautiful facility located atop the Indiana Repertory Theater at 140 W. Washington St. in Indianapolis, Indiana.
Cocktails are set to begin at 6pm with dinner and the awards ceremony scheduled to begin at 6:30pm.
Tickets are $65 each and must be reserved by Friday, December 1st. To reserve your seat, please contact Nikki Klepper at nikki@usacracing.com or by phone at (317) 247-5151 Ext. 103.
PROSOURCE FAST TIME AWARD CHALLENGE STANDINGS
1. (8) Justin Grant
2. (6) Kevin Thomas, Jr.
3. (5) Brady Bacon, Chase Stockon & Kody Swanson
6. (4) Dave Darland
7. (3) Kyle Larson & Tanner Thorson
9. (2) Spencer Bayston, Chad Boat, Jerry Coons, Jr., Damion Gardner, Shane Golobic & Carson Short
15. (1) Jarett Andretti, Robert Ballou, Tanner Carrick, Tyler Courtney, Kyle Cummins, Zach Daum, C.J. Leary, Michael Pickens, Bobby Santos, Stevie Sussex, Tanner Swanson, Tyler Thomas & Chris Windom