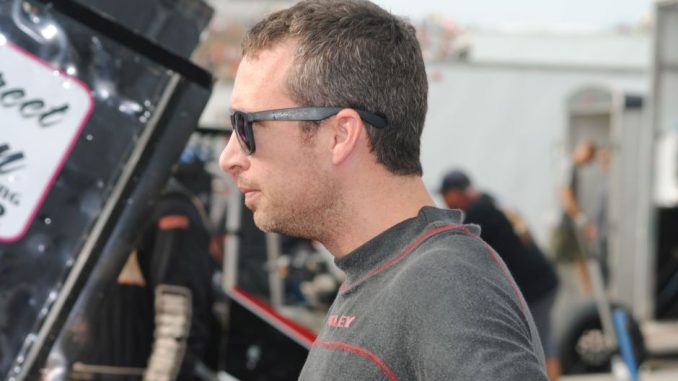 From Bryan Hulbert
QUEEN CREEK, Ariz. (March 24, 2018) – Becoming the 50th different winner with the ASCS Southwest Region, Washington's Gary Taylor topped action Saturday night at Queen Creek's Arizona Speedway in the Bob Ream, Jr. owned Beaver Stripes No. 8.
Rolling off third, Taylor took over the lead on Lap 6 from New Mexico's Lorne Wofford, whose race ended early with a 17th place finish. Eventually winning over Billy Chester by 1.896 seconds, J.T. Imperial's first outing of the season found its way to the final podium step after starting seventh.
From 10th, Josh Shipley picked his way to fourth with Alex Pettas following from 11th to secure a top-five finish. Jesse Baker in sixth was trailed by Kyle Danielson with series point's leader Colton Hardy in tow. Jarrett Martin and Steve Cushman completed the top-ten.
Split into a pair of Heat Races, J.T. Imperial and Jesse Baker each picked up an extra $25 courtesy of Ron Gilson Photography. A total of 19 drivers were on hand.
The ASCS Southwest Region races again on Saturday, March 31 at Central Arizona Speedway in Casa Grande, Ariz. For other news, notes, and information on the American Sprint Car Series, from the National Tour to any of the Regional Tours that make up the nearly 150 races across the ASCS Nation in 2018, log onto http://www.ascsracing.com, follow on Facebook, on Instagram, and on Twitter (@LucasOilASCS).
Race Results:
ASCS Southwest Region
Arizona Speedway – Queen Creek, Ariz.
Saturday, March 24, 2018
Car Count: 19
Heat 1 (8 Laps): 1. 75X-JT Imperial, [1]; 2. 2B-Billy Chester, [4]; 3. 18-Lorne Wofford, [6]; 4. 115-Nick Parker, [5]; 5. 74-Colton Hardy, [8]; 6. 01-Josh Shipley, [9]; 7. 45-Jeff Lowery, [7]; 8. 5H-Rocky Silva, [3]; 9. 33-Steve Cushman, [2]; 10. (DNF) 7-Mark Clark, [10]
Heat 2 (8 Laps): 1. 22B-Jesse Baker, [8]; 2. 8-Gary Taylor, [3]; 3. 20Z-Rick Ziehl, [4]; 4. 2-Alex Pettas, [2]; 5. 7K-Mason Keefer, [9]; 6. 57-Jarrett Martin, [1]; 7. 17K-Kyle Danielson, [6]; 8. 71H-Corey Hurley, [7]; 9. (DNF) 148-Don Grable, [5]
A Feature (25 Laps): 1. 8-Gary Taylor, [3]; 2. 2B-Billy Chester, [5]; 3. 75X-JT Imperial, [7]; 4. 01-Josh Shipley, [10]; 5. 2-Alex Pettas, [11]; 6. 22B-Jesse Baker, [8]; 7. 17K-Kyle Danielson, [14]; 8. 74-Colton Hardy, [6]; 9. 57-Jarrett Martin, [12]; 10. 33-Steve Cushman, [19]; 11. 7K-Mason Keefer, [2]; 12. 7-Mark Clark, [18]; 13. (DNF) 5H-Rocky Silva, [16]; 14. (DNF) 20Z-Rick Ziehl, [4]; 15. (DNF) 45-Jeff Lowery, [13]; 16. (DNF) 71H-Corey Hurley, [15]; 17. (DNF) 18-Lorne Wofford, [1]; 18. (DNF) 115-Nick Parker, [9]; 19. (DNF) 148-Don Grable, [17]