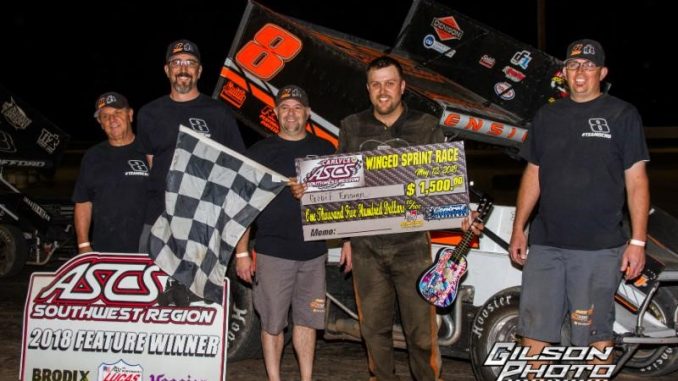 From Bryan Hulbert
CASA GRANDE, Ariz. (May 12, 2018) – Delivering car owner Bob Ream, Jr. another win, and providing another new name to the list of ASCS Southwest winner, California's Geoff Ensign parked in Victory Lane at Central Arizona Speedway on Saturday night.
Taking the green fourth, Ensign blasted to the race lead on the opening lap. Leading non-stop at the high-banked Arizona oval, Ensign is the 51st driver to pick up a win with the ASCS Southwest Region. Following from third, New Mexico's Lorne Wofford was second with Nick Parker third. Jesse Baker crossed fourth with Wes Wofford in fifth.
Billy Chester in sixth was chased to the line by Josh Shipley who raced from 16th to seventh. Colton Hard followed from 10th with J.T. Imperial and Alex Pettas making up the top-ten.
Up next for the ASCS Southwest Region is a Memorial Day Weekend special at the Southern New Mexico Speedway in Las Cruces, N.M. with Saturday, May 26 and Sunday, May 27 each paying $2,500 to win. Information on the event can be found online at http://www.snmspeedway.com.
For other news, notes, and information on the American Sprint Car Series, from the National Tour to any of the Regional Tours that make up the over 150 across the ASCS Nation in 2018, log onto http://www.ascsracing.com, follow on Facebook, on Instagram, and on Twitter (@LucasOilASCS).
Race Results:
ASCS Southwest Region
Central Arizona Speedway – Casa Grande, Ariz.
Saturday, May 12, 2018
Car Count: 16
Heat 1 (8 Laps): 1. 75X-J.T. Imperial, [2]; 2. 115-Nick Parker, [3]; 3. 19-Wes Wofford, [6]; 4. 71H-Corey Hurley, [1]; 5. 74-Colton Hardy, [5]; 6. 2B-Billy Chester III, [8]; 7. 7-Mark Clark, [4]; 8. 33-Steve Cushman, [7]
Heat 2 (8 Laps): 1. 57-Jarrett Martin, [1]; 2. 8-Geoff Ensign, [6]; 3. 18-Lorne Wofford, [3]; 4. 22X-Jesse Baker, [7]; 5. 2-Alex Pettas, [5]; 6. 12-Jerry Mosher, [8]; 7. 20Z-Rick Ziehl, [4]; (DQ) 01-Josh Shipley, [2]
Shipley did not report to the scales.
A Feature (25 Laps): 1. 8-Geoff Ensign, [4]; 2. 18-Lorne Wofford, [3]; 3. 115-Nick Parker, [1]; 4. 22X-Jesse Baker, [6]; 5. 19-Wes Wofford, [7]; 6. 2B-Billy Chester III, [8]; 7. 01-Josh Shipley, [16]; 8. 74-Colton Hardy, [10]; 9. 75X-J.T. Imperial, [2]; 10. 2-Alex Pettas, [11]; 11. 33-Steve Cushman, [13]; 12. 71H-Corey Hurley, [9]; 13. 12-Jerry Mosher, [14]; 14. 57-Jarrett Martin, [5]; 15. 20Z-Rick Ziehl, [15]; 16. 7-Mark Clark, [12]