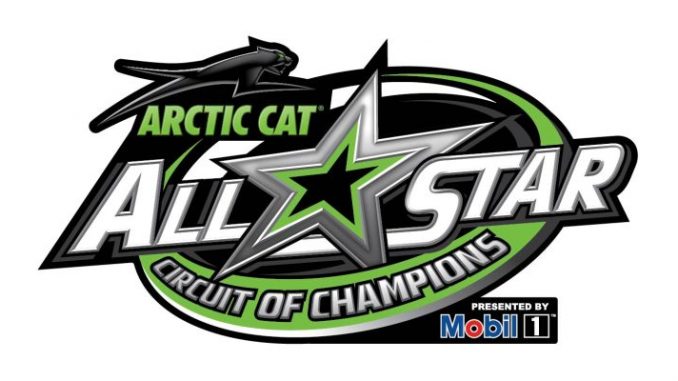 From Tyler Altmeyer
PLYMOUTH, Wis. (May 19, 2018) – A system of rain showers soaking the Plymouth Dirt Track surface just before the evening's 40-lap main event forced Arctic Cat All Star Circuit of Champions presented by Mobil 1 and Bumper to Bumper IRA Outlaw Sprint Series officials to cancel the remaining portion of the All Star/IRA Challenge program. Track workers desperately attempted to rework the racing surface, but precipitation returned shortly thereafter. With all but the A-main contested, the visit to Plymouth Dirt Track is considered complete.
The Arctic Cat All Star Circuit of Champions presented by Mobil 1 will continue their weekend sweep through the Badger State with a visit to Angell Park Speedway in Sun Prairie, Wis., on Sunday, May 20. Like Plymouth Dirt Track, the best of the best of the IRA Outlaw Sprint Series will also be on hand at Angell Park, working to defend home territory against Tony Stewart's invading All Stars. The first-ever, complete event at Angell Park, considering the first visit in 2017 was cancelled just after qualifying time trials, will award a $5,000 top prize.
MAVTV Motorsports Network, the official television partner of the Arctic Cat All Star Circuit of Champions presented by Mobil 1, will be on hand to capture all of the action from Angell Park Speedway on Sunday, May 20. The Angell Park program, one of eight All Star events on the 2018 MAVTV schedule, will be broadcast via tape-delay on September 9. The event will air twice during its scheduled replay date; 8 p.m. and 11 p.m. ET.
Available in over 30 million households through multiple video providers including DIRECTV, Verizon FiOS, Mediacom, Charter Spectrum, Optimum, Suddenlink, Frontier Communications, Comcast Xfinity, and CenturyLink, fans tuning into MAVTV for the Arctic Cat All Star Circuit of Champions broadcasts will be welcomed by host, Dave Reiff, color commentator, Brad Doty, and pit reporter, Dave Argabright. Arctic Cat All Star owner, Tony Stewart, will also be featured during select MAVTV broadcasts as a color commentator.
Contingency Awards/Results: Plymouth Dirt Track – Saturday, May 19, 2018:
EMi Driver's Meeting: 47 entries
Lincoln Electric Fast Qualifier: Aaron Reutzel – 11.571 seconds
Ford Performance Heat #1: Carl Bowser
All Pro Aluminum Cylinder Heads Heat #2: Carson Macedo
Hunt Brothers Pizza Heat #3: Brandon McMullen
Daido Engine Bearings Heat #4: Scotty Thiel
Ford Performance Heat #5: Chad Kemenah
Elliott's Custom Trailers & Carts C-Main: Matt Vandervere
JE Pistons Dash #1: Chad Kemenah
Kistler Racing Products Dash #2: Aaron Reutzel
Classic Ink USA B-Main: Ben Schmidt
Qualifying
Group (A)
1. 25-Jake Blackhurst, 11.655; 2. 3-Jac Haudenschild, 11.843; 3. 14-Tony Stewart, 12.112; 4. 98-Carl Bowser, 12.196; 5. 10V-Matt Vandervere, 12.214; 6. 14F-Jimmy Fifield, 12.926; 7. 65-Austin DeBlauw, 12.932; 8. 45-Matt Wiese, 13.547; 9. 12-Mike Decker, 13.963; 10. 5J-Jeremy Schultz, 99.910
Group (B)
1. 70-Dave Blaney, 11.825; 2. 3G-Carson Macedo, 11.854; 3. 4B-Scott Biertzer, 12.242; 4. 19-Todd Daun, 12.281; 5. 53W-Bill Wirth, 12.316; 6. 7-Scott Uttech, 12.601; 7. 4K-Kris Spitz, 12.682; 8. 63-Nick Matuszewski, 12.908; 9. 29-Hunter Custer, NT; 10. 22K-Todd King, NT
Group ( C )
1. 87-Aaron Reutzel, 11.571; 2. 4-Parker Price-Miller, 11.661; 3. 7K-Cale Conley, 11.760; 4. 10W-Brandon McMullen, 11.967; 5. 22-Brandon Spithaler, 12.095; 6. 23-Russel Borland, 12.234; 7. 11D-Joey Moughan, 12.447; 8. 18-Keith Fellner, 12.567; 9. 43-Jereme Schroeder, 12.649
Group (D)
1. 73-Ben Schmidt, 11.674; 2. 26-Joey Saldana, 11.792; 3. 64-Scotty Thiel, 11.849; 4. 85M-Steve Meyer, 11.908; 5. 5X-Justin Peck, 11.966; 6. 17B-Bill Balog, 11.983; 7. 2W-Scotty Neitzel, 12.205; 8. 14AJ-Wayne Modjeski, 12.208; 9. 95-Kenjay Fiedler, 12.345
Group (E)
1. 13-Paul McMahan, 11.602; 2. 24-Rico Abreu, 11.779; 3. 10H-Chad Kemenah, 11.802; 4. 11-Max McGhee, 12.023; 5. 17-Caleb Helms, 12.025; 6. O2-Mike Reinke, 12.045; 7. 71-Ayrton Olsen, 12.124; 8. 51-John Garvin, 12.192; 9. 35-Tyler Esh, 12.279
Heat #1 – Group (A) (10 Laps) – Top 4 Transfer
1. 98-Carl Bowser [1]; 2. 14-Tony Stewart [2]; 3. 3-Jac Haudenschild [3]; 4. 25-Jake Blackhurst [4]; 5. 5J-Jeremy Schultz [10]; 6. 65-Austin DeBlauw [7]; 7. 14F-Jimmy Fifield [6]; 8. 45-Matt Wiese [8]; 9. 10V-Matt Vandervere [5]; 10. 12-Mike Decker [9]
Heat #2 – Group (B) (10 Laps) – Top 4 Transfer
1. 3G-Carson Macedo [3]; 2. 70-Dave Blaney [4]; 3. 19-Todd Daun [1]; 4. 4B-Scott Biertzer [2]; 5. 53W-Bill Wirth [5]; 6. 7-Scott Uttech [6]; 7. 4K-Kris Spitz [7]; 8. 63-Nick Matuszewski [8]; 9. 29-Hunter Custer [9]
Heat #3 – Group (C) (10 Laps) – Top 4 Transfer
1. 10W-Brandon McMullen [1]; 2. 22-Brandon Spithaler [5]; 3. 4-Parker Price-Miller [3]; 4. 87-Aaron Reutzel [4]; 5. 7K-Cale Conley [2]; 6. 23-Russel Borland [6]; 7. 11D-Joey Moughan [7]; 8. 43-Jereme Schroeder [9]; 9. 18-Keith Fellner [8]
Heat #4 – Group (D) (10 Laps) – Top 4 Transfer
1. 64-Scotty Thiel [2]; 2. 26-Joey Saldana [3]; 3. 5X-Justin Peck [5]; 4. 85M-Steve Meyer [1]; 5. 2W-Scotty Neitzel [7]; 6. 17B-Bill Balog [6]; 7. 73-Ben Schmidt [4]; 8. 95-Kenjay Fiedler [9]; 9. 14AJ-Wayne Modjeski [8]
Heat #5 – Group (E) (10 Laps) – Top 4 Transfer
1. 10H-Chad Kemenah [2]; 2. 13-Paul McMahan [4]; 3. 24-Rico Abreu [3]; 4. 35-Tyler Esh [9]; 5. 17-Caleb Helms [5]; 6. O2-Mike Reinke [6]; 7. 11-Max McGhee [1]; 8. 71-Ayrton Olsen [7]; 9. 51-John Garvin [8]
Dash #1 (4 Laps)
1. 10H-Chad Kemenah [1]; 2. 3G-Carson Macedo [5]; 3. 14-Tony Stewart [3]; 4. 22-Brandon Spithaler [2]; 5. 26-Joey Saldana [6]; 6. 70-Dave Blaney [4]
Dash #2 (4 Laps)
1. 87-Aaron Reutzel [2]; 2. 13-Paul McMahan [1]; 3. 64-Scotty Thiel [4]; 4. 25-Jake Blackhurst [3]; 5. 98-Carl Bowser [5]; 6. 10W-Brandon McMullen [6]
C-Main (10 Laps) – Top 2 Transfer
1. 10V-Matt Vandervere [8]; 2. 43-Jereme Schroeder [3]; 3. 14AJ-Wayne Modjeski [7]; 4. 18-Keith Fellner [9]; 5. 29-Hunter Custer [10]; 6. 63-Nick Matuszewski [4]; 7. 45-Matt Wiese [5]; 8. 12-Mike Decker [11]; 9. 95-Kenjay Fiedler [2]; 10. 51-John Garvin [6]; 11. 71-Ayrton Olsen [1]
B-Main (12 Laps) – Top 4 Transfer
1. 73-Ben Schmidt [1]; 2. 7K-Cale Conley [2]; 3. 5J-Jeremy Schultz [6]; 4. 17-Caleb Helms [3]; 5. 17B-Bill Balog [7]; 6. 2W-Scotty Neitzel [4]; 7. 11D-Joey Moughan [13]; 8. 7-Scott Uttech [10]; 9. 10V-Matt Vandervere [16]; 10. 43-Jereme Schroeder [17]; 11. 4K-Kris Spitz [14]; 12. 14F-Jimmy Fifield [15]; 13. O2-Mike Reinke [8]; 14. 11-Max McGhee [12]; 15. 23-Russel Borland [9]; 16. 65-Austin DeBlauw [11]; 17. 53W-Bill Wirth [5]