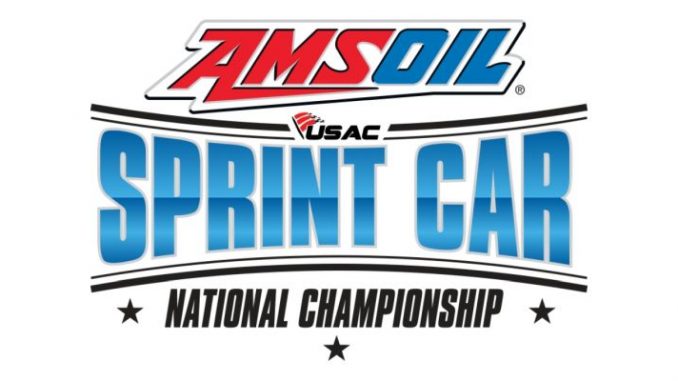 From Richie Murray
TERRE HAUTE, In. (May 22, 2018) — Kevin Thomas, Jr. has seemingly had the Midas touch in USAC AMSOIL National Sprint Car competition over the past two years. No driver has accumulated more victories than the Cullman, Alabama driver over that stretch and he arrives at this Wednesday night's 48th running of the "Tony Hulman Classic" as the reigning race winner and the current series point leader.
Thomas has already won twice this season at Tri-State Speedway in Haubstadt, Ind. and Plymouth (Ind.) Speedway. Last fall, though, Thomas picked up one of the biggest victories of his career as he slid his way past Dave Darland with five laps remaining, then ran down leader Chase Stockon with three to go to win his first USAC AMSOIL National Sprint Car feature at the Action Track in four seasons.
Thomas owns two career USAC National Sprint Car victories at the half-mile dirt oval in Terre Haute, also winning back in 2013 during "Indiana Sprint Week" in a ferocious battle with Darland. His Dynamics, Inc./Hoffman Auto Racing team has won four times at Terre Haute, including one "Hulman Classic" with Jerry Coons, Jr. in 2010.
The "Hulman Classic" has been a special event for Darland over the years. It's the home of the Lincoln, Indiana native's first career series win back in 1993. A mere 21 years later, in 2014, he was back in victory lane at the Action Track for his second "Hulman Classic" win. The resurgence of Darland has already led him to victory lane at Bloomington (Ind.) Speedway in April.
Second in points, Chris Windom has a full plate of racing on his docket for this week, beginning with Wednesday's "Hulman Classic." The 2011 "Hulman Classic" winner also intends to run Thursday's "Hoosier Hundred" at the Indiana State Fairgrounds, the "Dave Steele Carb Night Classic" at Lucas Oil Raceway in Brownsburg, Indiana on Friday and the Payless "Little 500" on Saturday at Anderson (Ind.) Speedway. Sandwiched between all that is his debut appearance with the Indy Lights series in the "Freedom 100" at the Indianapolis Motor Speedway, marking 770 laps of competition in five races for the Canton, Illinois native in main events over a four-day span.
Robert Ballou, sixth in the standings, collected the two most recent "Hulman Classic" rifles prior to Thomas, winning the "Hulman" back-to-back in 2015 and 2016. After a tough start to the season, the 2015 series champ out of Rocklin, Calif. has finished in the top-five in his last three starts with two second-place finishes.
Another past series champ who's returned to form in the most recent races after a sluggish start is Broken Arrow, Oklahoma's Brady Bacon. The 2014 and 2016 champ has finished in the top-five in each of his past three starts, including a victory at Eldora two weeks ago to rise up to eighth in the standings.
Ninth in points, Ione, California's Justin Grant is USAC's most recent winner at Terre Haute, capturing the "Sumar Classic" for the USAC Silver Crown Champ Car division in late April. Starting from the pole position in that race was Tyler Courtney from Indianapolis, Indiana. The driver known as "Sunshine" is third in points on the strength of two early season victories in Ocala, Fla.
Like Grant, C.J. Leary has reached the peak at Terre Haute in USAC competition, but not yet in a sprint car. In 2016, the Greenfield, Indiana native picked up a "Sumar Classic" Silver Crown victory and has been a perennial frontrunner in that event. He recently finished fifth in this year's edition and is looking to break through for his first USAC National Sprint Car win of the year following a banner year in 2017 in which he earned a career-high five wins.
Jerry Coons, Jr. is one of three multiple-time "Hulman Classic" winners entered for Terre Haute, bagging that crown in 2010 and 2013. The Tucson, Arizona native, and one of six USAC Triple Crown champs, returns to action in the Krockenberger Racing No. 21K.
Chase Stockon, fifth in the standings, finished third in last year's "Hulman," coming up just three laps short of the win after leading the first 27 laps of the 30-lap feature. You can count on the Fort Branch, Indiana driver being one of the contenders yet again this Wednesday. After all, he is a past USAC National Sprint Car winner at Terre Haute back in 2016 at the "Don Smith Classic."
Hanford, California's Chad Boespflug resides 10th in the standings, and has come close to winning at Terre Haute twice with a pair of runner-up finishes in two of his last three USAC Sprint Car appearances there.
The "Tony Hulman Classic" began in 1971 and is the USAC AMSOIL National Sprint Car division's longest-running annually-contested event. George Snider was victorious in the first edition. Other winners over the years include, just to name a few, Joe Saldana, Gary Bettenhausen, Pancho Carter, Jan Opperman, Sheldon Kinser, Jack Hewitt, Ron Shuman, Rich Vogler, Steve Butler, Doug Kalitta, J.J. Yeley, Tracy Hines, Jon Stanbrough Cory Kruseman, plus the only three-time winners of the event: Cary Faas and Levi Jones.
USAC's "The Week of Indy" begins at the Terre Haute Action Track on Wednesday, May 23. The "Tony Hulman Classic" will feature the USAC AMSOIL National Sprint Car tour and the Scott's Custom Colors UMP DIRTcar Modifieds.
Terre Haute pits are scheduled to open at 3pm, grandstands at 4pm, hot laps at 6:30pm, and racing action is scheduled to begin at 8pm. General admission tickets for the "Tony Hulman Classic" will be sold at the gate for $25 on raceday. Infield tickets are also available for $15, while children 11 and under are free.
Tickets can be obtained by calling Track Enterprises at 217-764-3200 or at the gate on raceday. A three-day special Superticket for the full week of Indy including the "Tony Hulman Classic" at the Terre Haute Action Track on Wednesday, May 23, the "Hoosier Hundred" at the Indiana State Fairgrounds on Thursday, May 24 and the "Dave Steele Carb Night Classic" at Lucas Oil Raceway on Friday, May 25 is also available at https://usacracing.ticketspice.com/2018-week-of-indy.
The "Tony Hulman Classic" will be streamed LIVE on http://www.SpeedShiftTV.com/. A day later, you can watch it again, on-demand, at http://www.Loudpedal.TV/.
—————————-
"TONY HULMAN CLASSIC" WINNERS:
Terre Haute Action Track
1971: George Snider
1972: Bruce Walkup
1973: Joe Saldana
1974: Gary Bettenhausen
1975: Pancho Carter
1976: Jan Opperman
1977: James McElreath
1978: Dick Tobias
1979: Pancho Carter
1980: Eddie Leavitt
1981: Sheldon Kinser
1982: Chet Johnson
1983: Jack Hewitt
1984: Rick Hood
1985: Ron Shuman
1986: Rich Vogler
1987: Steve Butler
Indianapolis Raceway Park
1988: Steve Butler
1989: Rich Vogler
1990: Jeff Bloom
1991: Eric Gordon
Terre Haute Action Track
1992: Cary Faas
1993: Dave Darland
1994: Cary Faas
1995: Jack Hewitt
1996: Doug Kalitta
1997: J.J. Yeley
1998: Cary Faas
1999: Terry Pletch
2000: Jay Drake
2001: Tracy Hines
2002: Jon Stanbrough
2003: J.J. Yeley
2004: Cory Kruseman
2005: Levi Jones
2006: Daron Clayton
2007: Jon Stanbrough
2008: Levi Jones
2009: Levi Jones
2010: Jerry Coons, Jr.
2011: Chris Windom
2012: Bud Kaeding
2013: Jerry Coons, Jr.
2014: Dave Darland
2015: Robert Ballou
2016: Robert Ballou
2017: Kevin Thomas, Jr.