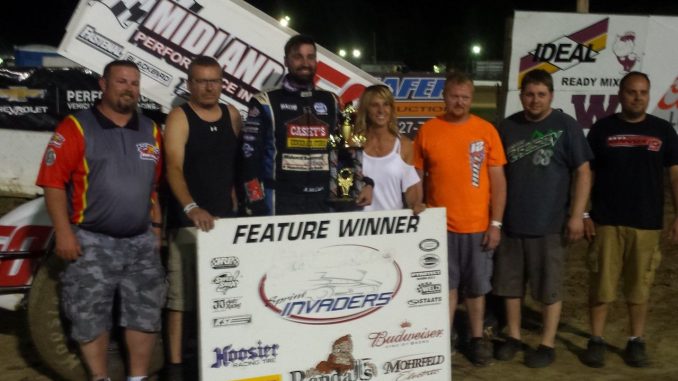 From Bill Wright
WEST BURLINGTON, Iowa (May 27, 2018) — What was to be a night concert with his wife, turned into a ride in Scott Bonar's #50 sprint car for Austin McCarl. The Altoona, Iowa driver, who won Saturday night at the Knoxville Raceway decided to accept the offer and made the most of it by leading all 30 laps and collecting $1,500 for his first Sprint Invaders win at 34 Raceway near West Burlington, Iowa Sunday.
McCarl shot out to the early lead on a fast track in the feature, ahead of Cody Wehrle, Skylar Gee and Robbie Price. By lap six, the leader was in lapped traffic. Price spun out of fourth on the eighth lap, performing a 360 spin. The automatic caution sent him to the tail of the lead lap. Damian Getchell would spin on the restart, while McKenna Haase and Josh Schneiderman would tangle on the second try. Meanwhile, career Sprint Invaders win leader Kaley Gharst, who had made the Dash with a 305 engine under the hood, retired.
Finally, McCarl led the field back to green for good, ahead of Wehrle, Gee, Mason Daniel and Jon Agan. Daniel and Agan would exchange fourth in a good battle, before the former would claim the spot for good. Meanwhile, up front, Austin McCarl was setting a good pace when he entered lapped traffic on lap 13.
Wehrle wasn't going away, and several times pulled up to the rear bumper of the leader in traffic. Daniel was strong as well, claiming third from Gee with ten to go. Chris Martin, who had won the B main, was on the move as well. After starting 17th, he was in the top five with eight to go. He would climb to fourth, getting by Gee on lap 26. Martin and Daniel banged wheels in turn two in a battle for third, but both got through to the finish.
McCarl had some touch and go moments in traffic but maintained his lead to the checkers. He joins grandfather Lenard, father Terry and brother Carson as a feature winner at 34 Raceway. Wehrle was a career-best second, ahead of Daniel, racing in his tenth career sprint car start, hard-charger Martin and Gee. Agan, Jamie Ball (from 16th), Brayden Gaylord, Price and Jarrod Schneiderman rounded out the top ten. McCarl, Price and Gee won heats, while Gee also won the Dash.
"I'm thankful Scotty (Bonar) gave me the opportunity to come out here and race today," said McCarl in Victory Lane. "I was going to go to a concert with my wife. I don't know how she felt about me coming here to race, but we're coming home with a trophy, so I don't think she'll be too upset. It means a lot to me to win in a place that all four of us McCarl's have. We finally got that at Knoxville too this year. 2018 has been a really good year for me. It was a really tricky racetrack and our car changed a lot during that race. Hopefully, Scotty hires me back and we can get it back to Victory Lane."
"(McCarl) gave me plenty of opportunities, and I couldn't capitalize on them," said second place Wehrle. "That's alright though. We've been watching him win three of the six 410 races on Saturdays at Knoxville. I have nothing to be ashamed of. This finish was really impressive for this crew. What Andy Huston has built with this team is really awesome. I think our results have shown over the last year that the time we spend at Knoxville is well spent. It's definitely working for us."
"We've never been at these tracks, so to come here and be fast…I'm really proud of that," said the third place Daniel. "I'm thankful for everything my team (including driver coach Danny Lasoski) does for me. We were able to get to fourth pretty fast. From there, it was waiting for the guys in front of me to make a mistake. We were able to pick some spots in traffic. Chris Martin was coming from the back, and through a slide job in one and two. I just kind of got over it. It was one of those deals. We were able to get a third-place finish, which was really good for our team. The bottom worked for us in traffic, and that's how we got to third."
The Sprint Invaders will make their first appearance at the Scotland County Raceway in Memphis, Missouri since 2006, when Jeff Mitrisin came away victorious. The event will take place on Friday, June 15. For more information on the Sprint Invaders, visit www.SprintInvaders.com or follow us on Facebook and Twitter!
Sprint Invaders A main (started), 30 laps: 1. 50, Austin McCarl, Altoona, IA (1) 2. 40c, Cody Wehrle, Burlington, IA (2) 3. 33m, Mason Daniel, Springville, CA (6) 4. 44, Chris Martin, Ankeny, IA (17) 5. 99x, Skylar Gee, Leduc, ALB, Can. (3) 6. 4, Jon Agan, Knoxville, IA (7) 7. 5J, Jamie Ball, Knoxville, IA (16) 8. 13, Brayden Gaylord, Wever, IA (18) 9. 21, Robbie Price, Cobble Hill, BC, Can. (4) 10. 88, Jarrod Schneiderman, West Burlington, IA (15) 11. 81, Tanner Gebhardt, Burlington, IA (10) 12. 28AU, Allan Woods, Brisbane, QLD, Aust. (20) 13. 50P, Harold Pohren, Lowell, IA (9) 14. 51J, Ryan Jamison, Mediapolis, IA (8) 15. 83, Dave Getchell, Sperry, IA (11) 16. 49, Josh Schneiderman, West Burlington, IA (19) 17. 1, Damian Getchell, Sperry, IA (13) 18. 55, McKenna Haase, Des Moines, IA (14) 19. 78, Kaley Gharst, Decatur, IL (5) 20. 4*, Bailey Goldesberry, Springfield, IL (12). Lap Leader: McCarl 1-30. KSE Hard-charger: Martin.
Randall's Performance Heat one (started), Top 16* in Passing Points to A main, 8 laps: 1. Austin McCarl (1*) 2. Cody Wehrle (3*) 3. Bailey Goldesberry (2*) 4. Damian Getchell (4*) 5. McKenna Haase (6*) 6. Brayden Gaylord (5) 7. Chris Martin (9) 8. Josh Schneiderman (7) 9. 1st, John Greenwood, Woodward, IA (8)
CenPeCo Lubricants Heat two (started), Top 16* in Passing Points to A main, 8 laps: 1. Robbie Price (2*) 2. Jon Agan (3*) 3. Kaley Gharst (5*) 4. Ryan Jamison (6*) 5. Jamie Ball (4*) 6. Jarrod Schneiderman (7*) 7. 99, John Schulz, West Burlington, IA (1) 8. Allan Woods (8) DNS – 9, Daniel Bergquist, Burlington, IA
Mohrfeld Electric Heat three (started), Top 16* in Passing Points to A main, 8 laps: 1. Skylar Gee (2*) 2. Tanner Gebhardt (1*) 3. Mason Daniel (6*) 4. Harold Pohren (7*) 5. Dave Getchell 83 (8*) 6. 11, Colton Fisher, Mediapolis, IA (3) 7. 2D, Dave Keperling, Hannibal, MO (5) 8. 84K, Wayne Kniffen, Ft. Madison, IA (4)
Budweiser King of Beers – Golden Eagle Distributors Shake-up Dash (started), 6 laps: 1. Skylar Gee (2) 2. Robbie Price (1) 3. Kaley Gharst (3) 4. Mason Daniel (4) 5. Austin McCarl (5) 6. Cody Wehrle (6)
B main (started), Top Four Advance to A main: 1. Chris Martin (1) 2. Brayden Gaylord (2) 3. Josh Schneiderman (6) 4. Allan Woods (5) / 5. Colton Fisher (4) 6. John Greenwood (9) 7. Wayne Kniffen (8) 8. Dave Keperling (3) 9. John Schulz (7) DNS – Daniel Bergquist
Contingencies
Pyrotec – McKenna Haase
Saldana Racing Products – Josh Schneiderman
Kreitz Oval Track Products – Ryan Jamison