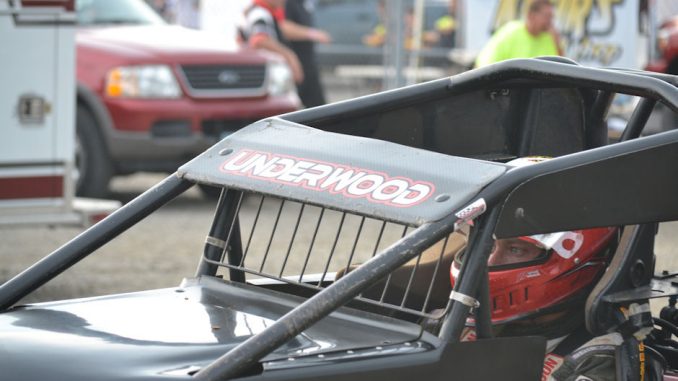 WAYNESFIELD,Ohio (August 4, 2018) — Waynesfield,Oh- (8-4-18): Lee Underwood passed Dave Darland to take the lead and went on to win the Buckeye Outlaw Sprint Series "Jack Hewitt Classic" at Waynesfield Raceway Park Saturday night. Darland started on the pole and led the first 14 laps after being pressured several times.
Bill Rose, Dallas Hewitt, Scotty Weir and Luke Hall were all in contention early in the race. While these cars were all battling for positions, Underwood who started 7th was sneaking through traffic and moving forward. As Darland exited turn four on lap 14, Underwood was able to make the pass.
Underwood was able to take control and went on to win the 25 lapper over Dallas Hewitt, Darland, Weir and Rose.
Heats for the 33 cars were won by Scotty Weir, Drew Rader, Lee Underwood and Dave Darland. B mains went to Dustin Ingle and Thomas Mezeraull.
BOSS Non Wing Sprints –
Qualifying
1.23S-Kyle Simon, 12.120; 2.33M-Matt Westfall, 12.175; 3.18-Dallas Hewitt, 12.178; 4.6W-Scotty Weir, 12.210; 5.82-Mike Miller, 12.227; 6.21S-Kody Swanson, 12.340; 7.Z39-Zane Hendricks, 12.364; 8.2DI-Dustin Ingle, 12.440; 9.87-Paul Dues, 12.448; 10.77-Kory Crabtree, 12.466; 11.00-Thomas Messeraull, 12.493; 12.39-Matt Goodnight, 12.514; 13.74-Drew Rader, 12.518; 14.44-Joe Liguori, 12.563; 15.42-Ty Tilton, 12.637; 16.19-Matt Cooley, 12.639; 17.24L-Lee Underwood, 12.660; 18.18W-Travis Welpott, 12.688; 19.17GP-Dave Darland, 12.736; 20.9G-Cody Gardner, 12.739; 21.6-Bill Rose, 12.764; 22.71-Stratton Briggs, 12.848; 23.53-Steve Little, 12.848; 24.9N-Luke Hall, 12.856; 25.41-Cole Ketcham, 12.940; 26.21P-Carmen Perigo, 13.034; 27.21-Carmen Perigo, 13.034; 28.5A-Toby Alfrey, 13.243; 29.14-Chad Wilson, 13.249; 30.1H-Korbyn Hayslett, 13.291; 31.18D-Bobby Distel, 13.517; 32.97-Scott Hardman, 14.083; 33.31L-Buddy Lowther, 14.504; 34.51-Curtis Muhlenkamp, 15.700;
Heat 1, Group A – (8 Laps)
1. 6W-Scotty Weir[2] ; 2. 18-Dallas Hewitt[3] ; 3. Z39-Zane Hendricks[1] ; 4. 23S-Kyle Simon[4] ; 5. 2DI-Dustin Ingle[5] ; 6. 44-Joe Liguori[7] ; 7. 87-Paul Dues[6] ; 8. 42-Ty Tilton[8] ; 9. 14-Chad Wilson[9]
Heat 2, Group B – (8 Laps)
1. 74-Drew Rader[1] ; 2. 21S-Kody Swanson[3] ; 3. 39-Matt Goodnight[2] ; 4. 33M-Matt Westfall[4] ; 5. 18W-Travis Welpott[5] ; 6. 18D-Bobby Distel[7] ; 7. 71-Stratton Briggs[6] ; 8. 51-Curtis Muhlenkamp[8]
Heat 3, Group C – (8 Laps)
1. 24L-Lee Underwood[1] ; 2. 9N-Luke Hall[6] ; 3. 53-Steve Little[5] ; 4. 82-Mike Miller[4] ; 5. 19-Matt Cooley[2] ; 6. 77-Kory Crabtree[3] ; 7. 97-Scott Hardman[7] ; 8. 31L-Buddy Lowther[8]
Heat 4, Group D – (8 Laps)
1. 17GP-Dave Darland[3] ; 2. 6-Bill Rose[1] ; 3. 41-Cole Ketcham[5] ; 4. 9G-Cody Gardner[2] ; 5. 00-Thomas Messeraull[4] ; 6. 21P-Carmen Perigo[6] ; 7. 1H-Korbyn Hayslett[8] ; 8. 5A-Toby Alfrey[7]
B-Main 1 – (10 Laps)
1. 2DI-Dustin Ingle[1] ; 2. 44-Joe Liguori[3] ; 3. 42-Ty Tilton[7] ; 4. 19-Matt Cooley[2] ; 5. 87-Paul Dues[5] ; 6. 14-Chad Wilson[9] ; 7. 97-Scott Hardman[6] ; 8. 31L-Buddy Lowther[8] ; 9. 77-Kory Crabtree[4]
B-Main 2 – (10 Laps)
1. 00-Thomas Messeraull[2] ; 2. 21P-Carmen Perigo[4] ; 3. 18W-Travis Welpott[1] ; 4. 1H-Korbyn Hayslett[6] ; 5. 71-Stratton Briggs[5] ; 6. 18D-Bobby Distel[3] ; 7. 5A-Toby Alfrey[8] ; 8. 51-Curtis Muhlenkamp[7]
A-Main 1 – (30 Laps)
1. 24L-Lee Underwood[7] ; 2. 18-Dallas Hewitt[5] ; 3. 17GP-Dave Darland[1] ; 4. 6W-Scotty Weir[8] ; 5. 6-Bill Rose[6] ; 6. 23S-Kyle Simon[13] ; 7. 9N-Luke Hall[3] ; 8. 00-Thomas Messeraull[18] ; 9. 33M-Matt Westfall[14] ; 10. 39-Matt Goodnight[10] ; 11. 74-Drew Rader[4] ; 12. 21S-Kody Swanson[2] ; 13. 53-Steve Little[11] ; 14. 41-Cole Ketcham[12] ; 15. 42-Ty Tilton[21] ; 16. 21P-Carmen Perigo[20] ; 17. 18W-Travis Welpott[22] ; 18. 2DI-Dustin Ingle[17] ; 19. 82-Mike Miller[15] ; 20. 44-Joe Liguori[19] ; 21. Z39-Zane Hendricks[9] ; 22. 9G-Cody Gardner[16]