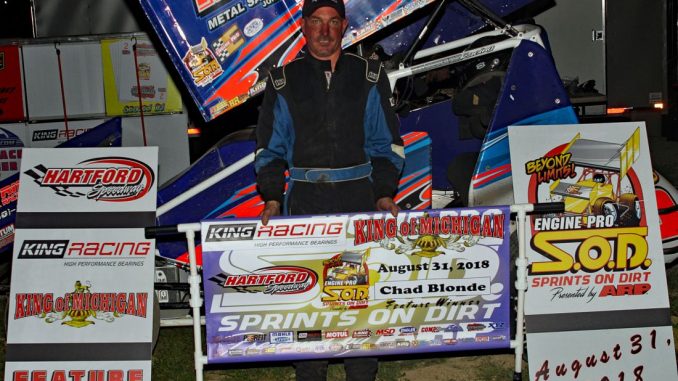 From SOD
ERIE, MI (September 8, 2018) – Chad Blonde (Litchfield, Michigan) drove his Krieger Racing Engine powered Maxim to a well-deserved 2018 Engine Pro Sprints On Dirt presented by ARP Championship.
Blonde, in the 5B owned and wrenched by 1999 SOD Champion Sean Robinson, picked up three second place finishes and two thirds in the season's first five races. Blonde won the first of his four races on July 13th, the season's second King Engine Bearings King of Michigan race at Hartford Motor Speedway. Blonde's worst finish was fourth on July 14th at Crystal Motor Speedway for the MAHLE/Clevite Beyond Limits Challenge race #2. Besides his July 13th win, Blonde won the KoM race at Hartford on July 22, night one of the Butler Bash/Hog Creek Showdown on August 3rd, and the KoM Championship Race on August 31st.
Shawn Valenti (Fostoria, Ohio) finished second in the championship in his Gressman Powersports Triple X. Valenti picked up three wins, a MAHLE/Clevite Beyond Limits Challenge win at Tri-City Motor Speedway on June 22nd, another BLC win at Crystal Motor Speedway on July 14th, and the Butler Bash/Hog Creek Showdown finale on August 4th.
Valenti also captured the 2018 Sprints On Dirt Series Rookie of the Year Award. Josh Ward followed in his brother Justin's footsteps. Justin was 2016 Sprints On Dirt Sprint Car Rookie of the Year; Josh is the 2018 Sprints On DirtSprint Car Rookie of the Year.
XYZ Machining Sportsman of the Year and XYZ Crew Chief of the Year will be announced at the awards banquet.
The top twelve in season championship points will be recognized at the 2018 Engine Pro Sprints On Dirt presented by ARP Awards Banquet on October 27th. They are:
‍‍‍‍‍‍ ‍‍‍‍‍‍ ‍‍‍‍‍‍‍‍‍‍‍‍ ‍‍‍‍‍‍ ‍‍‍‍‍‍ 1. 5b, Chad Blonde, 1644
‍‍‍‍‍‍ ‍‍‍‍‍‍ ‍‍‍‍‍‍‍‍‍‍‍‍ ‍‍‍‍‍‍ ‍‍‍‍‍‍ 2. 7, Shawn Valenti, 1523
‍‍‍‍‍‍ ‍‍‍‍‍‍ ‍‍‍‍‍‍‍‍‍‍‍‍ ‍‍‍‍‍‍ ‍‍‍‍‍‍ 3. 10s, Jay Steinebach, 1335
‍‍‍‍‍‍ ‍‍‍‍‍‍ ‍‍‍‍‍‍‍‍‍‍‍‍ ‍‍‍‍‍‍ ‍‍‍‍‍‍ 4. 0, Ricky Ferkel, 1282
‍‍‍‍‍‍ ‍‍‍‍‍‍ ‍‍‍‍‍‍‍‍‍‍‍‍ ‍‍‍‍‍‍ ‍‍‍‍‍‍ 5. 71H, Ryan Ruhl, 1176
‍‍‍‍‍‍ ‍‍‍‍‍‍ ‍‍‍‍‍‍‍‍‍‍‍‍ ‍‍‍‍‍‍ ‍‍‍‍‍‍ 6. 8, Justin Ward, 1166
‍‍‍‍‍‍ ‍‍‍‍‍‍ ‍‍‍‍‍‍‍‍‍‍‍‍ ‍‍‍‍‍‍ ‍‍‍‍‍‍ 7. 8W, Josh Ward, 1113
‍‍‍‍‍‍ ‍‍‍‍‍‍ ‍‍‍‍‍‍‍‍‍‍‍‍ ‍‍‍‍‍‍ ‍‍‍‍‍‍ 8. 5QB, Quentin Blonde, 1101
‍‍‍‍‍‍ ‍‍‍‍‍‍ ‍‍‍‍‍‍‍‍‍‍‍‍ ‍‍‍‍‍‍ ‍‍‍‍‍‍ 9. 1a, Mark Aldrich, 1001
‍‍‍‍‍‍ ‍‍‍‍‍‍ ‍‍‍‍‍‍‍‍‍‍‍‍ ‍‍‍‍‍‍ ‍‍‍‍‍‍10. 24+, Mike Schumacher, 874
‍‍‍‍‍‍ ‍‍‍‍‍‍ ‍‍‍‍‍‍‍‍‍‍‍‍ ‍‍‍‍‍‍ ‍‍‍‍‍‍11. 41, Thomas Schinderle, 759
‍‍‍‍‍‍ ‍‍‍‍‍‍ ‍‍‍‍‍‍‍‍‍‍‍‍ ‍‍‍‍‍‍ ‍‍‍‍‍‍12. 24, Eric Smith, 756
The season championship point fund and all other 2018 mini point funds will be paid out at the family-friendly banquet on October 27th at the Battle Creek (MI) Holiday Inn. Racers, teams, sponsors, promoters, fans, families, friends are all invited. Tickets are $35 per person. Email director@sprintsondirt.com to order yours.
To learn more about Engine Pro, go to www.enginepro.com. For more information about ARP, go to www.arp-bolts.com. Follow SOD at www.sprintsondirt.com and on Facebook at www.facebook.com/sprintsondirt.