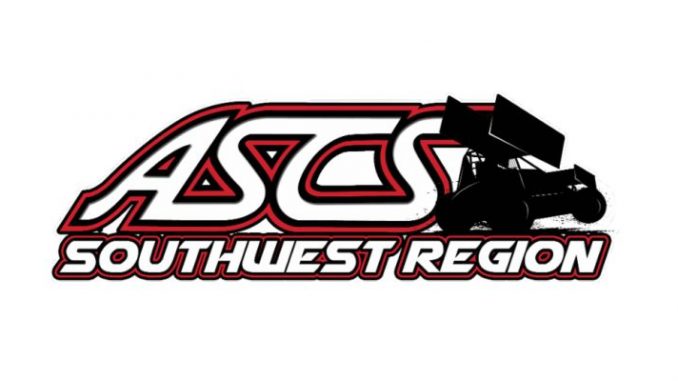 From Bryan Hulbert
QUEEN CREEK, Ariz. (September 15, 2018) – Moving to third on the all-time ASCS Southwest Region win list, Colton Hardy picked up his 10th career win this past Saturday night at Arizona Speedway.
Leading all 25 laps, Hardy's run to the front started from the fourth position.
The fifth win on the season for Hardy, the No. 74 is in the hunt to defend his 2017 title with only 17 points standing between himself and Rick Ziehl, who ended his night third with J.T. Imperial sitting among the championship contenders with a silver medal finish. Jeff Lowery was fourth with Billy Chester in fifth.
Jarrett Martin in sixth was trailed by Alex Pettas. Eighth to Jesse Baker with Danny Mathus in ninth. A rare appearance by Non-Wing ace Bruce St. James, the "Radio Flyer" finished tenth.
The night's Heat Race winners got an extra $25 each from Ron Gilson Photography. Colton Hardy and Billy Chester picked up the extra cash.
The ASCS Southwest Region rolls again on October 6 with another rendezvous at Arizona Speedway. Four dates remain on the 2018 lineup with Canyon Speedway Park on October 13 and Arizona Speedway's $5,000 to win Copper Classic on November 23 and 24.
For other news, notes, and information on the American Sprint Car Series, from the National Tour to any of the Regional Tours that make up the nearly 150 races across the ASCS Nation in 2018, log onto http://www.ascsracing.com, follow on Facebook, on Instagram, and on Twitter (@LucasOilASCS).
Race Results:
ASCS Southwest Region
Arizona Speedway – Queen Creek, Ariz.
Saturday, September 15, 2018
A Feature (25 Laps): 1. 74-Colton Hardy, [4]; 2. 75X-J.T. Imperial, [1]; 3. 20Z-Rick Ziehl, [6]; 4. 45-Jeff Lowery, [3]; 5. 2B-Billy Chester III, [8]; 6. 57-Jarrett Martin, [5]; 7. 2-Alex Pettas, [11]; 8. 22B-Jesse Baker, [7]; 9. 7X-Danny Mathus, [2]; 10. 7K-Bruce St James, [9]; 11. 33-Steve Cushman, [14]; 12. 17K-Kyle Danielson, [10]; 13. (DNF) 91-Casey Buckman, [12]; (DNS) 7-Joshua Shipley,
Heat 1 (8 Laps): 1. 74-Colton Hardy, [1]; 2. 45-Jeff Lowery, [2]; 3. 57-Jarrett Martin, [6]; 4. 22B-Jesse Baker, [7]; 5. 7K-Bruce St James, [4]; 6. (DNF) 91-Casey Buckman, [3]; 7. (DNF) 7-Joshua Shipley, [5]
Heat 2 (8 Laps): 1. 2B-Billy Chester III, [6]; 2. 75X-J.T. Imperial, [3]; 3. 20Z-Rick Ziehl, [7]; 4. 7X-Danny Mathus, [1]; 5. 17K-Kyle Danielson, [2]; 6. 2-Alex Pettas, [5]; 7. 33-Steve Cushman, [4]