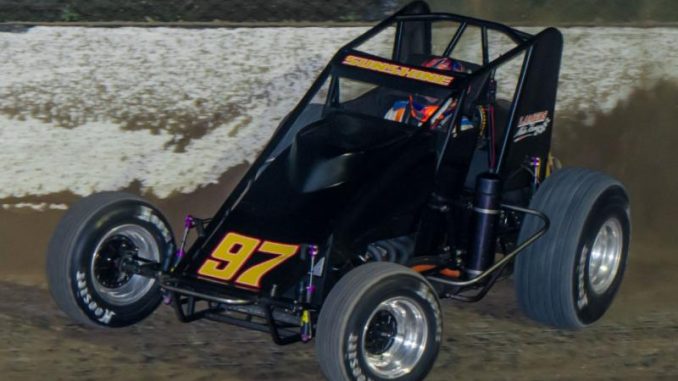 By Richie Murray
Rossburg, Ohio………The big cars of the USAC Silver Crown Champ Car Series are known for endurance races. One-hundred miles, tire and fuel conservation and being in position at the end usually dictate how the race will unfold.
This Saturday's 37th running of the "4-Crown Nationals" presented by NKT.TV at Eldora Speedway is about as close to a sprint race as you can get. It's 50 laps around a half-mile, all out, for the finale of the series' 48th season.
Kody Swanson has virtually locked up an unprecedented fourth series championship. With a 76-point lead and a max of 76 points on the table, all the Kingsburg, Calif. native has to do is sign-in (worth 10 appearance points) and the title is his.
At that point, Swanson is basically playing with house money, taking the pressure of "points racing" out of the equation and allowing him to affix his sole focus to the steering wheel and the pedals as he searches for his first Silver Crown win, the only dirt track on this year's Silver Crown schedule that he hasn't yet won at.
Only three drivers have recorded a win at Eldora on their road to a championship when the "4-Crown" has been the finale: Jack Hewitt in 1986, Steve Butler in 1992 and Chris Windom in 2016.
Tucson, Arizona's Jerry Coons, Jr. is one of only four drivers to have won in all three of USAC's National open wheel divisions during the "4-Crown" (Jack Hewitt, Kyle Larson & Dave Darland). Coons scored his wins in 2007 and 2014 for two different teams. He's still angling for that first Silver Crown win for Gene Nolen's team, which too is eager to breakthrough for the first time at Eldora.
Barriers that have stood in the way of Nolen and victory at a track that has eluded his pilots have already been busted this year by Coons teammate, Chris Windom. The Canton, Ill. driver has won the past two Silver Crown races, both on the Illinois dirt miles in Springfield and Du Quoin. Capturing Springfield was a first for both Nolen and Windom. The Du Quoin score was the first for the team there this millennium, following wins in 1992 and 1999. Windom, the two-time "4-Crown" Silver Crown winner and series champ, finished second in 2017.
The driver Windom chased to the line was Tyler Courtney of Indianapolis, Ind., who drove himself and his Hans Lein-owned ride to both their first Silver Crown wins as driver and owner, respectively. He joins an interesting list of drivers to earn their first Silver Crown triumph at the "Big E:" Steve Kinser (1981), Danny Smith (1982), Ron Shuman (1982), Ken Schrader (1983), Steve Butler (1990), Kevin Huntley (1997), Mat Neely (2006), Jerry Coons, Jr. (2007), Bryan Clauson (2010), Chris Windom (2013) and Christopher Bell (2015).
Justin Grant, a 2016 "4-Crown" Sprint Car winner, is a surefire bet to be a threat in the Champ Car. The Ione, California driver won the "Sumar Classic" at the Terre Haute (Ind.) Action Track in April in his Hemelgarn Racing mount. Broken Arrow, Oklahoma's Brady Bacon won in May in a Sprint Car at Eldora and finished fifth in last year's Eldora Silver Crown ride.
On Friday, September 21, the Silver Crown Champ Car Series will lead off the USAC portion of the event with practice and single car qualifying along with complete shows for the World of Outlaws Craftsman Sprint Cars and the Eldora Stock Cars.
Friday's event will begin at 6pm with World of Outlaws practice and qualifying, Silver Crown practice, stock car hot laps, followed by Silver Crown qualifying, all preceding the opening ceremonies and the remainder of the night's racing activities.
The Silver Crown teams will again have a practice session the following day, Saturday, September 22, leading into their 50-lap finale as part of the event which will feature complete events for the USAC P1 Insurance National Midgets, USAC AMSOIL National Sprint Cars and the Arctic Cat All Star Circuit of Champions.
On Friday, pits open at 1:30pm and spectator gates open at 2pm. General admission tickets are $25 for ages 13 & up and free for ages 12 & under. Reserved tickets are $29 for ages 13 & up and $10 for ages 12 & under.
On Saturday, pits open at 11:30am, spectator gates open at noon, a USAC autograph session will take place from 3-4pm in the fan zone, drivers meeting at 4:30pm and cars on track at 6pm. General admission tickets are $30 for ages 13 & up and $30 for ages 12 & under. Reserved tickets are $34 for ages 13 & up and $14 for ages 12 & under: $14.
Saturday's full events will have LIVE audio on the USAC app along with LIVE video on http://Live.EldoraSpeedway.com/.
ALL-TIME USAC SILVER CROWN "4-CROWN" WINNERS: 1981: Steve Kinser, 1982: Ron Shuman, 1983: Ken Schrader, 1985: Larry Rice, 1986: Jack Hewitt, 1987: Larry Rice, 1988: Jack Hewitt, 1989: Jack Hewitt, 1990: Steve Butler, 1991: Jack Hewitt, 1992: Steve Butler, 1993: Ron Shuman, 1994: Jack Hewitt, 1995: Jack Hewitt, 1996: Jack Hewitt, 1997: Kevin Huntley, 1998: Jack Hewitt, 1999: Jimmy Sills, 2000: J.J. Yeley, 2001: J.J. Yeley, 2002: Brian Tyler, 2004: Dave Darland, 2005: Dave Darland, 2006: Mat Neely, 2007: Jerry Coons Jr., 2008: Dave Darland, 2009: Dave Darland, 2010: Bryan Clauson, 2011: Kyle Larson, 2012: Bryan Clauson, 2013: Chris Windom, 2014: Jerry Coons Jr., 2015: Christopher Bell, 2016: Chris Windom, 2017: Tyler Courtney
USAC SILVER CROWN CHAMPIONSHIP POINTS: 1-Kody Swanson-583, 2-Justin Grant-507, 3-Chris Windom-503, 4-David Byrne-439, 5-Jerry Coons, Jr.-378, 6-Bobby Santos-329, 7-Kyle Robbins-326, 8-Travis Welpott-319, 9-Matt Goodnight-309, 10-Austin Nemire-286.