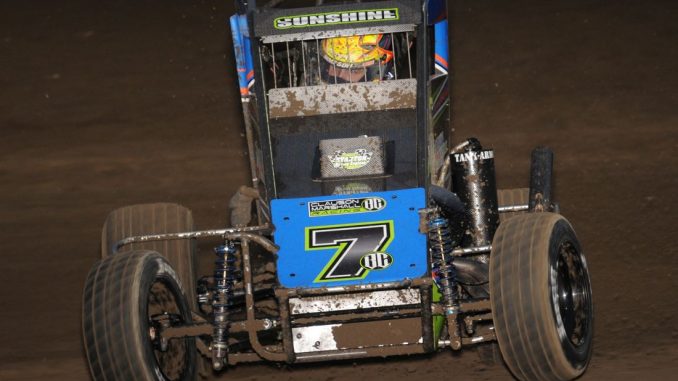 By T.J. Buffenbarger
ROSSBURG, Ohio (September 22, 2018) — Tyler Courtney won the USAC P1 Insurance National Midget Championship portion of the 4-Crown Nationals in dominating fashion. Courtney took the lead following a restart after a red flag, putting his car's right rear tire near Eldora's unforgiving concrete wall virtually every lap to drive away from the field in the Clauson-Marshall Racing car for the victory.
Justin Grant led Holly Shelton during the early portion of the feature that was disrupted by two caution flags. Grant continued to lead as Coutney moved into second.
A scary moment took place when Spencer Bayston, who was involved in an intense battle for third with several cars, caught the cushion and took a terrifying flip down the back between turns one and two. Bayton was awake and alert before eventually being transported to a local area hospital for further observation.
Following the restart Courtney drove straight to the cushion and around Grant from the lead. From there Courntey drove away from the rest of the field. Grant held on for second with Logan Seavey, Kevin Thomas Jr, and Tanner Carrick rounded out the top five.
USAC P1 INSURANCE NATIONAL MIDGET RACE RESULTS: September 22, 2018 – Rossburg, Ohio – Eldora Speedway – 37th "4-Crown Nationals" – Presented by NKT.TV
PROSOURCE QUALIFYING: 1. Tyler Courtney, 7BC, Clauson/Marshall-16.475; 2. Zeb Wise, 39BC, Clauson/Marshall-16.603; 3. Brady Bacon, 76m, FMR-16.610; 4. Chad Boat, 84, Tucker/Boat-16.610; 5. Justin Grant, 17BC, Clauson/Marshall/Wood-16.638; 6. Holly Shelton, 67k, Kunz/Curb-Agajanian-16.720; 7. Spencer Bayston, 97k, Kunz/Curb-Agajanian-16.744; 8. Kevin Thomas Jr., 63, Dooling-16.752; 9. Zane Hendricks, 27z, Tucker/Boat-16.761; 10. Jerry Coons Jr., 25, Petry-16.798; 11. Rico Abreu, 97, Kunz/Curb-Agajanian-16.803; 12. Ryan Robinson, 71, Kunz/Curb-Agajanian-16.806; 13. Tanner Carrick, 71k, Kunz/Curb-Agajanian-16.853; 14. Logan Seavey, 67, Kunz/Curb-Agajanian-16.853; 15. Jason McDougal, 15, Petry-16.899; 16. Tucker Klaasmeyer, 27, Kunz/Curb-Agajanian-16.911; 17. Sam Johnson, 72, Kunz/Curb-Agajanian-16.924; 18. Chris Windom, 35, Petry-16.938; 19. Alex Bright, 77, Bright-16.991; 20. Hank Davis, 42, Franklin-17.141; 21. Chase Jones, 33, RayPro-17.287; 22. Andrew Layser, 35L, Bright-17.635; 23. Chris Baue, 35x, Baue-18.809; 24. Rich Drangmeister, 18, Drangmeister-23.387.
SIMPSON RACE PRODUCTS FIRST HEAT: (8 laps) 1. Courtney, 2. Seavey, 3. Johnson, 4. Bayston, 5. Boat, 6. Coons, 7. Davis. 2:16.49
COMPETITION SUSPENSION (CSI) SECOND HEAT: (8 laps) 1. Wise, 2. McDougal, 3. Thomas, 4. Robinson, 5. Grant, 6. Windom, 7. Jones. 2:18.76
CHALK STIX/INDY RACE PARTS THIRD HEAT: (8 laps) 1. Klaasmeyer, 2. Carrick, 3. Bright, 4. Shelton, 5. Bacon, 6. Hendricks, 7. Layser. 2:19.52
FEATURE: (25 laps) 1. Tyler Courtney, 2. Justin Grant, 3. Logan Seavey, 4. Kevin Thomas Jr., 5. Tanner Carrick, 6. Holly Shelton, 7. Tucker Klaasmeyer, 8. Ryan Robinson, 9. Jason McDougal, 10. Brady Bacon, 11. Hank Davis, 12. Sam Johnson, 13. Chad Boat, 14. Zane Hendricks, 15. Chase Jones, 16. Alex Bright, 17. Andrew Layser, 18. Jerry Coons Jr., 19. Chris Windom, 20. Spencer Bayston, 21. Zeb Wise. NT
——————————–
**Abreu transferred to a local hospital for observation after crash in qualifying, and then released. Bayston flipped on lap 10 of the feature.
FEATURE LAP LEADERS: Laps 1-9 Grant, Laps 10-25 Courtney.
KSE RACING PRODUCTS/LARRY RICE HIGH PERFORMANCE HARD CHARGER AWARD: Logan Seavey (13th-3rd)
WILWOOD BRAKES 13TH PLACE FINISHER: Chad Boat
NEW USAC P1 INSURANCE NATIONAL MIDGET POINTS: 1-Seavey-901, 2-Bacon-783, 3-Boat-771, 4-Courtney-763, 5-Grant-762, 6-Bayston-756, 7-Carrick-717, 8-Thomas-701, 9-Wise-569, 10-Robinson-534.
NEXT USAC P1 INSURANCE NATIONAL MIDGET RACE: October 21- Wayne City, IL – Wayne County Speedway – "Jason Leffler Memorial"