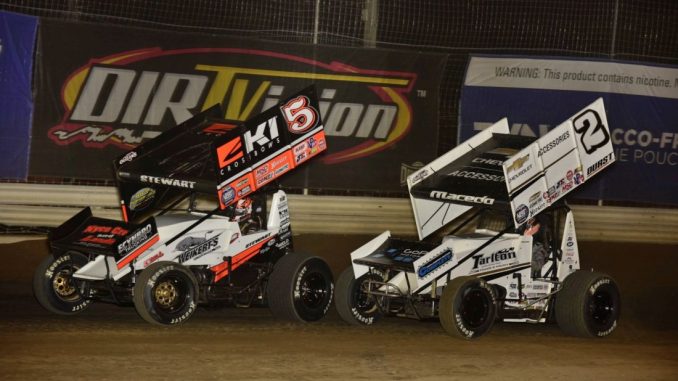 By T.J. Bufenbarger
After rain relegated me back to the office to watch sprint car racing tonight here are a couple of takeaways from the second and final night of the Music City Outlaw Nationals at the Nashville Fairgrounds Speedway with the World of Outlaws.
Saturday night was operationally 1000x better than on Friday at Nashville. The feature ended just a little after 10:00 p.m. local time. The track prep crew was able to get more moisture into the surface and worked continuously throughout the evening to produce two racing lines for most of the night without the track getting rough.

While I'm still not crazy about the layout overall, if you saw any of the pictures from the grandstands (which were full) you would have to call the inaugural edition of the Music City Outlaw Nationals a success. The big test will be to see how many of those fans will come back to see the Outlaws next year at Nashville (because I'm about 90% certain we'll see this event happen again).
There was a time where Shane Stewart may not have been in position to capitalize on Brent Marks' mistake late in the race at Nashville. This older, wiser version of Stewart patiently stalked Marks through traffic the last quarter of the race waiting on a mistake and being able to capitalize on it to take the lead.
Saying Brent Marks had an abysmal start to the 2019 season would be an understatement burning through provisionals the first week of the season. Marks and has team have turned things around as they have been continually been moving through the ranks and put together a solid weekend in Nashville. Marks team might be one to keep an eye on for building momentum leading into some of the big money races next month.
How fun was it to see Jeff Swindell on the front row for a World of Outlaws event in his home state? I joked on Twitter that DIRTVision needed to run some old "the Nashville Network" graphics from back in the day showing Swindell on the front row. While Jeff stayed up front early he eventually faded back to eight position.
Nashville is a great racing town. If you give the people a top-flight show they will come out to see it. The pictures of the crowd on social media was astounding on Saturday night. I think one thing it showed that virtually everyone in our portion of the industry could learn is better advance work leading into events. It might be time for the Outlaws to have a couple of people dedicated simply to that task to better setup all of their shows for success.