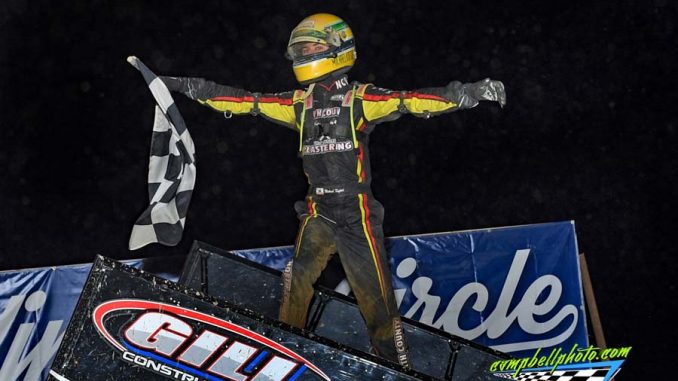 Dale Blaney claims sixth Ohio Sprint Speedweek title
ORRVILLE, Ohio (June 22, 2019) – Penngrove, California's Buddy Kofoid officially etched his name in Ollie's Bargain Outlet All Star Circuit of Champions presented by Mobil 1 history books on Saturday night at Wayne County Speedway, not only earning a first-ever Series victory, but doing so during the final night of the 37th running of Cometic Gasket Ohio Sprint Speedweek presented by Indy Metal Finishing. To top things off, the Speedweek finale victory scored Kofoid a $10,000 payday.
The feat was impressive, but it was accomplished in dramatic fashion, as the 17-year-old was forced to outduel Kokomo, Indiana's Parker Price-Miller, as well as six-time All Star champion, Dale Blaney, during the closing circuits of the 35-lap main event. In fact, Kofoid was third when the field received the five-to-go signal from the flagstand, eventually getting by Blaney with two laps remaining, followed by a slick move to drive under Price-Miller on the final circuit.
Price-Miller, who led the first 34 laps from the pole position, held on to finish second at Wayne County Speedway, followed by Blaney, local favorite, Broc Martin, and St. Helena, California's Rico Abreu.
"I really don't know what to say. This was one of my goals when I moved out here," said Buddy Kofoid, driver of the Ed Neumeister Racing/Gill Construction/CK Plumbing/Linder's Speed Equipment/No. 11N sprint car. "Getting that first All Star win is just unbelievable. Now I want to get an Outlaw win. I really can't thank this team enough. Mike [Linder] and the guys gave me a great car. I'm having a lot of fun doing this."
Although never in command until the final circuit, it was obvious that Kofoid was going to be a factor. In fact, Kofoid took command for the first time, unofficially, on lap nine with a slider over Price-Miller through turns one and two. Unfortunately, a caution, the main event's first and only caution, halted action just as Kofoid took command, ultimately negating his move.
Racing one-two after the ensuing restart, Price-Miller and Kofoid did not encounter traffic for the first time until lap 17, causing the front-runners to bunch that now included a fast-paced Dale Blaney, who battled his way to third from fifth by the completion of lap 23. From that point forward, it was a shootout.
By lap 26, the lead trio were trapped behind a wall of slower cars. Using traffic as a pick, Blaney pounced on Kofoid for second on lap 27, actually diving below the familiar No. 11N with a move between turns three and four. Despite losing a position, Kofoid kept pace with Blaney and Price-Miller, eventually returning the favor and advancing back into second on lap 33.
Keeping Price-Miller within striking distance, Kofoid drove to the tailtank of the Indy Race Parts No. 71P as the duo were entering turn one on the final circuit. In an attempt to protect the bottom, Price-Miller dived into one, but slid too high, actually opening the door for Kofoid who was able to sneak by.
"I was running harder and harder and harder. I actually blew off the track a little bit and that let Dale [Blaney] by," Buddy Kofoid continued. "I was still running hard, but smoother. I ended up getting a run on Dale which allowed us to get back by him. I kept doing the same thing and that allowed us to reel Parker [Price-Miller] in. I felt like I could probably do a wheelie down the backstretch, that's how much driver I was getting off of turn two."
Kofoid won the battle on Saturday night, but it was Dale Blaney who won the war, using his podium run to clinch a sixth-career Cometic Gasket Ohio Sprint Speedweek presented by Indy Metal Finishing championship, now with just as many Speedweek titles as he does All Star championships. The Speedweek title, his first since 2014, earned the Hartford, Ohio-native a $4,000 payday.
With the 37th edition of Cometic Gasket Ohio Sprint Speedweek presented by Indy Metal Finishing complete, Tony Stewart's All Star Circuit of Champions will now aim their focus west, set to embark on the Land of Lincoln for a two-race weekend on June 28 & 29. The All Star Circuit of Champions will kick-off their weekend in Illinois with a visit to the Jacksonville Speedway in Jacksonville on Friday, June 28. The two-day venture will conclude at the state-of-the-art Dirt Oval at Route 66 on Saturday, June 29.
As they are for most of the 2019 All Star schedule, Speed Shift TV, the official online broadcast partner of the All Star Circuit of Champions in 2019, will be conducting a live video broadcast during the events at Jacksonville and Route 66. For more information, please visit Speed Shift TV live on the Web at www.speedshifttv.com.
Contingency Awards/Results: Wayne County Speedway – Saturday, June 22, 2019:
Event: 37th Annual Cometic Gasket Ohio Sprint Speedweek presented by Indy Metal Finishing Finale
Entries: 50
C&R Racing All Star Warm-Ups: Cory Eliason – 15.556
Lincoln Electric Fast Qualifier: DJ Foos – 15.998
Ford Performance Heat #1: Jac Haudenschild
All Pro Aluminum Cylinder Heads Heat #2: Gerard McIntyre
Hunt Brothers Pizza Heat #3: Buddy Kofoid
Mobil 1 Heat #4: Dale Blaney
Kistler Racing Products Heat #5: Broc Martin
Elliott's Custom Trailers & Carts C-Main Winner: Cap Henry
JE Pistons Dash #1: Parker Price-Miller
Fatheadz Eyewear Dash #2: Broc Martin
Classic Ink USA B-Main Winner: Mitch Harble
Ollie's Bargain Outlet A-Main Winner: Buddy Kofoid
MSD Performance Hard Charger Award: Andrew Palker (+12)
Rayce Rudeen Foundation First Non-Transfer: Brock Zearfoss
(Lincoln Electric, MSD Performance, Fatheadz Eyewear, Rayce Rudeen Foundation: Need decal to qualify for contingency award)
Qualifying
Group (A)
1. 16-DJ Foos, 15.998; 2. 3-Jac Haudenschild, 16.134; 3. 87-Aaron Reutzel, 16.179; 4. A79-Brandon Wimmer, 16.432; 5. 71P-Parker Price-Miller, 16.466; 6. 26-Cory Eliason, 16.524; 7. 38K-Clay Riney, 17.206; 8. 8M-TJ Michael, 17.260; 9. 7DK-Dylan Kingan, 18.081; 10. 16M-Danny Mumaw, 99.917
Group (B)
1. 3C-Cale Conley, 16.247; 2. 5H-Jordan Harble, 17.078; 3. O7-Gerard McIntyre, 17.168; 4. 8J-Jess Stiger, 17.177; 5. W20-Greg Wilson, 17.376; 6. 7-Troy Kingan, 17.726; 7. 29-Steve Butler, 17.959; 8. A45-Rusty Hickman, 17.976; 9. OOH-Hunter Lynch, 99.240; 10. 1R-Gale Ruth Sr., NT
Group (C)
1. 24-Rico Abreu, 16.146; 2. 81-Lee Jacobs, 16.402; 3. 11N-Buddy Kofoid, 16.669; 4. 45-Trevor Baker, 16.827; 5. 35b-Stuart Brubaker, 16.922; 6. 9-Dean Jacobs, 17.177; 7. 70-Brock Zearfoss, 17.233; 8. 59-Bryan Nuckles, 17.342; 9. 22-Brandon Spithaler, 17.418; 10. 40-George Hobaugh, 17.518
Group (D)
1. 57X-Andrew Palker, 16.110; 2. 11-Dale Blaney, 16.229; 3. G1-Justin Peck, 16.307; 4. 71-Gio Scelzi, 16.561; 5. 14-Tony Stewart, 16.738; 6. K4-Chad Kemenah, 16.811; 7. 97-Max Stambaugh, 17.026; 8. 5T-Travis Philo, 17.063; 9. 3J-Trey Jacobs, 17.099; 10. 70M-Henry Malcuit, 17.438
Group (E)
1. 22B-Ryan Broughton, 16.495; 2. 19-Mitch Harble, 16.520; 3. 49x-Tim Shaffer, 16.599; 4. 83M-Broc Martin, 16.819; 5. 99-Skylar Gee, 16.843; 6. 23J-Hunter Schuerenberg, 16.851; 7. 22C-Cole Duncan, 16.931; 8. 4-Cap Henry, 17.059; 9. 23-Nick Patterson, 17.117; 10. 13-Paul McMahan, 17.485
Heat #1 – Group (A) (8 Laps) – Top 4 Transfer
1. 3-Jac Haudenschild [3]; 2. 16-DJ Foos [4]; 3. 71P-Parker Price-Miller [5]; 4. A79-Brandon Wimmer [1]; 5. 38K-Clay Riney [7]; 6. 87-Aaron Reutzel [2]; 7. 8M-TJ Michael [8]; 8. 26-Cory Eliason [6]; 9. 16M-Danny Mumaw [10]; 10. 7DK-Dylan Kingan [9]
Heat #2 – Group (B) (8 Laps) – Top 4 Transfer
1. O7-Gerard McIntyre [2]; 2. 3C-Cale Conley [4]; 3. W20-Greg Wilson [5]; 4. 5H-Jordan Harble [3]; 5. 8J-Jess Stiger [1]; 6. OOH-Hunter Lynch [9]; 7. 29-Steve Butler [7]; 8. A45-Rusty Hickman [8]; 9. 7-Troy Kingan [6]
Heat #3 – Group (C) (8 Laps) – Top 4 Transfer
1. 11N-Buddy Kofoid [2]; 2. 24-Rico Abreu [4]; 3. 45-Trevor Baker [1]; 4. 9-Dean Jacobs [6]; 5. 70-Brock Zearfoss [7]; 6. 22-Brandon Spithaler [9]; 7. 81-Lee Jacobs [3]; 8. 35B-Stuart Brubaker [5]; 9. 40-George Hobaugh [10]; 10. 59-Bryan Nuckles [8]
Heat #4 – Group (D) (8 Laps) – Top 4 Transfer
1. 11-Dale Blaney [3]; 2. G1-Justin Peck [2]; 3. 71-Gio Scelzi [1]; 4. K4-Chad Kemenah [6]; 5. 14-Tony Stewart [5]; 6. 57X-Andrew Palker [4]; 7. 97-Max Stambaugh [7]; 8. 70M-Henry Malcuit [10]; 9. 5T-Travis Philo [8]; 10. 3J-Trey Jacobs [9]
Heat #5 – Group (E) (8 Laps) – Top 4 Transfer
1. 83M-Broc Martin [1]; 2. 49X-Tim Shaffer [2]; 3. 22B-Ryan Broughton [4]; 4. 13-Paul McMahan [10]; 5. 19-Mitch Harble [3]; 6. 23-Nick Patterson [9]; 7. 22C-Cole Duncan [7]; 8. 4-Cap Henry [8]; 9. 99-Skylar Gee [5]; 10. 23J-Hunter Schuerenberg [6]
Dash #1 (4 Laps)
1. 71P-Parker Price-Miller [2]; 2. 16-DJ Foos [1]; 3. 11-Dale Blaney [4]; 4. O7-Gerard McIntyre [5]; 5. 3-Jac Haudenschild [6]; 6. 49X-Tim Shaffer [3]
Dash #2 (4 Laps)
1. 83M-Broc Martin [1]; 2. 11N-Buddy Kofoid [3]; 3. G1-Justin Peck [2]; 4. 24-Rico Abreu [4]; 5. A79-Brandon Wimmer [5]; 6. 3C-Cale Conley [6]
C-Main (10 Laps) – Top 2 Transfer
1. 4-Cap Henry [3]; 2. 35B-Stuart Brubaker [2]; 3. 99-Skylar Gee [6]; 4. 70M-Henry Malcuit [4]; 5. 23J-Hunter Schuerenberg [11]; 6. 40-George Hobaugh [8]; 7. A45-Rusty Hickman [5]; 8. 7-Troy Kingan [9]; 9. 7DK-Dylan Kingan [14]
B-Main (12 Laps) – Top 4 Transfer
1. 19-Mitch Harble [3]; 2. 57X-Andrew Palker [1]; 3. 8J-Jess Stiger [5]; 4. 8M-TJ Michael [14]; 5. 70-Brock Zearfoss [7]; 6. 4-Cap Henry [16]; 7. 81-Lee Jacobs [11]; 8. 35B-Stuart Brubaker [17]; 9. 38K-Clay Riney [6]; 10. 22-Brandon Spithaler [9]; 11. 29-Steve Butler [15]; 12. 23-Nick Patterson [8]; 13. 97-Max Stambaugh [13]; 14. 87-Aaron Reutzel [2]; 15. 14-Tony Stewart [4]; 16. 22C-Cole Duncan [12]; 17. OOH-Hunter Lynch [10]
A-Main (35 Laps)
1. 11N-Buddy Kofoid [4]; 2. 71P-Parker Price-Miller [1]; 3. 11-Dale Blaney [5]; 4. 83M-Broc Martin [2]; 5. 24-Rico Abreu [8]; 6. 16-DJ Foos [3]; 7. G1-Justin Peck [6]; 8. 71-Gio Scelzi [14]; 9. O7-Gerard McIntyre [7]; 10. 57X-Andrew Palker [22]; 11. 49X-Tim Shaffer [11]; 12. 3-Jac Haudenschild [9]; 13. 3C-Cale Conley [12]; 14. W20-Greg Wilson [16]; 15. 87-Aaron Reutzel [25]; 16. 26-Cory Eliason [26]; 17. 13-Paul McMahan [20]; 18. K4-Chad Kemenah [17]; 19. 9-Dean Jacobs [19]; 20. 8M-TJ Michael [24]; 21. 45-Trevor Baker [15]; 22. A79-Brandon Wimmer [10]; 23. 8J-Jess Stiger [23]; 24. 22B-Ryan Broughton [13]; 25. 5H-Jordan Harble [18]; 26. 19-Mitch Harble [21] Lap Leaders: Parker Price-Miller (1-34), Buddy Kofoid (35)
2019 Cometic Gasket Ohio Sprint Speedweek presented by Indy Metal Finishing FINAL Standings (After 6/22/2019):
1. Dale Blaney – 658
2. Tim Shaffer – 634
3. Buddy Kofoid – 610
4. DJ Foos – 590
5. Brock Zearfoss – 586
6. Cory Eliason – 578
7. Aaron Reutzel – 570
8. Greg Wilson -564
9. Rico Abreu – 554
10. Paul McMahan – 544