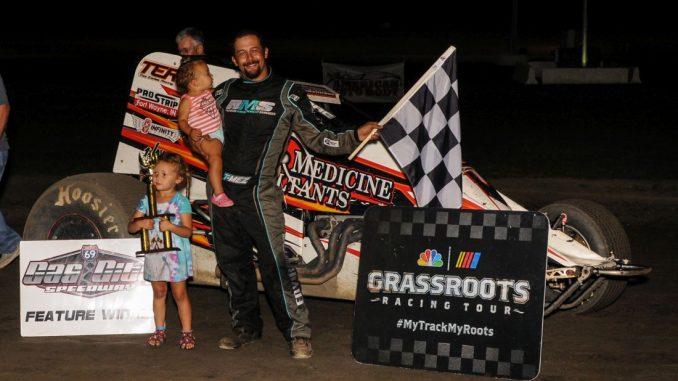 By Linda Mansfield
GAS CITY, Ind., Aug. 3 — Thomas Meseraull of Waveland, Ind. had to work for it but he earned his sixth 25-lap non-wing sprint car feature victory of the year at Gas City I-69 Speedway Friday night to highlight the quarter-mile dirt oval's "Summer Slam" program.
Chad Freeman of Adairville, Ky. was 0.652 of a second ahead of Roy Caruthers of Indianapolis when he took the checkered flag in the 20-lap American Vintage Sprint Car Association (AVSCA) feature.
The 20-lap United States Auto Club (USAC) SpeeD2 midget feature was so fast and furious it was hard to keep up with all the action, but Chett Gehrke of Louisville, Ky. was in victory lane at the end just like he was here on June 14.
Three-time track champion Scott Orr of Columbia City, Ind. picked up his second victory of the year at Gas City in the 20-lap United Midwestern Promoters (UMP) modified feature, while Gas City's own Andy Bishop collected his fifth victory of the season at the Grant County oval in the street stock division by winning that 15-lapper to close the five-division card at 10:42 p.m.
Gary Ott of Marion, Ind. entertained the large crowd with an aerobatic stunt plane show, which was received enthusiastically. It was presented by Wesleyan Health and Rehabilitation Center and Colonial Oaks Health and Rehabilitation Center, both of Marion. He'll also be in action during the 29th annual "Fly/In Cruise/In" at the Marion Municipal Airport on Saturday, Aug. 31.
Meseraull started on the pole of the sprint car feature but fellow front-row starter Carson Short of Marion, Ill. led the first 15 laps with TMez repeatedly trying to get by on the outside. When that didn't work Meseraull dipped under Short in Turn 3 working lap 16 to finally head the pack. Scotty Weir of the Marion in Indiana passed Short working lap 23 to nail down the runner-up honors in one of the Goodnight sprint cars. Short hung on for third. Defending track champion Clinton Boyles of Brownsburg, Ind. came home fourth, while Cole Ketcham of Muncie, Ind. finished fifth.
Travis Hery of Columbus, Ohio had a nasty flip between Turns 3 and 4 with 12 laps down to bring out a red flag, flying high through the air and revolving violently before he came to a stop at the top of the track. Luckily the postdoctoral researcher at The Ohio State University climbed out of his car under his own power.
The only other pause in the action in that race occurred with five laps down when Anthony D'Alessio of Gas City got airborne in Turn 4 but didn't actually flip.
Meseraull's winning car was the familiar No. 47 owned by Tom Eades of Sharpsville, Ind., which is a DRC chassis with a Stensland-prepped engine. The team is sponsored by Physical Medicine Consultants of Fort Wayne, Ind. Allen Brown of Kokomo, Ind. is the team's chief mechanic.
Freeman started third and led all 20 laps of the vintage sprint car feature in the Chadd's Automotive Wheel Repair No. 20. After a battle with Daniel Ingram of Indianapolis, John Tosti of Fenton, Mo. settled into second place on lap six only to spin in Turn 1 at the halfway point and give second to Caruthers, who went on to finish in that position.
The biggest battle was for third. William Hartman of Marcellus, Mich. was vying for that position but did a double spin and continued with 17 laps down. Ingram was in the running too, but he stopped on the frontstretch on the next lap with smoke pouring out of his car. Dave Gross of Rochester, Ind. ended up as the third-place finisher. Joe Vallone of Avon, Ind. wasn't even planning on competing but he finished fourth in a car he was unaccustomed to and wearing a borrowed uniform, helmet and shoes. Hartman rebounded from his spins for fifth.
Gehrke started seventh in the 20-car midget feature and took the lead working lap nine by charging under Stratton Briggs of Anna, Ohio in Turn 2. That race went non-stop and was ultra-competitive. Trailing Gehrke and Briggs at the checkered was Andy Baugh of Mason City, Ill. Aaron Leffel of Springfield, Ohio finished fourth and Corey Guingrich of Celina, Ohio placed fifth.
Polesitter Bill Griffith of Van Buren, Ohio led the first three laps of the 20-lap modified feature before Derek Losh of Rensselaer, Ind. dipped under him in Turn 4 to take command. Losh pulled into the infield with mechanical difficulties working lap 11, however, which gave the lead back to Griffith.
That didn't last long, however, as Orr passed Griffith for the lead by getting under him in Turn 4 on the next lap enroute to the victory. Griffith hung on for second. Jim Mallery of Mooresville, Ind. moved into third on a restart working lap 14 and finished in that position. Terry Grilliot placed fourth and Clayton Bryant of Fort Wayne, Ind. rounded out the top five.
Bishop started fourth in the street stock feature and look the lead from Mike Fincher of Rochester, Ind. with a move to the outside as the pair crossed the start-finish line to complete lap six. He went on to win handily. Fincher finished second in the non-stop event. Polesitter J.J. Nordman of Columbia City, Ind. placed third. Ervin Turner of Marion, Ind. started last but persevered to place fourth, and Jacob Owens, also of Marion, finished fifth.
Gas City I-69 Speedway has two big shows coming up next week. Friday, Aug. 9 is its "Beach Night Bash." It's another five-division show, this time featuring Buckeye Outlaw Sprint Series (BOSS) sprint cars, United Midget Racing Association (UMRA) three-quarter (TQ) midgets, UMP modifieds, street stocks and hornets.
Geo Scelzi of Fresno, Calif. beat Caleb Armstrong of New Castle, Ind. out of Turn 4 on the last lap to win the BOSS sprint car feature at Gas City last August, while Joey Paxson of Connersville, Ind. led all 15 laps of the UMRA TQ midget feature at Gas City on May 17.
The following day, Saturday, Aug. 10, is Gas City's "Night of Destruction, Thrills and Chills." That program features monster trucks, school bus races, a hornet enduro, a mini-van derby and a roll-over contest.
Fans can see the track's complete 2019 schedule and get additional information on its website at GasCityI69Speedway.com. Fans can also follow it on Facebook (@GasCitySpeedwayOnTheGas), Twitter (@GasCitySpeedway) and Instagram (@GasCitySpeedway).
The results:
Non-Wing Sprint Heat 1 (8 laps): 1. Carson Short, 2. Clinton Boyles, 3. Corey Smith, 4. J.J. Hughes, 5. Matt Goodnight, 6. Jacob Gordon, 7. Adam Byrkett, 8. Tyler Hewitt, 9. Dustin Smith.
Non-Wing Sprint Heat 2 (8 laps): 1. Thomas Meseraull, 2. Scotty Weir, 3. Cole Ketcham, 4. Brayden Clark, 5. Anthony D'Alessio, 6. Sterling Cling, 7. Cooper Welch, 8. Travis Hery.
Non-Wing Sprint Feature (25 laps): 1. Thomas Meseraull, 2. Scotty Weir, 3. Carson Short, 4. Clinton Boyles, 5. Cole Ketcham, 6. J.J. Hughes, 7. Sterling Cling, 8. Tyler Hewitt, 9. Brayden Clark, 10. Matt Goodnight, 11. Cole Ketcham, 12. Adam Byrkett, 13. Anthony D'Alessio, 14. Corey Smith, 15. Travis Hery, 16. Dustin Smith, 17 Cooper Welch.
AVSCA Sprint Heat 1 (8 laps): 1. John Tosti, 2. Chad Freeman, 3. Joe Vallone, 4. Danny Pittman, 5. Carl Root, 6. David Dennis, 7. William Hartman.
AVSCA Sprint Heat 2 (8 laps): 1. Roy Caruthers, 2. Dave Gross, 3. Daniel Ingram, 4. Tim Parke, 5. Brad Debolt.
AVSCA Sprint Feature (20 laps): 1. Chad Freeman, 2. Roy Caruthers, 3. Dave Gross, 4. Joe Vallone, 5. William Hartman, 6. John Tosti, 7. Carl Root, 8. Daniel Ingram, 9. Tim Parke, 10. Richard Barngrover, 11. Danny Pittman, 12. Brad Debolt.
USAC SpeeD2 Midget Heat 1 (8 laps): 1. Stratton Briggs, 2. Corey Guingrich, 3. Chett Gehrke, 4. Anton Hernandez, 5 Ian Kreger, 6. Tyler Kalb, 7. Tommy Koons.
USAC SpeeD2 Midget Heat 2 (8 laps): 1. Aaron Leffel, 2. Gunnar Lucius, 3. Andy Baugh, 4. Patrick Ryan, 5. Zane Briggs, 6. Nathan Foster, 7. Mark Neft Jr.
USAC SpeeD2 Midget Heat 3 (8 laps): 1. Alex Watson, 2. John Heitzman, 3. Thomas Bigelow, 4. Kyle Kriegbaum, 5. Don Bigelow, 6. Leonard Foster.
USAC SpeeD2 Midget Feature (20 laps): 1. Chett Gehrke, 2. Stratton Briggs, 3. Andy Baugh, 4. Aaron Leffel, 5. Corey Guingrich, 6. Alex Watson, 7. Patrick Ryan, 8. Thomas Bigelow, 9. Ian Kreger, 10. Zane Briggs, 11. Tyler Kalb, 12. John Heitzman, 13. Mark Neft Jr., 14. Don Bigelow, 15. Leonard Foster, 16. Tommy Koons, 17. Kyle Kriegbaum, 18. Leonard Foster, 19. Gunnar Lucius, 20. Anton Hernandez.
UMP Modified Heat 1 (8 laps): 1. Terry Griliott, 2. Clayton Bryant, 3. Jim Mallery, 4. Brad Kraus, 5. Jessica Sroufe, 6. John Halsey, 7. Braxton Straight.
.
UMP Modified Heat 2 (8 laps): 1. Derek Losh, 2. Bill Griffith, 3. Scott Orr, 4. Andy Bishop, 5. Josh Betts, 6. Kevin Griliott.
UMP Modified Feature (20 laps): 1. Scott Orr, 2. Bill Griffith, 3. Jim Mallery, 4. Terry Grilliot, 5. Clayton Bryant, 6. Josh Betts, 7. John Halsey, 8. Kevin Grilliot, 9. Braxton Straight, 10. Jessica Sroufe, 11. Andy Bishop, 12. Brad Kraus, 13. Derek Losh.
Street Stock Heat 1 (8 laps): 1. Andy Bishop, 2. Mike Fincher, 3. J.J. Nordman, 4. Jacob Owens, 5. Greg Long, 6. Austin Jones, 7. Larry Persinger, 8. Ervin Turner, 9. Cale Ramey.
Street Stock Feature (15 laps): 1. Andy Bishop, 2. Mike Fincher, 3. J.J. Nordman, 4. Ervin Turner, 5. Jacob Owens, 6. Austin Jones, 7. Larry Persinger, 8. Greg Long, 9. Cale Ramey.