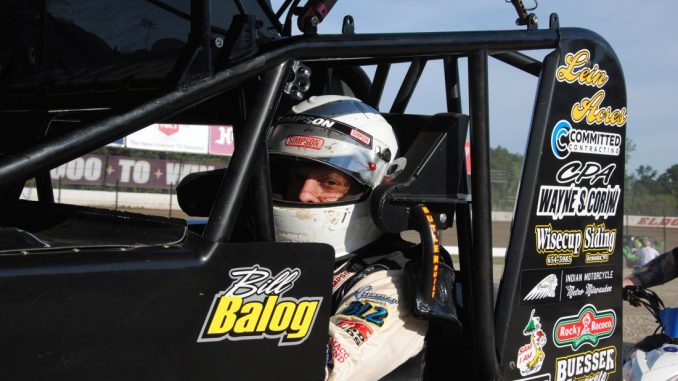 31 winged 410 sprint cars were on hand for the Roger Iles tribute race on Saturday night of the Kenosha County Fair. Scotty Thiel set quick time over Joey Moughan and Bill Balog. Former Wilmot Raceway track champion Todd Daun was fourth quick with Scott Biertzer in fifth.
Heat race number one saw Scotty Thiel quickly move from fourth to second behind Ben Schmidt. Thiel stalked Schmidt around the 3/8th oval for the entirety of the heat race but could not manage a pass. Schmidt claimed the victory over Thiel. Scott Biertzer was third followed by Steve Meyer and Dave Uttech.
The second heat race was claimed by Indiana's Brandon Wimmer who led all ten laps en-route to victory. Russel Borland and Joey Moughan crossed the line in second and third followed by Bill Wirth and former Wilmot Raceway track record holder Brett Tripplet.
Heat three saw two former IRA champions do battle as Jeremy Schultz and Bill Balog fought for the lead. Schultz would claim the victory piloting the Captain Jim's Yacht Sales 5J while Balog was forced to settle for second spot. The California transplant Austin Deblauw finished in the third position while Hunter Custer and Johnny Fahl rounded out the top five.
The fourth and final heat race saw another former IRA champion claim the victory, as Scotty Neitzel was first under the checkers. Jordan Goldesberry brought the Rock Solid 65 home in second followed by Todd Daun, Brayton Lynch and Nick Matuszewski.
The B main was claimed by the driver of the Bumper to Bumper of Paddock Lake 43, Jereme Schroeder. Brett Triplet brought the Darrell Dodd owned 11 home in second. Kris Spitz and Wayne Modjeski claimed the final transfer spots into the A main.
With the field set it was time for the 36 lap Roger Iles Tribute race. Scott Neitzel took the early lead in his 2w machine. Bill Balog started in the 5th position and slowly crept his way through the pack and Neitzel worked through lapped traffic. On lap 15 Balog had worked his way into second and set his sights on Neitzel. Just four laps later Balog was able to work his white and black car around Neitzel's orange car and take the lead. Balog wouldn't look back, leading the remainder of the race and claiming the $3600 prize. Neitzel would cross in second spot followed by Ben Schmidt. Scotty Thiel brought his 64 machine home in fourth followed by Brandon Wimmer.
Wilmot Raceway
Wilmot, WI
Saturday August 17, 2019
Bumper to Bumper Interstate Racing Association
Weld Wheels Heat Race #1 (10 Laps)
1. 73-Ben Schmidt, [2]
2. 64-Scotty Thiel, [4]
3. 4B-Scott Biertzer, [3]
4. 85M-Steve Meyer, [7]
5. 68-Dave Uttech, [5]
6. 43-Jereme Schroeder, [1]
7. 4K-Kris Spitz, [6]
8. 70-Chris Klemko, [8]
All Star Performance Heat Race #2 (10 Laps)
1. 7TW-Brandon Wimmer, [1]
2. 53W-Bill Wirth, [3]
3. 23-Russel Borland, [2]
4. 73AF-Joey Moughan, [4]
5. 9K-Kyle Schuett, [6]
6. 11-Bret Tripplett, [5]
7. 45-Matt Wiese, [7]
8. 20R-Rob Pribnow, [8]
EMI Heat Race #3 (10 Laps)
1. 5J-Jeremy Schultz, [2]
2. 17B-Bill Balog, [4]
3. 65D-Austin Deblauw, [1]
4. 29-Hunter Custer, [5]
5. 0-John Fahl, [3]
6. 5H-Patrick Haynes, [6]
7. 18-Keith Fellner, [7]
8. 12-Michael Decker, [8]
AutoMeter Heat Race #4 (10 Laps)
1. 2W-Scott Neitzel, [2]
2. 65-Jordan Goldesberry, [1]
3. 19-Todd Daun, [4]
4. 29L-Brayton Lynch, [3]
5. 63-Nick Matuszewski, [6]
6. 14AJ-Wayne Modjeski, [5]
7. 22S-Brian Strane, [7]
Behling Racing Equipment B-Main (12 Laps)
1. 43-Jereme Schroeder, [1]
2. 11-Bret Tripplett, [2]
3. 4K-Kris Spitz, [5]
4. 14AJ-Wayne Modjeski, [3]
5. 45-Matt Wiese, [6]
6. 20R-Rob Pribnow, [10]
7. 70-Chris Klemko, [9]
8. 18-Keith Fellner, [7]
9. 5H-Patrick Haynes, [4]
10. 22S-Brian Strane, [8]
11. 12-Michael Decker, [11]
Bumper to Bumper Auto Parts A-Main (30 Laps)
1. 17B-Bill Balog, [5]
2. 2W-Scott Neitzel, [2]
3. 73-Ben Schmidt, [4]
4. 64-Scotty Thiel, [10]
5. 7TW-Brandon Wimmer, [1]
6. 73AF-Joey Moughan, [8]
7. 19-Todd Daun, [9]
8. 5J-Jeremy Schultz, [7]
9. 65-Jordan Goldesberry, [11]
10. 68-Dave Uttech, [18]
11. 85M-Steve Meyer, [16]
12. 11-Bret Tripplett, [22]
13. 65D-Austin Deblauw, [13]
14. 9K-Kyle Schuett, [19]
15. 4K-Kris Spitz, [23]
16. 63-Nick Matuszewski, [20]
17. 29-Hunter Custer, [15]
18. 43-Jereme Schroeder, [21]
19. 14AJ-Wayne Modjeski, [24]
20. 23-Russel Borland, [12]
21. 0-John Fahl, [17]
22. 53W-Bill Wirth, [3]
23. 4B-Scott Biertzer, [6]
24. 29L-Brayton Lynch, [14]
Auto Meter Wisconsin wingLESS Sprints
Heat Race #1 (8 Laps)
1. 4-Jordan Paulsen, [2]
2. 61-Zach Hansen, [5]
3. 41-Dennis Spitz, [6]
4. 9-Greg Olsen, [3]
5. 20-Natalie Klemko, [7]
6. 38-Allen Hafford, [4]
7. 11-Lance Walldan, [8]
8. 22W-Bruce Waterworth, [9]
9. 1-Rod Colburn, [10]
10. 2-Nathan Crane, [1]
Heat Race #2 (8 Laps)
1. 40-Tim Cox, [2]
2. 01-Chris Dodd, [4]
3. 19K-Derek Crane, [3]
4. 5H-Patrick Haynes, [1]
5. 70-Chris Klemko, [7]
6. 77-James Walldan, [6]
7. 51-Charles Spoonmore, [5]
8. 9A-Andy Hunt, [8]
9. 10H-Bryan Haynes, [9]
Heat Race #3 (8 Laps)
1. 21Z-Ryan Zielski, [4]
2. 50-Rusty Egan, [2]
3. 18-Nick Petska, [3]
4. 00-Paul Shaffer, [6]
5. 14AJ-B.G. Wood, [9]
6. 12-Shawn Swim, [5]
7. 29-Randy Stanford, [1]
8. 4G-George Gaertner III, [8]
9. 29OG-Tom Eller, [7]
Heat Race #4 (8 Laps)
1. 91-Jimmy Sivia, [4]
2. 22-Greg Alt, [2]
3. 6B-Vince Bartolotta, [5]
4. 23Z-Zach Raidart, [3]
5. 89-George Gaertner Jr, [6]
6. 8D-Ryan Irwin, [7]
7. 94-Jim Wehrman, [8]
8. 39-William Huck, [1]
9. 7-Steve Clott, [9]
B-Main #1 (10 Laps)
1. 38-Allen Hafford, [1]
2. 89-George Gaertner Jr, [2]
3. 12-Shawn Swim, [4]
4. 70-Chris Klemko, [3]
5. 29OG-Tom Eller, [9]
6. 8D-Ryan Irwin, [5]
7. 4G-George Gaertner III, [8]
8. 11-Lance Walldan, [6]
9. 39-William Huck, [7]
10. 7-Steve Clott, [10]
B-Main #2 (10 Laps)
1. 29-Randy Stanford, [1]
2. 14AJ-B.G. Wood, [3]
3. 51-Charles Spoonmore, [5]
4. 77-James Walldan, [4]
5. 20-Natalie Klemko, [2]
6. 1-Rod Colburn, [10]
7. 9A-Andy Hunt, [7]
8. 94-Jim Wehrman, [6]
9. 22W-Bruce Waterworth, [8]
10. 10H-Bryan Haynes, [9]
AutoMeter A-Main (20 Laps)
1. 01-Chris Dodd, [8]
2. 91-Jimmy Sivia, [6]
3. 38-Allen Hafford, [17]
4. 23Z-Zach Raidart, [2]
5. 19K-Derek Crane, [4]
6. 41-Dennis Spitz, [14]
7. 70-Chris Klemko, [23]
8. 50-Rusty Egan, [9]
9. 18-Nick Petska, [3]
10. 29-Randy Stanford, [18]
11. 9-Greg Olsen, [5]
12. 14AJ-B.G. Wood, [20]
13. 22-Greg Alt, [11]
14. 21Z-Ryan Zielski, [7]
15. 12-Shawn Swim, [21]
16. 51-Charles Spoonmore, [22]
17. 00-Paul Shaffer, [16]
18. 4-Jordan Paulsen, [1]
19. 40-Tim Cox, [10]
20. 77-James Walldan, [24]
21. 89-George Gaertner Jr, [19]
22. 5H-Patrick Haynes, [15]
23. 61-Zach Hansen, [12]
24. 6B-Vince Bartolotta, [13]