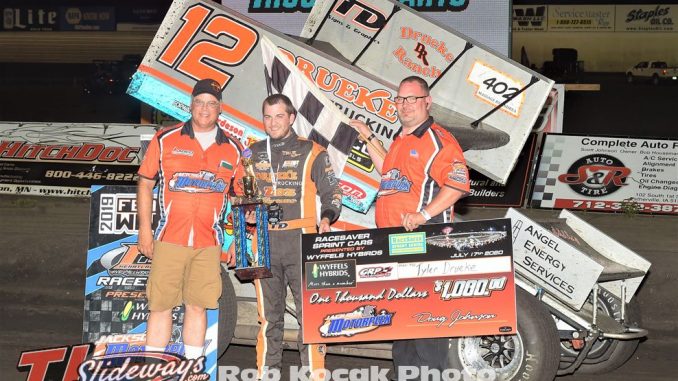 OBERLIN, Kansas (August 14, 2020) – The Lucas Oil POWRi United Rebel Sprint Series Presented by Mel Hambelton Ford Racing headed to the western-Kansas 3/8-mile of Oberlin Speedway on Friday for night one of the Bob Salem Memorial. With 31 cars on hand, Eagle, Nebraska's Tyler Drueke was dominant throughout the night's events, sweeping the heat race win and the 25-lap feature event.
Tyler Drueke, Jake Martens, Zach Blurton, and JD Johnson all claimed heat race wins on Friday night. Two B-Feature events were completed on Friday. Taylor Velasquez, Koby Walters, Willie Wynn, and Tom Belsky were the transfers from the first B-Feature, and Stu Snyder, Alexander Ort, Cale Cozad, and Buddy Tubbs were the transfers from the second B-Feature event.
Scott Cochran and Tyler Drueke set the pace for the 25-lap feature event. The race got off to a rocky start with the red flag being displayed on the first start for Cale Cozad who got collected with Jed Werner and Nate Berry. The restart would display another red flag for Taylor Velasquez getting upside down in turn four, also collecting John Webster. Both drivers were okay.
The third restart saw competitors able to get in a couple laps as Drueke took off with the lead around the top. JD Johnson and Zach Blurton would also get past Cochran before Stu Snyder slowed around the top of turn two, bringing out the caution. Snyder would restart at the tail of the field. The restart would find Blurton with a dive to the bottom to challenge Drueke for the lead but Drueke would sail around the top and continue the race lead. Blurton passed Johnson for second. On lap 5, Jeremy Huish moved past Johnson for third.
Lap 7 saw another caution as Scott Cochran spun to a stop in turn four. Drueke, Blurton, Huish, Johnson, and Jake Martens would remain the top-five on the restart. Jeremy Huish found a fine line on the bottom to get past Blurton for second while Tyler Drueke stretched out his lead. Blurton remained on the top to get back past Huish for second. On lap 20, Kyler Johnson would spin in turn four bringing out the final caution of the night. Huish challenged Blurton again for the second position, but Blurton would prevail.
Tyler Drueke went on to win night one of the Bob Salem Memorial at Oberlin Speedway with the United Rebel Sprint Series. Zach Blurton, Jeremy Huish, JD Johnson, and Jake Martens rounded out the top-five finishers of the feature event. Peyton, Colorado's Buddy Tubbs was awarded the Keizer Aluminum Wheels hard-charger on Friday night with a charge from the 20th starting position to finish 11th.
Up next for the Lucas Oil POWRi United Rebel Sprint Series Presented by Mel Hambelton Ford Racing is night two of the Bob Salem Memorial at Oberlin Speedway on Saturday, August 15. Racing will begin at 7PM and will also be live on IMCA.TV
A-Feature (25 laps): 1) Tyler Drueke, 2) Zach Blurton, 3) Jeremy Huish, 4) JD Johnson, 5) Jake Martens, 6) Shane Sundquist, 7) Monty Ferriera, 8) Koby Walters, 9) Stu Snyder, 10) Jed Werner, 11) Buddy Tubbs, 12) Kyler Johnson, 13) Alexander Ort, 14) Tom Belsky, 15) Willie Wynn, 16) John Webster, 17) Scott Cochran, 18) Taylor Velasquez, 19) Cale Cozad, 20) Nate Berry
B-Feature 1: 1) Taylor Velasquez, 2) Koby Walters, 3) Willie Wynn, 4) Tom Belsky, 5) Todd Plemons, 6) Darren Berry, 7) Dalton Webb, 8) Jody Reeves, 9) Ross Essenburg, 10) Howard Van Dyke
B-Feature 2: 1) Stu Snyder, 2) Alexander Ort, 3) Cale Cozad, 4) Buddy Tubbs, 5) Mark Walinder, 6) Brady Skrdlant, 7) Aaron Ploussard, 8) ChadSalem, 9) Pat McVicker
Heat 1: 1) Tyler Drueke, 2) Jeremy Huish, 3) Taylor Velasquez, 4) Kyler Johnson, 5) Stu Snyder, 6) Buddy Tubbs, 7) ChadSalem, 8) Pat McVicker
Heat 2: 1) Jake Martens, 2) Nate Berry, 3) Monty Ferriera, 4) Tom Belsky, 5) Willie Wynn, 6) Ross Essenburg, 7) Jody Reeves, 8) Darren Berry
Heat 3: 1) Zach Blurton, 2) Jed Werner, 3) Alexander Ort, 4) Shane Sundquist, 5) Cale Cozad, 6) Mark Walinder, 7) Brady Skrdlant, 8) Howard Van Dyke
Heat 4: 1) JD Johnson, 2) John Webster, 3) Scott Cochran, 4) Todd Plemons, 5) Koby Walters, 6) Dalton Webb, 7) Aaron Ploussard