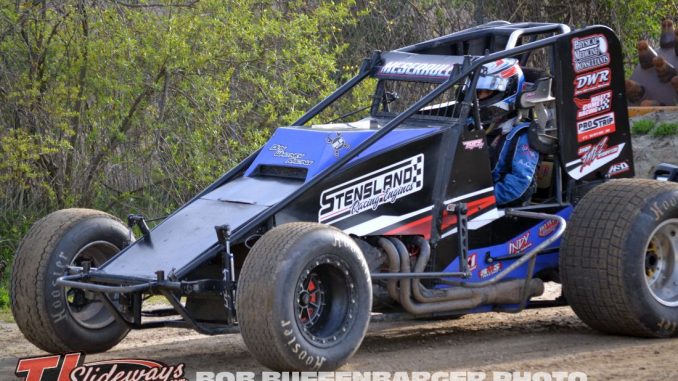 By T.J. Buffenbarger
LAKE ODESSA, Mich. (May 8, 2021) – Thomas Meseraull made the trip from Indiana worthwhile by winning the Buckeye Outlaw Sprint Series / Great Lakes Super Sprints portion of "Sprint Wars" Saturday night at I-96 Speedway.
Meseraull was quick to credit the I-96 Speedway officials for providing a good racing suraface for the feature that helped him work his way to the front.
"Hats off to the crew for bringing the track back," Meseraull said about the team of people taking care of the racing surface at I-96. "It was getting a little dusty and they just kept working it. Even with the cold temperatures and got the track really good. I was pulling wheelies off of turn two. I'm just stoked the cap the weekend off."
Meseraull moved up eighth starting position taking the lead with a spectacular move off of turn four moving from third to first position around Drew Rader and Mike Miller. From there Meseraull was never seriously challenged picking up his third feature victory of the weekend.
GLSS regular Dustin Daggett moved up from 12th starting position to claim the runner up position while Steve Irwin claimed hard charger honors coming from 16th starting spot to round out the podium. Luke Hall and Keith Sheffer Jr. rounded out the top five.
Buckeye Outlaw Sprint Series / Great Lakes Traditional Sprints
I-96 Speedway
Lake Odessa, Michigan
Saturday May 8, 2021
Heat Race #1:
1. 82-Mike Miller
2. 53-Steve Little
3. 34-Parker Frederickson
4. 74-Drew Rader
5. 3A-Mike Astrauskas
6. 5M-Mike Moore
7. 2-Mike Galadja
8. 4T-Ralph Brakenberry
Heat Race #2:
1. 86-Keith Sheffer Jr.
2. 10B-Saban Bibent
3. 85-Dustin Daggett
4. 49-Brian Ruhlman
5. 14-Chad Wilson
6. 5V-Jesse Vermillion
7. 00I-Joe Irwin
8. 10H-Cody Howard
Heat Race #3:
1. 24-Lee Underwood
2. 73V-Blake Vermillion
3. 26-Cody White
4. 78-Rob Caho, Jr.
5. 25-Max Frank
6. 11L-Travis Lacombe
DNS: 4G-Kent Gardner
DNS: 9G-Cody Gardner
Heat Race #4:
1. 2DI-Dustin Ingle
2. 00-Thomas Meseraull
3. 9N-Luke Hall
4. 0-Steve Irwin
5. 18-Mark Irwin
6. 33-R.J. Payne.
DNS: 75-Jerry Dahms
B-Main (12 Laps):
1. 3A-Mike Astrauskas
2. 14-Chad Wilson
3. 5V-Jesse Vermillion
4. 2-Mike Galjda
5. 25-Max Frank
6. 11L-Travis LaCombe
7. 5M-Mike Moore
8. 00I-Joey Irwin
9. 33-R.J. Payne
10. 18-Mark Irwin
11. 4T-Ralph Brakenberry
12. 4G-Kent Gardner
A-Main (25 Laps):
1. 00M-Thomas Meseraull
2. 85-Dustin Daggett
3. 0-Steve Irwin
4. 9N-Luke Hall
5. 86-Keith Sheffer Jr.
6. 82-Mike Miller
7. 74-Drew Rader
8. 10B-Saban Bibent
9. 26W-Cody White
10. 5V-Jesse Vermillion
11. 2Di-Dustin Ingle
12. 53-Steve Little
13. 73V-Blake Vermillion
14. 49-Brian Ruhlman
15. 24-Lee Underwood
16. 25-Max Frank
17. 2-Mike Galajda
18. 3A-Mike Astrauskas
19. 14-Chad Wilson
20. 11L-Travis Lacombe
21. 78-Rob Caho Jr.
22. 34-Parker Fredrickson