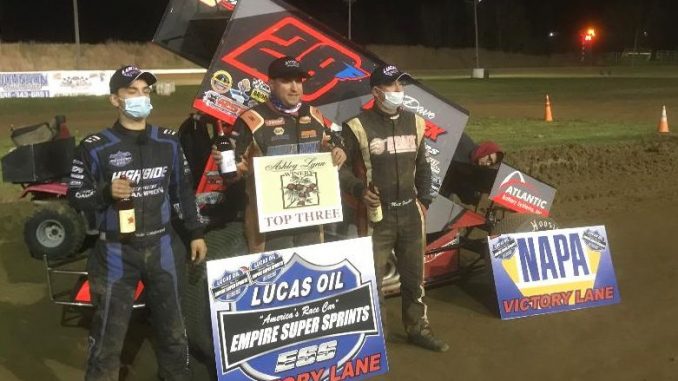 From Rich Vleck
BATAVIA, N.Y. (May 8, 2021) — It's not every day a sprint car race is held in Batavia, in fact Saturday Night was the first time in 13 years a touring sprint show invaded Genesee Speedway. When all was said and done, those in attendance had plenty to remember from an eventful night.
Davie Franek, of Wantage, NJ, made a late-race move around Matt Farnham in lapped traffic to capture the $2,000 top prize as A-Verdi Storage Containers helped to kick off the 2021 Lucas Oil Empire Super Sprints Season. When Franek woke up on Saturday morning, he wasn't even planning on travelling to Western New York, but he is sure glad he did.
"Early season races are always tricky and the weather did not look good in Pennsylvania," noted Franek. "I figured we could do well here considering nobody had been here in a long time and it worked out."
Franek started in 10th in the 25-lap feature but showed from the start of the event that he was going to be a force to be reckoned with. By the time the first caution appeared after 4 laps, Franek's No. 28F was already up to 6th. On the ensuing start, he was able to move up to 4th. Lap 10 was when the race got turned on its head. Just after completing lap 10, leader Chuck Hebing made a rare error in turn two and spun around his potent No. 45. On the ensuing restart, Scott Kreutter and Dylan Swiernik came together coming back to the green flag, sending Kreutter's No. 49 in to the frontstretch wall and turning him in front of the field, creating a massive pileup. With a host of frontrunners knocked out, the second half of the race would come down to Franek being the most technical.
Matt Farnham, who had inherited the lead when Hebing spun around, pulled away from Franek, but as the duo reach the back of the field, Farnham began to struggle trying to find a lane around the lapped cars. After getting lose in turn two on lap 20, Franek set sail around the outside of the No. 7NY a lap later and from that point drove away for his 7th career ESS win.
"I could tell (when reaching lapped traffic) that (Farnham's) car was not as versatile as mine was," noted Franek in Victory Lane. "I could put the car anywhere I wanted to and that was the difference."
"No Panic" recorded the quickest lap of the night, turning a 14.763 second lap during timed hot laps, smashing the Genesee Speedway track record. During heat race action, despite starting sixth, Franek had the fans on the edge of their seats as he rim-rode around the outside of the track just inches off the wall, even though he was safely in a redraw spot. It all would all pay off when the final checkered flag capped off an impressive night for Franek.
Matt Farnham would settle for second in his first ESS start. Farnham had also won his heat race earlier in the night. Paulie Colagiovanni had a quality 3rd place finish as he started his defense of his 2019 ESS title. Colagiovanni started in 14th and was able to move by Danny Varin on the last lap to reach the podium. Varin would settle for fourth, while Denny Peebles rounded out the top five despite having to come deep in the pack after winning the B-Main.
Lucas Oil Empire Super Sprints
Gennessee Speedway
Batavia, New York
Saturday May 8, 2021
=Feature (25 Laps)- DAVIE FRANEK, Matt Farnham, Paulie Colagiovanni, Danny Varin, Denny Peebles, Dylan Swiernik, Joe Trenca, Kelly Hebing, Chad Miller, Jeff Cook, Dan Craun, Keith Granholm, Tyler Cartier, Jason Barney, Matt Tanner, Chuck Hebing, Scott Kreutter, Shawn Donath, Jake Karklin, Darryl Ruggles, Dan Bennett, Nick Fratto, Sammy Reakes IV, Billy VanInwegen (DNS).