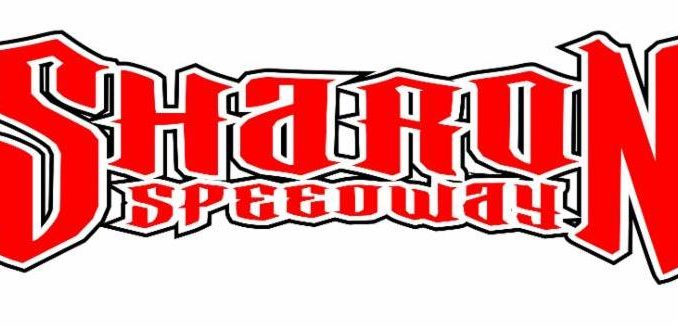 By Mike Leone
(Hartford, OH)…Summer-like conditions and finally a race night without a chance of rain graced Sharon Speedway on Saturday night. Capturing victories and celebrating in the Hovis Auto & Truck Supply victory lane on Bucks Fabricating Night were Ryan Smith-Western PA Speedweek for the Hovis Auto & Truck Supply "410" Sprint Cars, Nolan Groves-Terry Bowser Excavating RUSH Sprint Cars, Chas Wolbert-HTMA/Precise Racing Products RUSH Sportsman Modifieds, and Jeremy Double-Whelen Econo Mods. A total of 111 race cars filled the pit area for the four-division program.
Fresh off his first career Lernerville Speedway win on Friday night, central Pennsylvania invader Ryan Smith made it back-to-back wins to open up Western PA Sprint Speedweek with his first ever Sharon win. Smith hounded race-long leader Carl Bowser before making the winning pass with six laps to go. Smith earned an additional $500 thanks to Krill Recycling in addition to $350 from Knox Bakery for setting fast time boosting his payday to $3,850. Smith became the fourth different winner in four "410" Sprint Car races held at Sharon in 2021.
"So far so good- it's a shame Mother Nature was rude to us the first two nights," acknowledged the 33-year-old Fleetwood, Pa. winner. "This place is awesome. The guys do a heck of a job with the race track. Thanks to Tyler (Beichner) for putting this together and the place is packed- it doesn't get any better than this. That race proved it; I raced my nuts off to get the lead. I kind of rode there waiting for traffic to come in; it got dicey, but it was a lot of fun. The guys had the car really good. I had to be patient. I had a shot at him (Bowser) on the one restart, and may have been able to make it stick, but I think we would have crashed. I saw the 11 (Bowser) creeping the bottom on the restart after I got the lead. I couldn't miss my mark so I had to rip it pretty hard to carry speed and stay ahead of him."
As the Diehl Automotive Pace Truck exited the speedway, Carl Bowser and Ryan Smith brought the 24-car starting field to green for the 30-lap feature with Bowser getting the jump and taking the early lead over Smith, Dan Kuriger, Brandon Matus, and Brandon Spithaler. Sye Lynch and Cody Bova tangled on the backstretch on lap two with both cars spinning wildly and kicking up a cloud of dust from the infield; thankfully everyone was able to avoid them.
Back under green, Bowser and Smith broke away from the field on lap four. Eighth starting Darin Gallagher was on the move taking fourth from Matus on lap six and closed in on Kuriger one lap later. Bowser was in lapped traffic on lap 10, but a caution for Spithaler gave him a clear track. When green replaced yellow, Smith tried the bottom as he raced side-by-side with Bowser, but Bowser had the momentum off the top to maintain the lead, while Gallagher nosed ahead of Kuriger for third. A.J. Flick started alongside Gallagher in row four and followed him forward taking fourth from Kuriger on lap 13. Bowser caught lapped traffic on lap 17, while Flick made the pass of Gallagher for third.
As the laps ticked off, Smith continued to stay right with Bowser and closed in on lap 23. Smith made an excellent move in traffic on lap 24 sliding past Bowser for the winning pass. Bowser kept Smith in striking range over the final six laps, but once again was denied his first Sharon win as Smith took the BJD Motorsports-owned, Red Robin Gourmet Burgers/Western Mountain/X-1 Race Cars-sponsored #6 to the win by 0.623 of a second.
After a runner-up finish on Friday night at Lernerville, Flick made the podium again with a third place effort to keep the $2,500 Speedweek crown in sight. Kuriger was fourth. In his first appearance on the red clay surface, central Pa. racer Bradley Howard went ninth to fifth. After going eighth to third in 10 laps, Gallagher dropped to sixth at the finish. Matus was seventh over Bob Felmlee. Dan Shetler crossed the line in ninth, but took a hard flip after the checkered flag as cars got bunched up entering turn one and was awarded the $100 hard luck from Wedge Motorsports. Lynch came back from his early spin to complete the top 10. May 15 winner, George Hobaugh, went 22nd to 11th to earn the $333 hard charger award from Rustler Sales and Service.
Smith set fast time overall against the 38-car field in qualifying with a lap of 15.315. Smith, Kuriger, Felmlee, and Bowser won the heat races, while Kyle Colwell and Hobaugh split the last chance B mains.
Twelfth starting Nolan Groves passed two-time Equipment Rental Options RUSH Sprint Car Weekly Series, Champion Chad Ruhlman, on lap 13 for the lead and the Go-Kart standout drove away to win his first career feature. Groves became the fifth different Pace Performance RUSH Sprint Car winner in five races on the 2021 circuit as he earned $600 in the 20-lap Terry Bowser Excavating feature. An all-time division record 23 cars were on hand!
"This is too unreal to believe right now," expressed the 17-year-old Sugar Grove, Pa. winner, who was the RUSH "Futures Cup" Champion in 2020. "I'm at a loss for words. I can't thank everyone enough. Once I figured out the line the car liked, it was pretty fast."
Teammates Amelia Clay and Jason Scoville traded the lead in the early laps before Chad Ruhlman took the lead on lap four, while his son Kevin moved into third. Kevin Ruhlman's night came to an end with a hard flip in turn four after getting into the fence with four laps completed. He was okay. Back under green flag conditions, sixth starting Steve Pedley drove under Clay for second on lap six.
Groves made his way into contention when he passed Brian Ruhlman for fourth on lap six then Clay for third one lap later. Groves continued to move forward driving under Pedley for second on lap 10. Groves ran down Chad Ruhlman on lap 13 and snuck under the standout in turn four for the lead before the event's final caution for a spin by Clay. The final seven laps went caution-free as Groves drove away to win by a commanding 3.631 seconds in the Paul Beedle-owned, Coyote Performance Products/Tom Abbott Auctioneers/Spray Foam Options/Schuylers Service Center/Speedway Service Center/Kart Works-sponsored #25. Groves became the eighth different winner in 11 RUSH Sprint races run all-time at Sharon as Chad Ruhlman remains the only multiple winner.
Chad Ruhlman was second as he's primed for another run at the $5,000 Series title. Pedley was third. Blaze Myers passed Brian Ruhlman on lap 16 to take fourth as Brian Ruhlman was fifth in his season debut. John Mollick went 14th to sixth as Brandon Shughart, Arnie Kent, Brian Hartzell, and Rod George completed the top 10. Heat winners were Shughart, Kent, and Brian Ruhlman.
Defending RUSH Sportsman Modified Hovis Auto & Truck Supply Weekly Series Champion, Chas Wolbert, took advantage of an invert zero and went on to lead all 20 laps of the HTMA/Precise Racing Products feature for his second win in three races. With more than a full field of cars, the 26-year-old Warren, Ohio driver's win was worth $500 as he not only leads the Sharon track points, but also the $3,500 Hovis Weekly Series, and the $1,000 Wedge Motorsports "Route 7 Rumble" Series standings.
Rookie Ben Easler kept Wolbert in his sights until the event's final caution with 13 laps scored. When racing resumed, seventh starting Justin Shea moved into second. Shea, who has a win this year at Pittsburgh, was unable to mount a challenge over the final seven laps as Wolbert took his Alcon Mechanical/Dunkin Donuts of Warren, OH/C.T. Wolbert Trucking/Walters Building Co./Ohio Intra Express/Russ King Racing/BCT Construction-sponsored #c3 to his all-time leading 17th career Sharon win by 1.745 seconds.
Easler, who is just 14 years of age, continues to impress as he came home third. Rob Kristyak went eighth to fourth as Tony Tatgenhorst rounded out the first five. Tenth starting Jacob Wolfe was sixth over Jordan Ehrenberg, Kole Holden, Preston Cope, and Kyle Martell. Heat winners over the season high 25-car field were Wolbert, Easler, and Holden.
Jeremy Double came out on top of a caution-plagued Whelen Econo Mod feature that was cut short by four laps from the scheduled 20-lap distance due to the time limit. Double, who finished runner-up in the first two events of the season, earned $400 with more than a full field of cars in action. The 25-year-old Bristolville, Ohio resident also became the third different winner in as many races this season.
It was far from an easy victory as Double had to fend off standouts Jacob Eucker and Will Thomas III over the course of the numerous restarts. Double's 15th career Sharon win moved him into a tie for second place on the division's all-time win list and came in the Honey Labs/Wedge Motorsports/No Limits Broadband/Russ King Racing/2 Brothers Motorsports/Mahan Welding/King Bros-sponsored #83.
Thomas, who started sixth due to winning the last event, was halfway to the front on the opening lap then drove under Eucker for second on lap eight, but had to settle for second. Eucker was third over Nate Young. Keith Felicetty had a strong run in fifth after starting 10th. Eucker, Double, and Young won the heat races over the season high 25-car field.
Coming up next will be the third annual "Steel Valley Pro Stock Nationals" sanctioned by the Penn-Ohio Series. Friday night (June 11) will include open practice from 6-8 p.m. followed by qualifying, and a King of the Hill. Saturday's program will be a complete show for the Gibson Insurance Agency Pro Stocks paying $10,000 to-win along with the Sportsman Dwarf Cars in their first appearance of the season. Then on Tuesday, June 15, Ohio Speedweek for the FloRacing All Star Circuit of Champions will be at Sharon for $6,000 to-win along with the Terry Bowser Excavating RUSH Sprint Cars.
Western PA Speedweek
Sharon Speedway
Hartford, Ohio
Saturday, June 5, 2021
Qualifying Group #1:
1. 6R-Ryan Smith, 15.315
2. 23-Darren Pifer, 15.521
3. 20B-Cody Bova, 15.615
4. 49H-Brad Howard, 16.105
5. 66-Ken Rossey, 16.150
6. 99-Cameron Nastasi, 16.290
7. 76-Davey Jones, 16.671
8. 901-Bob Lime, 17.047
DQ: 81-Lee Jacobs, 15.275
DQ: 21N-Frankie Nervo, 16.298
Qualifying Group #2:
1. 22-Brandon Spithaler, 15.443
2. 13-Brandon Matus, 15.529
3. 08-Dan Kuriger, 15.736
4. 19M-Landon Myers, 16.029
5. 11J-David Kalb, Jr, 16.349
6. 17-Josh Baughman, 16.558
7. 29M-Logan McCandless, 16.865
8. 80J-Kyle Colwell, 16.882
9. 47-Brett Brunkenhoefer, 17.058
10. 13B-Steve Bright, 18.072
Qualifying Group #3:
1. 5K-Adam Kekich, 15.843
2. 7K-Dan Shetler, 16.369
3. 6-Bob Felmlee, 16.371
4. 12-Darin Gallagher, 16.663
5. 27K-Jeremy Kornbau, 16.668
6. 38-Leyton Wagner, 16.833
7. 31C-Chase Metheney, 16.955
8. 70-Nick Tucker, 17.032
9. 14-Jeremy Hill, 17.485
Qualifying Group #4:
1. 40-George Hobaugh, 16.021
2. 2-A.J. Flick, 16.035
3. 11-Carl Bowser, 16.287
4. 42-Sye Lynch, 16.367
5. 23J-Jack Sodeman, Jr, 16.386
6. 29-Michael Bauer, 16.664
7. 33-Brent Matus, 16.976
8. 55s-Matt Sherlock, 17.771
9. 4w-Eric L. Williams, 17.921
Heat Race #1:
1. 6R-Ryan Smith
2. 49H-Brad Howard
3. 23-Darren Pifer
4. 20B-Cody Bova
5. 81-Lee Jacobs
6. 99-Cameron Nastasi
7. 901-Bob Lime
8. 21N-Frankie Nervo
9. 66-Ken Rossey
10. 76-Davey Jones
Heat Race #2:
1. 08-Dan Kuriger
2. 22-Brandon Spithaler
3. 13-Brandon Matus
4. 19M-Landon Myers
5. 17-Josh Baughman
6. 80J-Kyle Colwell
7. 11J-David Kalb, Jr
8. 47-Brett Brunkenhoefer
9. 13B-Steve Bright
10. 29M-Logan McCandless
Heat Race #3:
1. 6-Bob Felmlee
2. 12-Darin Gallagher
3. 5K-Adam Kekich
4. 7K-Dan Shetler
5. 38-Leyton Wagner
6. 70-Nick Tucker
7. 31C-Chase Metheney
8. 14-Jeremy Hill
DNS: 27K-Jeremy Kornbau
Heat Race #4:
1. 11-Carl Bowser
2. 2-A.J. Flick
3. 23J-Jack Sodeman, Jr
4. 29-Michael Bauer
5. 42-Sye Lynch
6. 33-Brent Matus
7. 55s-Matt Sherlock
8. 4w-Eric L. Williams
9. 40-George Hobaugh
B-Main #1:
1. 80J-Kyle Colwell
2. 11J-David Kalb, Jr
3. 99-Cameron Nastasi
4. 47-Brett Brunkenhoefer
5. 66-Ken Rossey
6. 21N-Frankie Nervo
7. 901-Bob Lime
8. 76-Davey Jones
9. 13B-Steve Bright
10. 29M-Logan McCandless
B-Main #2:
1. 40-George Hobaugh
2. 33-Brent Matus
3. 70-Nick Tucker
4. 55s-Matt Sherlock
5. 31C-Chase Metheney
6. 4w-Eric L. Williams
7. 14-Jeremy Hill
DNS: 27K-Jeremy Kornbau
A-Main:
1. 6R-Ryan Smith
2. 11-Carl Bowser
3. 2-A.J. Flick
4. 08-Dan Kuriger
5. 49H-Brad Howard
6. 12-Darin Gallagher
7. 13-Brandon Matus
8. 6-Bob Felmlee
9. 7K-Dan Shetler
10. 42-Sye Lynch
11. 40-George Hobaugh
12. 5K-Adam Kekich
13. 17-Josh Baughman
14. 23-Darren Pifer
15. 19M-Landon Myers
16. 29-Michael Bauer
17. 11J-David Kalb, Jr
18. 33-Brent Matus
19. 38-Leyton Wagner
20. 80J-Kyle Colwell
21. 81-Lee Jacobs
22. 23J-Jack Sodeman, Jr
23. 22-Brandon Spithaler
24. 20B-Cody Bova