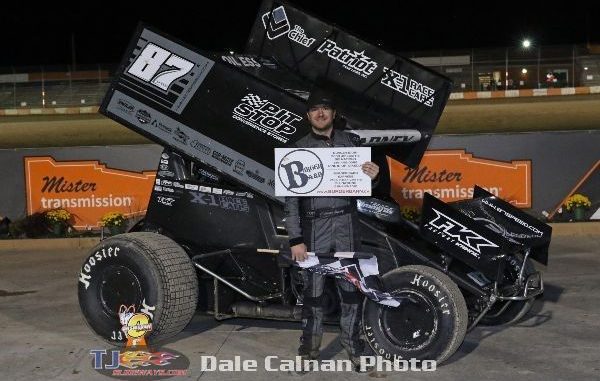 By Dean Reynolds
FULTON, NY – After what he would call a disappointing finish the night before at the Brewerton Speedway, Jason Barney focused on Saturday night at the Fulton Speedway to pick up the PJC Spray Foam CNY Speedweek win. It was his first win on Speedweek and his third overall on Lucas Oil Empire Super Sprints (ESS) 2021 campaign.
The win for the Brewerton, NY driver netted him a $2560 payday and put him on top of the CNY Speedweek point standings heading into the final event at the Weedsport Speedway. The 25 lap A-Main went non-stop from green to checkered in front of a big Fulton crowd.
While the drive to do better was there, the former ESS champion did admit a little lady luck was on his side. "Last night something happened to my steering for half a lap, the car corrected itself and we really didn't know what it was," Barney explained, "Then on the first lap in time trials the steering arm broke. So, I was half a lap from disaster last night and we got lucky it broke when it did tonight. It put us behind the eight ball tonight, but we just kept digging."
With the troubles he had to start last in his heat but finished second and made the A-Main redraw. Drawing fifth, he made his moves to the front and then passed what could be considered his championship rival Paulie Colagiovanni on to the win. "After the heat was all got confidence as a team that we had a good car. We felt very fortunate with our luck and we prepared to take what we could get. But, the guys just gave me a great car," he went on, "To pass Paulie makes it just a bit more special, for the past year and half or so he has set the bar. He's been the best in ESS and is the star of the club for the future. Most of the time it's who starts in front of who but tonight we were fortunate to pass him for the win."
Colagiovanni backed up his opening night Speedweek win at Can-Am with the runner-up finish at Fulton. "We had a good car, with the race going non-stop you hope you were finding the right line to run and get through the slower cars ok," said the defending ESS champion, "You want to win, but we are happy with second and we will go to Weedsport and try to get the win there."
One driver that has passed quite a few cars the last two nights has been Danny Varin. He collected the $50 hard charger bonus on both nights, passing 16 cars at Brewerton and nine (9) cars at Fulton which is a feat in a non-stop event. "We definitely have passed cars! We are finally getting the car comfortable for me to drive. I just didn't know what was wrong up until that last few nights," Varin commented on his early season troubles, "I just couldn't have a feel for the car and it was frustrating. It wasn't cause lack of effort, we were trying hard to get it right.
"We threw some things at it at Brewerton during the B-Main and we seemed to have found something to build on," Varin continued, "Now if we can get a better start to the night and start further to the front hopefully we can get some more podiums."
Shawn Donath brpught home his #53 to a fine fourth ahead of Brewerton winner Larry Wight in fifth. The next five was made up of Matt Farnham, Matt Tanner, Kelly Hebing, Billy VanInwegen and Jeff Cook.
Heats for the 32 sprints on hand were won by Colagiovanni, Davie Franek, Wight and Donath. The dash was taken by Ryan Coniam with Tommy Wickham copping the B-Main.
CNY Speedweek
Lucas Oil Empire Super Sprints
Fulton Speedway
Fulton, New York
Friday, July 3, 2021
Feature:
1. 87-Jason Barney
2. 10c-Paulie Colagiovanni
3. 00-Danny Varin
4. 53-Shawn Donath
5. 99L-Larry Wight
6. 7ny-Matt Farnham
7. 90-Matt Tanner
8. 10h-Kelly Hebing
9. 56-Billy VanInwegan
10. 45-Chuck Hebing
11. 10-Jeff Cook
12. 28f-Davie Franek
13. 49-Scott Kruetter
14. 7c-Dylan Swiernik
15. 91-Scott Holcomb
16. 23-Tyler Cartier
17. 5k-Jake Karklin
18. 17-Sam Reakes IV
19. 22-Jonathan Preston
20. 3-Denny Peebles
21. 13-Keith Granholm
22. 33-Lacey Hanson
23. 98-Joe Trenca
24. 75-Tommy Wickham
25. 3z-Bobby Parrow
26. 46-Ryan Coniam.