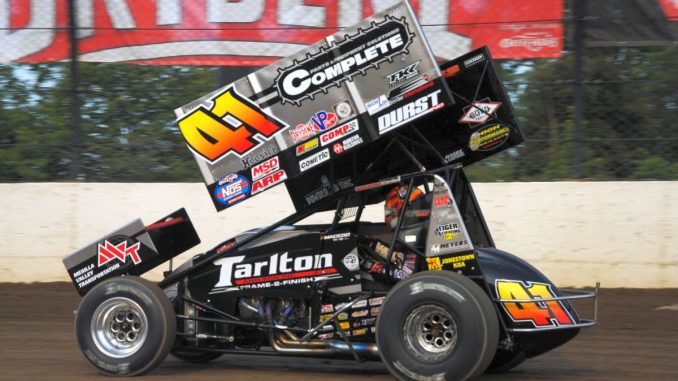 By T.J. Buffenbarger
ROSSBURG, Ohio (July 14, 2021) — ROSSBURG, Ohio (July 14, 2021) — Carson Macedo withstood the challenges of a tricky racetrack and stacked field to win the "Jokers Wild" event Wednesday night with the World of Outlaws NOS Energy Drink Sprint Car Series at Eldora Speedway. Macedo, from Lemoore, California used a daring move at the start of the 25-lap main event with his Jason Johnson Racing entry driving from sixth to first to take the lead from Brian Brown. Macedo then drove away from the field during multiple restarts for the victory.
The victory was Macedo's sixth victory of the 2021 season with the World of Outlaws and seventh overall this season. The victory was also Macedo's first career win at Eldora Speedway. That alone made the win meaningful for Macedo, but also closed a recent string of races where Macedo felt they had a car that could win but encountered mistakes and misfortune that kept them from the winner's circle.
"I felt like for a little while we just couldn't win a race," said Macedo about his team's recent performance. "We would be in position and there would be a late race restart and we would get beat or I'd make bad decisions or throughout the night and I would cost us."
Macedo's charge on the opening lap was setup falling back from third to sixth in the dash, which sent Phillip Dietz and the rest of the Jason Johnson Racing crew to work making their car better for the main event.
"The track was fast, and I wasn't sure how we were going to get through there," said Macedo of his post dash thoughts. "Then Phillip (Dietz) went to work. He is just incredible. I don't know how he does this. Its like he waves his magic wand and we're fast again."
Macedo shot through the middle of the field to take the lead on the opening lap and countered a return challenge from Brown to take the lead on the opening circuit of the 25 lap main event.
Macedo and Brown pulled away from the field as the caution flag came out for Cory Eliason spinning in turn two, but staying under power.
Macedo chose the inside line for the restart. Brown tried to drive under Macedo, but to no avail as Macedo held onto the top spot.
Further behind them Aaron Reutzel was moving up through the field passing Paul McMahan for fourth and started working on Kerry Madsen for the third position. Three laps later Reutzel was able to pass Kerry Madsen with a slide job in turns one and two.
Macedo started entering heavy traffic with 15 laps to go but maintained a comfortable lead. Behind him Reutzel was starting to close on Brown for the second position, but then fell back allowing Madsen to retake the third positive in turns three and four.
Madsen then began pressuring Brown for second while David Gravel made his presence felt racing with Reutzel for the fourth spot before another caution appeared when James McFadden slowed on the track. McFadden did go to the work area but did not return for the restart.
Macedo pulled away again on the restart from Brown with Gravel and Reutzel racing for fourth. Gravel was able to drive by Reutzel by diving to the bottom off turn four diving into turn one.
After a caution with three laps to go when Logan Schuchart slowed with wing damage, Macedo pulled away again during the single file restart for the victory over Brown, Gravel, Madsen, and Reutzel.
Afterwards Macedo was quick to credit his entire team for his dominant performance.
"What won us the race is our whole team executing. At the end of the day Phillip (Dietz) and my guys did an incredible job, but that start was critical when the track is fast. I feel like we were carrying a torrid pace up there wide open. It's hard to pass guys and had I got a bad start and came out running sixth I don't know if I'd pass Brown or all these guys in open air like that. Just a team effort and glad to get the win."
Jokers Wild
Eldora Speedway
Rossburg, Ohio
Wednesday, July 14, 2021
Qualifying Flight A:
1. 14-Kerry Madsen, 12.757
2. 83-Aaron Reutzel, 12.882
3. 49X-Ian Madsen, 12.922
4. 21-Brian Brown, 12.926
5. 49-Brad Sweet, 12.940
6. 39-Daryn Pittman, 12.952
7. 15H-Sam Hafertepe Jr., 13.002
8. 17B-Bill Balog, 13.003
9. 26-Cory Eliason, 13.029
10. 2C-Wayne Johnson, 13.044
11. 15-Donny Schatz, 13.044
12. 42-Sye Lynch, 13.058
13. 11-Spencer Bayston, 13.071
14. 7BC-Tyler Courtney, 13.073
15. 55V-C.J. Leary, 13.096
16. 29-D.J. Foos, 13.123
17. 55-Hunter Schuerenberg, 13.123
18. 6-Ryan Smith, 13.135
19. 12N-Joey Saldana, 13.160
20. 1S-Logan Schuchart, 13.175
21. 9JR-Derek Hagar, 13.195
22. 48-Danny Dietrich, 13.267
23. 19P-Paige Polyak, 13.273
24. 11N-Harli White, 13.342
25. 97-Greg Wilson, 13.403
26. 49D-Shawn Dancer, 13.439
27. 7-John Carney, 13.639
28. 18S-Bryce Schmitt, 13.799
29. 4X-Bradley Ashford, NT
Qualifying Flight B:
Non-Qualifiers Race #1 (8 Laps)
1. 48-Danny Dietrich
2. 9JR-Derek Hagar
3. 49D-Shawn Dancer
4. 97-Greg Wilson
5. 11N-Harli White
6. 7-John Carney
7. 18S-Bryce Schmitt
8. 4X-Bradley Ashford
(First four finishers transferred to the back of heat races 1 and 2)
Non-Qualifiers Race #2 (8 Laps)
1. 91-Kyle Reinhard
2. 70M-Henry Malcuit
3. 22M-Dan McCarron
4. 70-Carson Short
5. 25R-Jordan Ryan
6. 83X-Nate Reeser
DNS: 47X-Marcus Dumesny
DNS: 7S-Jason Sides
(First four finishers transferred to the back of heat races 3 and 4)
Heat Race #1 (8 Laps)
1. 14-Kerry Madsen
2. 49X-Ian Madsen
3. 49-Brad Sweet
4. 15H-Sam Haferepe, Jr.
5. 26-Cory Eliason
6. 2C-Wayne Johnson
7. 11-Spencer Bayston
8. 12N-Joey Saldana
9. 55V-C.J. Leary
10. 48-Danny Dietrich
11. 55-Hunter Schuerenberg
12. 49D-Shawn Dancer
(First five finishers transferred to the back of heat races 1 and 2)
Heat Race #2 (8 Laps)
1. 21-Brian Brown
2. 83-Aaron Reutzel
3. 39-Daryn Pittman
4. 15-Donny Schatz
5. 7BC-Tyler Courtney
6. 1S-Logan Schuchart
7. 17B-Bill Balog
8. 97-Greg Wilson
9. 6-Ryan Smith
10. 42-Sye Lynch
11. 9JR-Derek Hagar
12. 29-D.J. Foos
(First five finishers transferred to the back of heat races 1 and 2)
Heat Race #3 (8 Laps)
1. 5-Paul McMahan
2. 3Z-Brock Zearfoss
3. 17-Sheldon Haudenschild
4. 24-Rico Abreu
5. 19M-Brent Marks
6. 18-Giovanni Scelzi
7. 22-Jac Haudenschild
8. 1A-Jacob Allen
9. 19-Parker Price-Miller
10. 28-Tim Shaffer
11. 22M-Dan McCarron
12. 91-Kyle Reinhardt
(First five finishers transferred to the back of heat races 1 and 2)
Heat Race #4 (8 Laps)
1. 41-Carson Macedo
2. 2-David Gravel
3. 10-Zeb Wise
4. 9-James McFadden
5. 10B-Dave Blaney
6. 71-Anthony Macri
7. 11K-Kraig Kinser
8. 13-Justin Peck
9. 70-Carson Short
10. 57-Kyle Larson
11. 101-Lachlan McHugh
12. 70M-Henry Malcuit
(First five finishers transferred to the back of heat races 1 and 2)
C-Main (10 Laps)
1. 28-Tim Shaffer
2. 42-Sye Lynch
3. 9Jr-Derek Hagar
4. 91-Kyle Reinhard
5. 101-Lachlan McHugh
6. 49D-Shawn Dancer
7. 29-D.J. Foose
8. 22M-Dan McCarron
9. 25R-Jordan Ryan
10. 11N-Harli White
11. 83X-Nate Reeser
12. 7-John Carney
13. 4X-Bradley Ashford
DNS: 48-Danny Dietrich
DNS: 55-Hunter Schuerenberg
DNS: 70-Henry Malcuit
DNS: 18-Bryce Schmidt
(First two finishers transferred to the B-Main)
Dash (6 Laps)
1. 21-Brian Brown
2. 5-Paul McMahan
3. 3Z-Brock Zearfoss
4. 14-Kerry Madsen
5. 2-David Gravel
6. 41-Carson Macedo
7. 83-Aaron Reutzel
8. 49X-Ian Madsen
(Finish determined the first eight starting positions for the A-Main)
B-Main (12 Laps)
1. 57-Kyle Larson
2. 18-Giovanni Scelzi
3. 1S-Logan Schuchart.
4. 11-Spencer Bayston
5. 11K-Kraig Kinser
6. 13-Justin Peck
7. 71-Anthony Macri
8. 70-Carson Short
9. 97-Greg Wilson
10. 55V-C.J. Leary
11. 1A-Jacob Allen
12. 12N-Joey Allen
13. 28-Tim Shaffer
14. 42-Sye Lynch
15. 17B-Bill Balog
16. 2C-Wayne Johnson
17. 22-Jac Haudenschild
18. 6-Ryan Smith
19. 19-Parker Price-Miller
(First four finishers transferred to the A-Main)
A-Main (30 Laps):
1. 41-Carson Macedo
2. 21-Brian Brown
3. 2-David Gravel
4. 14-Kerry Madsen
5. 83-Aaron Reutzel
6. 49X-Ian Madsen
7. 24-Rico Abreu
8. 19M-Brent Marks
9. 5-Paul McMahan
10. 57-Kyle Larson
11. 49-Brad Sweet
12. 17-Sheldon Haudenschild
13. 15-Donny Schatz
14. 18-Giovanni Scelzi
15. 11-Spencer Bayston
16. 39-Daryn Pittman
17. 10-Zeb Wise
18. 1S-Logan Schuchart
19. 3Z-Brock Zearfoss
20. 11K-Kraig Kinser
21. 9-James McFadden
22. 7BC-Tyler Courtney
23. 26-Cory Eliason
24. 15H-Sam Hafertepe Jr.
25. 10B-Dave Blaney