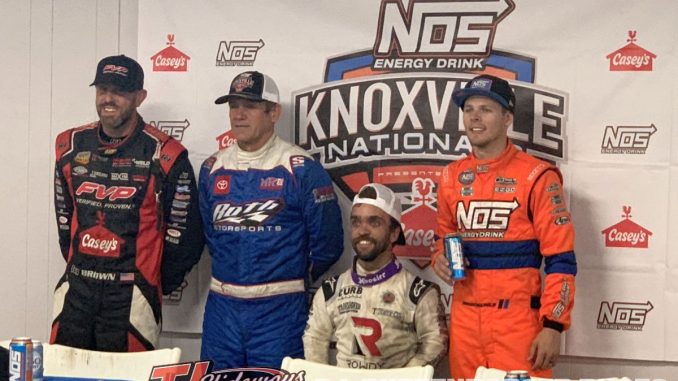 By T.J. Buffenbarger
KNOXVILLE, Iowa (August 12, 2022) – For the third time in his career Rico Abreu won the FVP "Hard Knox" program to lock himself into the A-Main at the NOS Energy Drink Knoxville Nationals. Abreu was stout in front of the field withstanding some early challenges from Kerry Madsen and driving away from the field through some mid-race restarts for the victory.
Abreu was quick to credit his crew for the victory after failing to lock in through their preliminary night.
"Just a solid performance for my team. I felt like I kind of let them down last night after some just poor decisions but just hats off to them," said Abreu. "I just I'm just thankful to be a part of such a great race team. These races are very difficult to win. Track position is so clean and it comes down to qualifying. It just all comes down to two laps before we even start racing which sets your night up and put ourselves in position tonight."
Corey Day and Rico Abreu started on the front row for the 25-lap main event. Abreu took the lead through turns one and two while Spencer Bayston drove around the outside of Kerry Madsen to take the second position. Madsen countered and drove under Bayston through turns three and four.
Behind them Sheldon Haudenschild quickly moved up from eight starting position by Day for the fourth and final transfer spot. Day was trying to counter when he hooked the inside berm in turn three, got sideways, slid up the racetrack, and backed into the fence and tipped over. Day had the car pushed to the work area and were able to make repairs to join the tail of the field.
The top four drivers pulled away during the restart using the top of the track while Ayrton Gennetten tried using the bottom of the track to catch the top four. One lap later Madsen tried to slide Abreu for the lead in turns one and two but could not make the pass.
Gennetten started to be challenged for the fifth spot by Marcus Dumesny with six laps in, exchanging the position back and forth for three laps with Dumesny banging off the cushion in turns one and two and Gennetten using the low side of the racetrack.
Brock Zearfoss joined this race for position as well when on lap 10 Gennetten and Zearfoss made contact sending Zearfoss helicoptering down the track and Gennetten's car into the wall. Gennetten managed to keep his car under power but was eventually towed back to the pits with too much damage to continue. Zearfoss' team made minor repairs in the work area and was able to continue.
Abreu pulled away during the restart as Haudenschild slid by Bayston for third briefly as Bayston was able to counter and drive back by him for position. Further back in the field Brian Brown was making his presence felt from 12th starting position challenging Dumesny for the fifth spot.
With 13 laps to go Dumesny slowed in turns three and four to bring out the caution flag. This setup Brown to dive into turn one and slide past two cars to go from fifth to third in turn one only to have Haudenschild and Bayston counter and drive back by Brown.
One lap later Bayston bicycled going into turn one, pounded the fence, but somehow managed to keep going. Brown was setting up a slide job when it happened and raced into he final transfer spot while everyone behind Bayston had to check up to avoid contact. This gave Brown enough cushion to drive away from the field.
Up front though it was all Abreu picking up the victory and locking into Saturday's A-Main event with Madsen, Haudenschild, and Brown.
Afterwards Madsen felt he had one chance to get Abreu but not as the risk of failing to transfer into Saturday's feature.
"Probably should have sent it, but the top four was more important than heroics at the moment," said Abreu. "David and the guys worked hard on our racecar all night and they've gave me a really great race car there at the end. Really, comfortable to drive there the last 25 laps."
Haudenschild was concerned about the restarts making him vulnerable, but was up for the challenge.
I didn't want to see those restarts," said Haudenschild. "Once we got the lapped traffic and yellow came out right away and just had to figure out how to be on it on the starts. I threw a bomb on the five and he was able to get back under me and I knew on that next restart I probably would have to do something different, especially when I looked up at the board that (Brown) was there. I'm ran the top one and him was able to turn down and get that run. Hats off to Ripper, Jacob, Eames. Man, they've been working hard. And this is a tough, stressful week for everybody, and I just can't give it up enough for them for putting the work in and getting us locked in the show."
Brown's late race surge with wild slide jobs was intense even for himself.
"Shit was going on out there I can guarantee you that it was just chaos," said Brown of the exchange for slide jobs at the end. "Everybody knows how important this race is to me and our race team and this has not been a great week. It just seems like we can't get nothing going. For all of our partners to not give up on us, Danny, Justin, Chaddy, my Dad, my Grandpa, my Wife the a psychiatrist at the motor home trying to keep me from jumping off the mile long bridge, it's just been a long week but they don't give up and until hat last checker flag flies"
61st NOS Energy Drink Knoxville Nationals presented by Casey's
FVP Hard Knox Night
Knoxville Raceway
Knoxville, Iowa
Friday, August 12, 2022
Qualifying Flight A:
1. 6B-Brandon Wimmer, 15.832[1]
2. 14-Corey Day, 15.856[6]
3. 3-Ayrton Gennetten, 15.880[13]
4. 1AU-Marcus Dumesny, 15.923[19]
5. 73-Scotty Thiel, 15.966[2]
6. 71-Cory Eliason, 15.970[11]
7. 24-Terry McCarl, 15.987[20]
8. 55-Hunter Schuerenberg, 16.007[32]
9. 3P-Sawyer Phillips, 16.014[18]
10. 5C-Dylan Cisney, 16.018[28]
11. 1-Logan Wagner, 16.028[25]
12. 49X-Cale Thomas, 16.036[27]
13. 7S-Robbie Price, 16.064[23]
14. 17B-Bill Balog, 16.071[10]
15. 09-Matt Juhl, 16.073[4]
16. 55T-McKenna Haase, 16.084[14]
17. 17S-Sammy Swindell, 16.104[12]
18. 15H-Sam Hafertepe Jr, 16.203[36]
19. 21K-Thomas Kennedy, 16.204[9]
20. 16A-Colby Copeland, 16.246[26]
21. 13JT-Mark Dobmeier, 16.261[21]
22. 35-Zach Hampton, 16.262[31]
23. 101-Lachlan McHugh, 16.284[16]
24. 40-Clint Garner, 16.301[17]
25. 17C-Carson Short, 16.329[15]
26. 11T-TJ Stutts, 16.358[5]
27. 27-Carson McCarl, 16.398[29]
28. 18R-Ryan Roberts, 16.431[30]
29. 15M-Bobby Mincer, 16.456[22]
30. 1X-Jake Bubak, 16.496[33]
31. 12-Tyler Drueke, 16.549[7]
32. 11-Roger Crockett, 16.586[35]
33. 6-Bill Rose, 16.639[3]
34. 97-Greg Wilson, 16.652[8]
35. 2KK-Kevin Ingle, 16.896[24]
DNS: 14H-Josh Higday, NT
Qualifying Flight B:
1. 7-Justin Henderson, 16.286[17]
2. 24R-Rico Abreu, 16.297[21]
3. 83JR-Kerry Madsen, 16.309[5]
4. 5-Spencer Bayston, 16.318[2]
5. 42-Sye Lynch, 16.328[10]
6. 17-Sheldon Haudenschild, 16.332[33]
7. 3Z-Brock Zearfoss, 16.347[15]
8. 21-Brian Brown, 16.383[26]
9. 22-Riley Goodno, 16.398[1]
10. 39M-Anthony Macri, 16.413[28]
11. 20G-Noah Gass, 16.489[36]
12. 44-Chris Martin, 16.503[4]
13. 91-Kyle Reinhardt, 16.525[18]
14. 55W-Mike Wagner, 16.549[3]
15. 16-Brooke Tatnell, 16.555[35]
16. 11K-Kraig Kinser, 16.567[6]
17. 21H-Brady Bacon, 16.569[27]
18. 1M-Don Droud Jr, 16.588[8]
19. 47X-Dylan Westbrook, 16.637[9]
20. 17W-Shane Golobic, 16.639[22]
21. 2M-Davey Heskin, 16.664[25]
22. 52-Blake Hahn, 16.669[30]
23. 49J-Josh Schneiderman, 16.691[13]
24. 19W-Chris Windom, 16.694[34]
25. 35K-Chad Kemenah, 16.705[20]
26. 83T-Tanner Carrick, 16.751[31]
27. 84-Scott Bogucki, 16.759[19]
28. 99-Skylar Gee, 16.802[12]
29. 11N-Harli White, 16.991[14]
30. 45-Rusty Hickman, 17.009[11]
31. 9JR-Derek Hagar, 17.074[32]
32. 65-Jordan Goldesberry, 17.101[16]
33. 10-Skylar Prochaska, 17.188[29]
34. 4W-Matt Wasmund, 17.366[23]
35. 7W-Dustin Selvage, 17.458[7]
36. 97G-Alan Gilbertson, 17.538[24]
Heat Race #1 (8 Laps)
1. 5C-Dylan Cisney[1]
2. 24-Terry McCarl[2]
3. 1AU-Marcus Dumesny[3]
4. 6B-Brandon Wimmer[4]
5. 7S-Robbie Price[5]
6. 17C-Carson Short[9]
7. 55T-McKenna Haase[6]
8. 35-Zach Hampton[8]
9. 21K-Thomas Kennedy[7]
10. 18R-Ryan Roberts[10]
11. 97-Greg Wilson[12]
12. 12-Tyler Drueke[11]
Heat Race #2 (8 Laps)
1. 1-Logan Wagner[1]
2. 55-Hunter Schuerenberg[2]
3. 14-Corey Day[4]
4. 17S-Sammy Swindell[6]
5. 73-Scotty Thiel[3]
6. 16A-Colby Copeland[7]
7. 101-Lachlan McHugh[8]
8. 11-Roger Crockett[11]
9. 17B-Bill Balog[5]
10. 15M-Bobby Mincer[10]
11. 11T-TJ Stutts[9]
12. 2KK-Kevin Ingle[12]
Heat Race #3 (8 Laps)
1. 3-Ayrton Gennetten[4]
2. 49X-Cale Thomas[1]
3. 3P-Sawyer Phillips[2]
4. 15H-Sam Hafertepe Jr[6]
5. 40-Clint Garner[8]
6. 27-Carson McCarl[9]
7. 09-Matt Juhl[5]
8. 1X-Jake Bubak[10]
9. 13JT-Mark Dobmeier[7]
10. 6-Bill Rose[11]
DNS: 14H-Josh Higday
12. (DQ) 71-Cory Eliason[3]
Heat Race #4 (8 Laps)
1. 39M-Anthony Macri[1]
2. 3Z-Brock Zearfoss[2]
3. 5-Spencer Bayston[3]
4. 7-Justin Henderson[4]
5. 91-Kyle Reinhardt[5]
6. 52-Blake Hahn[8]
7. 47X-Dylan Westbrook[7]
8. 99-Skylar Gee[10]
9. 35K-Chad Kemenah[9]
10. 9JR-Derek Hagar[11]
11. 11K-Kraig Kinser[6]
12. 4W-Matt Wasmund[12]
Heat Race #5 (8 Laps)
1. 21-Brian Brown[2]
2. 24R-Rico Abreu[4]
3. 21H-Brady Bacon[6]
4. 20G-Noah Gass[1]
5. 42-Sye Lynch[3]
6. 49J-Josh Schneiderman[8]
7. 55W-Mike Wagner[5]
8. 17W-Shane Golobic[7]
9. 65-Jordan Goldesberry[11]
10. 7W-Dustin Selvage[12]
11. 11N-Harli White[10]
12. 83T-Tanner Carrick[9]
Heat Race #6 (8 Laps)
1. 17-Sheldon Haudenschild[3]
2. 16-Brooke Tatnell[5]
3. 83JR-Kerry Madsen[4]
4. 44-Chris Martin[1]
5. 22-Riley Goodno[2]
6. 19W-Chris Windom[8]
7. 1M-Don Droud Jr[6]
8. 45-Rusty Hickman[10]
9. 84-Scott Bogucki[9]
10. 10-Skylar Prochaska[11]
11. 97G-Alan Gilbertson[12]
12. 2M-Davey Heskin[7]
C-Main (10 Laps)
1. 1X-Jake Bubak[1]
2. 45-Rusty Hickman[2]
3. 11-Roger Crockett[5]
4. 12-Tyler Drueke[3]
5. 9JR-Derek Hagar[4]
6. 65-Jordan Goldesberry[6]
7. 4W-Matt Wasmund[10]
8. 97-Greg Wilson[9]
9. 10-Skylar Prochaska[8]
10. 2KK-Kevin Ingle[11]
11. 6-Bill Rose[7]
12. 97G-Alan Gilbertson[13]
13. (DQ) 7W-Dustin Selvage[12]
B-Main #1 (12 Laps)
1. 71-Cory Eliason[3]
2. 6B-Brandon Wimmer[1]
3. 55T-McKenna Haase[7]
4. 15H-Sam Hafertepe Jr[9]
5. 73-Scotty Thiel[2]
6. 17B-Bill Balog[5]
7. 09-Matt Juhl[6]
8. 13JT-Mark Dobmeier[12]
9. 101-Lachlan McHugh[14]
10. 17S-Sammy Swindell[8]
11. 21K-Thomas Kennedy[10]
12. 35-Zach Hampton[13]
13. 40-Clint Garner[15]
14. 18R-Ryan Roberts[19]
15. 27-Carson McCarl[18]
16. 7S-Robbie Price[4]
17. 16A-Colby Copeland[11]
18. 11-Roger Crockett[22]
19. 15M-Bobby Mincer[20]
20. 9JR-Derek Hagar[23]
21. 1X-Jake Bubak[21]
22. 4W-Matt Wasmund[24]
23. 17C-Carson Short[16]
24. 11T-TJ Stutts[17]
B-Main #2 (12 Laps)
1. 91-Kyle Reinhardt[6]
2. 42-Sye Lynch[2]
3. 7-Justin Henderson[1]
4. 22-Riley Goodno[3]
5. 17W-Shane Golobic[11]
6. 1M-Don Droud Jr[9]
7. 20G-Noah Gass[4]
8. 55W-Mike Wagner[7]
9. 2M-Davey Heskin[12]
10. 52-Blake Hahn[13]
11. 84-Scott Bogucki[18]
12. 44-Chris Martin[5]
13. 35K-Chad Kemenah[16]
14. 45-Rusty Hickman[21]
15. 11K-Kraig Kinser[8]
16. 83T-Tanner Carrick[17]
17. 49J-Josh Schneiderman[14]
18. 99-Skylar Gee[19]
19. 47X-Dylan Westbrook[10]
20. 97-Greg Wilson[24]
21. 11N-Harli White[20]
22. 65-Jordan Goldesberry[23]
23. 12-Tyler Drueke[22]
DNS: 19W-Chris Windom
A-Main (25 Laps)
1. 24R-Rico Abreu[2]
2. 83JR-Kerry Madsen[4]
3. 17-Sheldon Haudenschild[8]
4. 21-Brian Brown[12]
5. 39M-Anthony Macri[14]
6. 5-Spencer Bayston[6]
7. 14-Corey Day[1]
8. 7-Justin Henderson[24]
9. 21H-Brady Bacon[18]
10. 5C-Dylan Cisney[13]
11. 16-Brooke Tatnell[16]
12. 3P-Sawyer Phillips[11]
13. 24-Terry McCarl[7]
14. 3Z-Brock Zearfoss[10]
15. 91-Kyle Reinhardt[20]
16. 55T-McKenna Haase[23]
17. 42-Sye Lynch[22]
18. 1-Logan Wagner[15]
19. 49X-Cale Thomas[17]
20. 71-Cory Eliason[19]
21. 1AU-Marcus Dumesny[5]
22. 6B-Brandon Wimmer[21]
23. 55-Hunter Schuerenberg[9]
24. 3-Ayrton Gennetten[3]