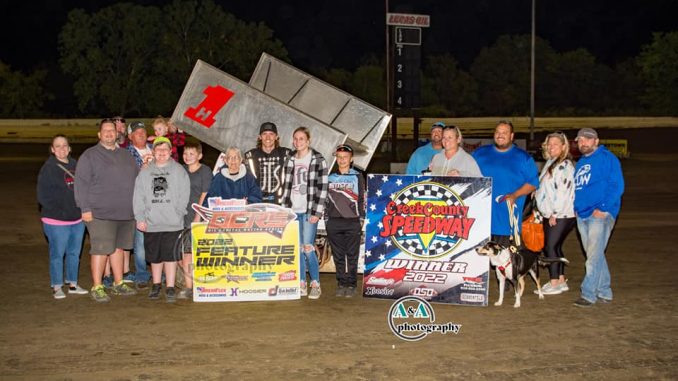 John Rittenoure
KELLYVILLE, Okla. (October 1, 2022) – Hank Davis has a habit of winning where ever he shows up with his champ sprint car. Running primarily the local tracks of Creek County Speedway and Tulsa Speedway, Davis has won 9 of 14 feature events he has started.
Saturday Davis entered his first AmeriFlex / OCRS IMCA Sprint Car event and raced to another victory at Creek County Speedway.
Davis, who started inside second row in the 30-lapper, was able to take over the lead at the half-way point and race to victory by a 2.734 second margin over 5th starting Casey Wills. Terry Easum chased Wills to a third place finish, Noah Harris earned D&G Contracting Hard Charger honors coming from 15th starting to finish 4th after winning the B main, and Kyle Clark came from 10th to finish 5th.
With three races remaining Blake Edwards saw his points lead shrink after failing to make the A-Feature with his 9th place B-Feature finish. Rees Moran trails Edwards by just two points entering next weekends events at Caney Valley Speedway.
Creek County Speedway
Sapulpa, Oklahoma
Saturday, October 1, 2022
Heat Race #1 (8 Laps)
1. 22M-Rees Moran[5]
2. 5$-Danny Smith[1]
3. 55-Johnny Kent[8]
4. 88-Terry Easum[9]
5. 22T-Frank Taft[6]
6. 39-Kimberly Tyre[7]
7. 51M-Kevin Cummings[2]
8. 12M-Mitchell Barros[3]
9. 55M-Corey McGehee[4]
Heat Race #2 (8 Laps)
1. 31-Casey Wills[1]
2. 38-Jimmy Forrester[2]
3. 9$-Kyle Clark[4]
4. 08E-Elizabeth Phillips[8]
5. 50Z-Zach Chappell[5]
6. 17E-Blake Edwards[3]
7. 23A-Travis Ashwood[6]
8. 69-Greg York[7]
Heat Race #3 (8 Laps)
1. 20S-Sheldon Barksdale[1]
2. 1H-Hank Davis[7]
3. 8R-Ryker Pace[3]
4. 42-Grady Mercer[2]
5. 7F-Noah Harris[4]
6. 26M-Fred Mattox[6]
7. 29L-Lane Goodman[5]
8. 22C-Charlie Crumpton[8]
B-Main (12 Laps)
1. 7F-Noah Harris[1]
2. 23A-Travis Ashwood[5]
3. 12M-Mitchell Barros[10]
4. 22C-Charlie Crumpton[7]
5. 29L-Lane Goodman[6]
6. 69-Greg York[9]
7. 39-Kimberly Tyre[2]
8. 26M-Fred Mattox[3]
9. 17E-Blake Edwards[4]
10. 51M-Kevin Cummings[8]
11. 55M-Corey McGehee[11]
A-Main (30 Laps)
1. 1H-Hank Davis[3]
2. 31-Casey Wills[5]
3. 88-Terry Easum[4]
4. 7F-Noah Harris[15]
5. 9$-Kyle Clark[10]
6. 42-Grady Mercer[13]
7. 20S-Sheldon Barksdale[7]
8. 55-Johnny Kent[2]
9. 22M-Rees Moran[1]
10. 22C-Charlie Crumpton[18]
11. 38-Jimmy Forrester[6]
12. 08E-Elizabeth Phillips[8]
13. 29L-Lane Goodman[19]
14. 23A-Travis Ashwood[16]
15. 22T-Frank Taft[12]
16. 12M-Mitchell Barros[17]
17. 5$-Danny Smith[9]
18. 69-Greg York[20]
19. 8R-Ryker Pace[11]
20. (DQ) 50Z-Zach Chappell[14]