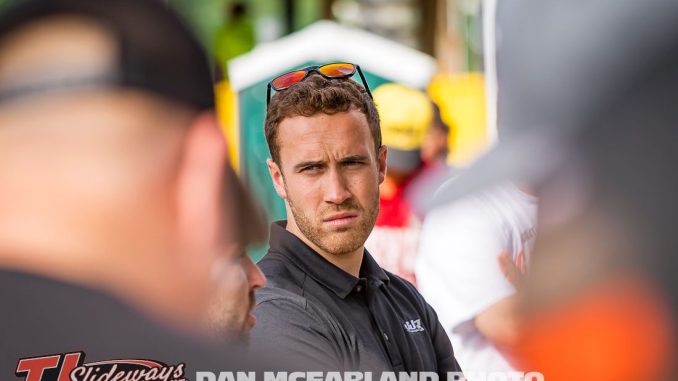 From ASCoC
BARBERVILLE, Fl. (February 8, 2022) — Lemoore, California's Carson Macedo led all but one on Wednesday night at Volusia Speedway Park in De Leon Springs, Florida, concluding night two of the Tezos All Star Circuit of Champions presented by Mobil 1 Classic Ink USA Southern Swing presented by Elliott's Custom Trailers and Carts with a victory. Macedo, who started from the pole position, was forced to outduel Fargo, North Dakota's Donny Schatz during the late stages of the 25-lapper, but Schatz' nose wing proved to get the best of him, eventually allowing Macedo back by on lap 21 to secure the $6,000 score.
The All Star victory bumps Macedo's career total to eight with the Series – his second ever at Volusia Speedway park.
"I knew why I lost the lead…I tried to get too creative in lapped traffic," Macedo, ace of the Jason Johnson Racing No. 41, said. "We were all running the same line and going the same speed. I could see Donny start to show his nose and I ended up missing the bottom there in one to let him get by on the backstretch. I knew I had a good shot to get back by him. I'm not sure if he got tight or what, but it all worked out.
"Hats off to all of these guys standing behind me," Macedo continued. "I'm proud to be associated with such an incredible team and now we have the confidence we need to get the Outlaw season started off right tomorrow night."
Donny Schatz did everything he could to wrestle the lead away from Macedo on lap 20, which he accomplished, but early-race nose wing damage ultimately created havoc for the ten-time World of Outlaws champion; it flipped over completely just as the Tony Stewart/Curb-Agajanian Racing ace dived into turn one on lap 21.
"Just the way it goes sometimes…it is what it is," Schatz said, referring to frustration created after early race contact damaged his nose wing. "It didn't hurt me too bad until it flipped over completely. The wing post eventually gave out. Hats off to this Tony Stewart Racing/Advance Auto Parts team. Tomorrow night the real game starts."
All Star Circuit of Champions Classic Ink USA Southern Swing presented by Elliott's Custom Trailers and Carts action will now move to East Bay Raceway Park in Tampa, Florida, for a pair of programs on Monday and Tuesday, February 13-14. Each event will award $6,000 paydays, also concluding preliminary season competition for "America's Series."
Tezos All Star Circuit of Champions presented by Mobil 1
DIRTcar Nationals
Volusia Speedway Park
Barberville, Florida
Wednesday, February 8, 2022
Dixie Vodka Qualifying
1. 41-Carson Macedo, 13.589[13]
2. 39M-Anthony Macri, 13.640[3]
3. 13-Justin Peck, 13.665[19]
4. 17-Sheldon Haudenschild, 13.680[15]
5. 3Z-Brock Zearfoss, 13.682[6]
6. 83-James McFadden, 13.701[16]
7. 19M-Brent Marks, 13.712[12]
8. 11-Michael Kofoid, 13.721[5]
9. 1S-Logan Schuchart, 13.732[7]
10. 49-Brad Sweet, 13.749[4]
11. 15-Donny Schatz, 13.749[34]
12. 18-Giovanni Scelzi, 13.754[11]
13. 8-Aaron Reutzel, 13.760[8]
14. 21-Brian Brown, 13.794[24]
15. 48-Danny Dietrich, 13.800[9]
16. 5-Spencer Bayston, 13.837[22]
17. 15H-Sam Hafertepe Jr, 13.843[17]
18. 1A-Jacob Allen, 13.851[10]
19. 55-Hunter Schuerenberg, 13.852[20]
20. 7BC-Tyler Courtney, 13.908[29]
21. 9-Kasey Kahne, 13.950[30]
22. 9P-Parker Price Miller, 13.959[31]
23. 55B-Alex Bowman, 13.979[14]
24. 26-Zeb Wise, 13.984[27]
25. 11K-Kraig Kinser, 14.000[18]
26. 20G-Noah Gass, 14.048[25]
27. 7S-Robbie Price, 14.056[23]
28. 5T-Ryan Timms, 14.064[33]
29. 17B-Bill Balog, 14.073[21]
30. 2-David Gravel, 14.114[26]
31. 70-Scotty Thiel, 14.129[2]
32. 22-Riley Goodno, 14.169[1]
33. 44-Chris Martin, 14.341[28]
34. 16TH-Kevin Newton, 15.061[32]
Hunt Brothers Pizza Heat Race #1 (8 Laps)
1. 3Z-Brock Zearfoss[1]
2. 11-Michael Kofoid[2]
3. 1S-Logan Schuchart[3]
4. 39M-Anthony Macri[4]
5. 49-Brad Sweet[5]
6. 48-Danny Dietrich[7]
7. 22-Riley Goodno[9]
8. 8-Aaron Reutzel[6]
DNS: 70-Scotty Thiel
CSI Shocks Heat Race #2 (8 Laps)
1. 83-James McFadden[2]
2. 17-Sheldon Haudenschild[1]
3. 41-Carson Macedo[4]
4. 19M-Brent Marks[3]
5. 1A-Jacob Allen[7]
6. 15H-Sam Hafertepe Jr[6]
7. 18-Giovanni Scelzi[5]
8. 55B-Alex Bowman[8]
9. 11K-Kraig Kinser[9]
All Pro Aluminum Cylinder Heads Heat Race #3 (8 Laps)
1. 21-Brian Brown[1]
2. 5-Spencer Bayston[2]
3. 13-Justin Peck[4]
4. 55-Hunter Schuerenberg[3]
5. 2-David Gravel[8]
6. 7S-Robbie Price[6]
7. 17B-Bill Balog[7]
8. 20G-Noah Gass[5]
Mobil 1 Heat Race #4 (8 Laps)
1. 15-Donny Schatz[4]
2. 7BC-Tyler Courtney[1]
3. 9-Kasey Kahne[2]
4. 9P-Parker Price Miller[3]
5. 26-Zeb Wise[5]
6. 5T-Ryan Timms[6]
7. 44-Chris Martin[7]
8. 16TH-Kevin Newton[8]
Elliotts Custom Trailers and Carts Dash (6 Laps)
1. 41-Carson Macedo[2]
2. 13-Justin Peck[1]
3. 15-Donny Schatz[3]
4. 39M-Anthony Macri[7]
5. 83-James McFadden[6]
6. 21-Brian Brown[4]
7. 3Z-Brock Zearfoss[5]
Classic Ink USA B-Main (12 Laps)
1. 18-Giovanni Scelzi[1]
2. 8-Aaron Reutzel[2]
3. 15H-Sam Hafertepe Jr[4]
4. 5T-Ryan Timms[6]
5. 48-Danny Dietrich[3]
6. 44-Chris Martin[9]
7. 17B-Bill Balog[7]
8. 7S-Robbie Price[5]
9. 11K-Kraig Kinser[13]
10. 20G-Noah Gass[11]
11. 22-Riley Goodno[8]
12. 55B-Alex Bowman[10]
13. 16TH-Kevin Newton[12]
Tezos A-Main (25 Laps)
1. 41-Carson Macedo[1]
2. 15-Donny Schatz[3]
3. 83-James McFadden[5]
4. 39M-Anthony Macri[4]
5. 13-Justin Peck[2]
6. 49-Brad Sweet[17]
7. 3Z-Brock Zearfoss[7]
8. 5-Spencer Bayston[10]
9. 1S-Logan Schuchart[12]
10. 2-David Gravel[20]
11. 11-Michael Kofoid[9]
12. 18-Giovanni Scelzi[21]
13. 17-Sheldon Haudenschild[8]
14. 21-Brian Brown[6]
15. 19M-Brent Marks[14]
16. 7BC-Tyler Courtney[11]
17. 8-Aaron Reutzel[22]
18. 9-Kasey Kahne[13]
19. 5T-Ryan Timms[24]
20. 55-Hunter Schuerenberg[15]
21. 9P-Parker Price Miller[16]
22. 1A-Jacob Allen[18]
23. 26-Zeb Wise[19]
24. 15H-Sam Hafertepe Jr[23]
Lap Leaders
Carson Macedo (1-19), Donny Schatz (20), Carson Macedo (21-25)
Contingency Awards
Classic Ink USA Southern Swing presented by Elliott's Custom Trailers and Carts
Kistler Racing Products Pill Draw | Entries: 34
Nunzi's Advertising Hot Laps: Donny Schatz | 14.227
Dixie Vodka Fast Qualifier: Carson Macedo | 13.589
Hunt Brothers Pizza Heat #1 Winner: Brock Zearfoss
Competition Suspension Inc Heat #2 Winner: James McFadden
All Pro Aluminum Cylinder Heads Heat #3 Winner: Brian Brown
Mobil 1 Heat #4 Winner: Donny Schatz
Elliott's Custom Trailers and Carts Dash Winner: Carson Macedo
Classic Ink USA Screenprinting and Embroidery B-Main Winner: Gio Scelzi
Rayce Rudeen Foundation Contingency Award: Danny Dietrich
Tezos A-Main Winner: Carson Macedo
Hercules Tires A-Main Hard Charger: Brad Sweet (+11)
Carquest Perseverance Award: David Gravel