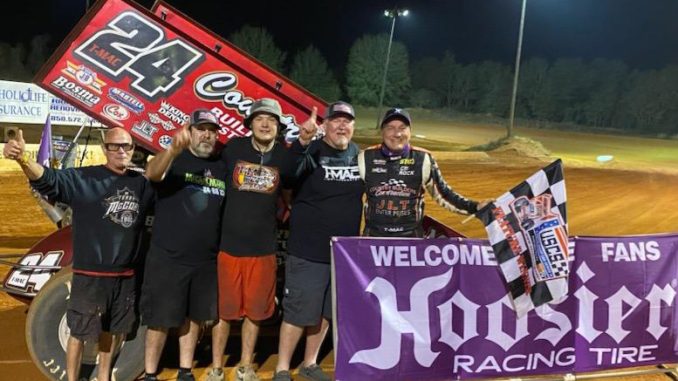 By Pete Walton
Milton, Florida – Saturday, February 25, 2023 – Defending Knoxville Raceway 360-winged sprint car Champion and Sprint Car Hall of Famer, Terry McCarl from Altoona, Iowa completed a weekend sweep of the main events at Southern Raceway in the 6th Annual Battle at the Beach Sprint Car Speed Spectacular on Saturday night. McCarl won the 30-lap weekend finale good for a $3000 paycheck. The veteran Iowa driver made his second weekend of racing in the warmer climates in Florida his biggest weekend payoff of the 2023 season with winnings of $5200 after also wining Friday night's 25-lap preliminary main event and winning the USCS Hoosier Speed Dash on both nights to star in the pole position EACH NIGHT.
McCarl started from the pole position in the main event and led all 30-laps, but,not with working hard to stay out of being challenged the entire distance by second starting 2022 USCS Winter Heat Series Champion and current series National points leader, Davey Franek from Wantage, New Jersey and fourth starting Sunbury, Pennsylvania's Mark Smith who has 41 career USCS wins to his credit.
When the checkers flew as McCarl swept under the flag stand, Franek followed the Iowan in the runnerup spot two car lengths back with Mark Smith in the final podium spot as sixth starting two-time USCS National Champion, Jordan Mallett from Greenbriar, Arkansas made his presence known while challenging Smith for third crossed in fourth place followed by USCS Rookie of the Year contender Gavan Boschele from Mooresville, North Carolina rounded out the top five.
Ankeny, Iowa's Chris Martin led the second five in sixth place followed by Knoxville, Iowa young gun Riley Goodno from Knoxville, Iowa in seventh. Glenpool, Oklahoma's Brandon Anderson was eighth followed by 2021 USCS National Champion and National Sprint Car Hall of Famer, Danny Smith from Chillicothe, Ohio was ninth and Matt Covington from also from Glenpool, Oklahoma completed the top ten finishers.
Heat race winners were Jordon Mallett in the Engler Machine and Tool First Heat, Terry McCarl in the JJ Supply of North Carolina Heat Two and the RE Electronics Third Heat was won by Mark Smith. Terry McCarl won the six-lap Hoosier Speed Dash for the top six cars from passing points after the heat races. That awarded him the pole position for the start of the A-Main.Twenty-four cars from fourteen states started the main event and two-two of those cars finished the event.
Twenty-four cars from fourteen states started the main event and two-two of those cars finished the event. These races served as Rounds number seven and eight of the 5th annual USCS Winter Heat Series contests and issued National, USCS Southern Thunder regional and Winter Heat Series points.
USCS Outlaw Thunder Tour weinged sprint car results at Southern Raceway on Saturday, February 25, 2023. 24 cars entered.
Feature (30 Laps): 1. 24-Terry McCarl[1]; 2. 28F-Davie Franek[2]; 3. 43-Mark Smith[4]; 4. 14-Jordon Mallett[6]; 5. 21-Gavan Boschele[5]; 6. 44-Chris Martin[8]; 7. 22-Riley Goodno[7]; 8. 55B-Brandon Anderson[15]; 9. 66-Danny Smith[17]; 10. 95-Matt Covington[10]; 11. 12-Corbin Gurley[9]; 12. 23-Lance Moss[14]; 13. 10-Terry Gray[12]; 14. 88-Terry Easum[11]; 15. 21M-Adam Cruea[18]; 16. 31-Casey Wills[23]; 17. 7E-Eric Gunderson[24]; 18. 33-Joe Larkin[16]; 19. 32-Rusty Sanford[13]; 20. 28-Jeff Willingham[20]; 21. (DNF) 29-Kyle Amerson[3]; 22. (DNF) 2H-Tommy Hall[19]; 23. (DNF) 61-Sean Wimpee[22]; 24. (DNF) 4X-Scott Baldwin[21]
Hoosier Speed Dash (6 Laps): 1. 24-Terry McCarl[1]; 2. 28F-Davie Franek[5]; 3. 29-Kyle Amerson[2]; 4. 43-Mark Smith[3]; 5. 21-Gavan Boschele[6]; 6. 14-Jordon Mallett[4]
Engler Machine & Tool Heat 1 (8 Laps): 1. 14-Jordon Mallett[1]; 2. 29-Kyle Amerson[6]; 3. 44-Chris Martin[4]; 4. 28F-Davie Franek[8]; 5. 23-Lance Moss[5]; 6. 33-Joe Larkin[7]; 7. 28-Jeff Willingham[3]; 8. 31-Casey Wills[2]
JJ Supply of NC Heat 2 (8 Laps): 1. 24-Terry McCarl[7]; 2. 22-Riley Goodno[2]; 3. 12-Corbin Gurley[4]; 4. 95-Matt Covington[6]; 5. 55B-Brandon Anderson[5]; 6. 66-Danny Smith[8]; 7. 4X-Scott Baldwin[3]; 8. (DNS) 7E-Eric Gunderson
Racing Electronics Heat 3 (8 Laps): 1. 43-Mark Smith[2]; 2. 21-Gavan Boschele[3]; 3. 88-Terry Easum[1]; 4. 32-Rusty Sanford[4]; 5. 10-Terry Gray[7]; 6. 21M-Adam Cruea[6]; 7. 2H-Tommy Hall[8]; 8. 61-Sean Wimpee[5]