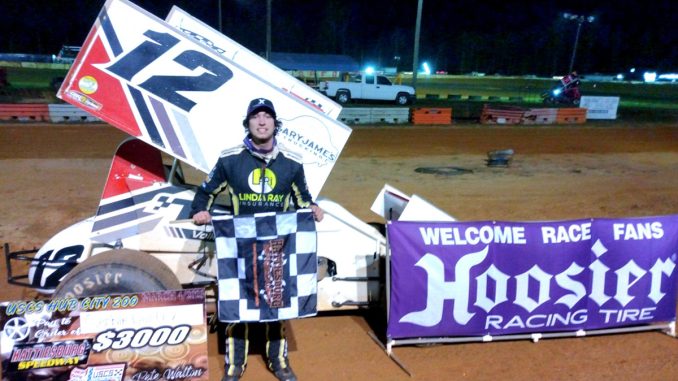 By Pete Walton
Hattiesburg, Mississippi – March 4, 2023 – Hebron, Indiana's, Corbin Gurley charged from a tenth place start to first in the 30-lap USCS A-Main to win his career-first USCS Outlaw Thunder Tour main event in the weekend finale at Hattiesburg Speedway on Saturday night.
Gurley, bested a field of some of the best winged-360 sprint car drivers in the Nation for a career-second sprint car win in the sprint car portion of the Hub City.
Brandon Anderson from Glenpool, Oklahoma finished in the runner-up spot on his first visit to the Speedway. Sunbury, Pennsylvania's Mark Smith finished in the final podium spot in third place.
14-year-old Gavan Boschele from Mooresville, North Carolina continued to impress with a fourth-place place finish after a,win in his heat race and veteran Jan Howard, who won his Heat and the Hoosier Speed Dash rounded out the top five.
Kaylee Bryson from Oklahoma led the next group in sixth place followed by third-generation sprint car driver Chase Howard from Nesbit, Mississippi.
Lance Moss from Cherryville, North Carolina was eighth followed by defending USCS National Champion, Terry Gray from Bartlett, Tennessee in ninth place and two-timeUSCSNational Champion Morgan Havener from Oakland, Tennessee completed the top ten.
Heat race winners were Kaylee Bryson in the
Engler Machine & Tool Heat 1, Davie Franek in the JJ Supply of NC Heat 2, JJ Supply of NC Heat 2, Gvan Boschele won the Racing Electronics Heat 3 and Jan Howard won the Hero Graphics Heat 4.
Jan Howard also won the Hoosier Speed Dash for the top six cars after heat races to garner the pole position for the A-Main.
Lance Moss won the USCS B-Main that took the final eight cars into the A-Main from the 29 car field.
The next USCS Outlaw Thunder Tour and Winter Heat Series events are next Friday and Saturday at Magnolia Motor Speedway in Columbus, Mississippi.
For more USCS info please visit www.uscsracing.com.
Outlaw Thunder Tour winged sprint car results for 3/4/2023 at Hattiesburg Speedway – Hattiesburg, MS
USCS 360 Outlaw Sprint Cars 29-Entries
USCS Feature 30-Laps
1. 12-Corbin Gurley[10]; 2. 55B-Brandon Anderson[2]; 3. 43-Mark Smith[7]; 4. 21-Gavan Boschele[9]; 5. 121-Jan Howard[1]; 6. 47K-Kaylee Bryson[6]; 7. 13-Chase Howard[5]; 8. 23-Lance Moss[15]; 9. 10-Terry Gray[14]; 10. 10M-Morgan Turpen[11]; 11. 28F-Davie Franek[8]; 12. 15K-Creed Kemenah[13]; 13. 10L-Landon Britt[17]; 14. 32-Rusty Sanford[18]; 15. 28-Jeff Willingham[19]; 16. 13X-Jake Brashier[20]; 17. (DNF) 47-Dale Howard[3]; 18. (DNF) 01-Shane Morgan[12]; 19. (DNF) 44-Ronny Howard[16]; 20. (DNF) 66-Danny Smith[4]; 21. (DNF) 56T-DL (Tank) Brashier[22]; 22. (DNS) 3T-John Robicheaux
B-Main 1 12-Laps
1. 23-Lance Moss[1]; 2. 44-Ronny Howard[6]; 3. 10L-Landon Britt[5]; 4. 32-Rusty Sanford[3]; 5. 28-Jeff Willingham[10]; 6. 13X-Jake Brashier[7]; 7. 3T-John Robicheaux[8]; 8. 56T-DL (Tank) Brashier[12]; 9. (DNF) 2H-Tommy Hall[2]; 10. (DNF) 56-Jeff Smith[11]; 11. (DNF) 4X-Scott Baldwin[4]; 12. (DNS) 95-Matt Covington; 13. (DNS) 83-Blake Carrier; 14. (DNS) 88B-Brandon Blenden; 15. (DNS) 55-Brad Bowden
Hoosier Speed Dash 6-Laps
1. 121-Jan Howard[1]; 2. 55B-Brandon Anderson[2]; 3. 47-Dale Howard[3]; 4. 66-Danny Smith[6]; 5. 13-Chase Howard[4]; 6. 47K-Kaylee Bryson[5]
Engler Machine & Tool Heat 1 8-Laps
1. 47K-Kaylee Bryson[2]; 2. 13-Chase Howard[4]; 3. 43-Mark Smith[6]; 4. 23-Lance Moss[5]; 5. 10-Terry Gray[8]; 6. 13X-Jake Brashier[7]; 7. 56-Jeff Smith[3]; 8. 56T-DL (Tank) Brashier[1]
JJ Supply of NC Heat 2 8-Laps
1. 28F-Davie Franek[1]; 2. 10M-Morgan Turpen[2]; 3. 01-Shane Morgan[4]; 4. 32-Rusty Sanford[3]; 5. 4X-Scott Baldwin[6]; 6. (DNF) 95-Matt Covington[5]; 7. (DNF) 83-Blake Carrier[7]
Racing Electronics Heat 3 8-Laps
1. 21-Gavan Boschele[1]; 2. 55B-Brandon Anderson[4]; 3. 12-Corbin Gurley[5]; 4. 15K-Creed Kemenah[6]; 5. 2H-Tommy Hall[7]; 6. 3T-John Robicheaux[3]; 7. (DNF) 55-Brad Bowden[2]
HERO Graphics Heat 4 8-Laps
1. 121-Jan Howard[4]; 2. 47-Dale Howard[5]; 3. 66-Danny Smith[7]; 4. 44-Ronny Howard[2]; 5. 10L-Landon Britt[6]; 6. 28-Jeff Willingham[1]; 7. (DNF) 88B-Brandon Blenden[3]