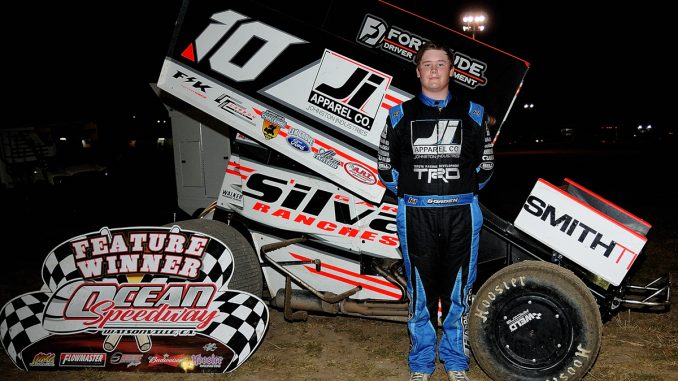 By Gary Thomas
Watsonville, CA…They always say first wins are the sweetest and for young Dominic Gordon on Friday night at Ocean Speedway in Watsonville, that was certainly the case.
The Clovis, CA resident started from the pole in the Ocean Sprints presented by Taco Bravo main event and held a hungry cast of racers at bay over the course of the 30-lapper, recording his initial Winged 360 triumph. Sharing victory lane on Friday were Rob Gallagher with the Hobby Stocks, first-time winner in the Four Banger division TJ Santos, and reigning Police n Pursuit champion Roy Iler.
"This feels pretty amazing right now to get my first Sprint Car win at Ocean Speedway," stated an exuberant Gordon on the front stretch. "My crew chief Richard Brown and my guys gave me a great car all night, but I knew that I had to be almost perfect in the main event with people like Bud Kaeding behind me. I'm glad we were able to pull it off. This is one I'll remember for a long time."
Gordon quickly jumped out to the lead in the Ocean Sprints finale and held command in impressive fashion running the bottom to perfection. Campbell's Bud Kaeding worked different lines in the feature as he tried everything to get by the youngster. Going into the evening Gordon had made less than 10 career Winged Sprint Car starts, but you could hardly tell on this night. Kaeding had a few looks but couldn't quite pull off the pass on each occasion.
As the race wound down Kaleb Montgomery hopped by Kaeding to take over second on lap 23, which set up a tremendous battle between the pair over a few laps. Gordon drove off with no worries to accept the checkered flag over Montgomery and Oakley's Dylan Bloomfield. It was an especially strong run for Bloomfield, who made several great passes, including one of Kaeding with just a couple laps remaining.
Kaeding and 11th starting Justin Sanders completed the top-five. Sanders looked strong over the final half of the feature as he rode the high-side by numerous cars.
Rounding out the top-10 in the feature were Caeden Steele, Rickey Sanders, Ashton Torgerson, Mitchell Faccinto and Jayson Bright. A total of 25 cars competed during round two of the Ocean Sprints presented by Taco Bravo campaign. Kaleb Montgomery began the evening by setting fast time with a lap of 11.565.
Ocean Sprints A-main results: 1. 10-Dominic Gorden[1]; 2. 3-Kaleb Montgomery[5]; 3. 83V-Dylan Bloomfield[4]; 4. 69-Bud Kaeding[2]; 5. 2X-Justin Sanders[11]; 6. 121X-Caeden Steele[6]; 7. 121-Rickey Sanders[3]; 8. 02-Ashton Torgerson[8]; 9. 22-Mitchell Faccinto[7]; 10. 68-Jayson Bright[12]; 11. 25Z-Jason Chisum[14]; 12. 7P-Jake Andreotti[10]; 13. 72S-Bradley Dillard[17]; 14. 72W-Kurt Nelson[15]; 15. 3D-Caleb Debem[19]; 16. 34B-Glenn Bryan[22]; 17. 88-Austin Torgerson[16]; 18. 83T-Tanner Carrick[9]; 19. 72JR-Chris Nelson[13]; 20. 07-Richard Fajardo[18]; 21. 98-Vince Giannotta[23]; 22. 56Z-Don Hart[21]; 23. 8-Jeremy Chisum[20]
Dash 6 Laps
1. 10-Dominic Gorden[1]; 2. 69-Bud Kaeding[3]; 3. 121-Rickey Sanders[2]; 4. 83V-Dylan Bloomfield[5]; 5. 3-Kaleb Montgomery[6]; 6. 121X-Caeden Steele[4]
Heat 1 8 Laps
1. 3-Kaleb Montgomery[4]; 2. 7P-Jake Andreotti[1]; 3. 2X-Justin Sanders[5]; 4. 25Z-Jason Chisum[6]; 5. 72S-Bradley Dillard[7]; 6. 07-Richard Fajardo[8]; 7. 28-Chase Johnson[3]; 8. (DNS) 21X-Gauge Garcia; 9. (DNS) 98-Vince Giannotta
Heat 2 8 Laps
1. 121-Rickey Sanders[1]; 2. 02-Ashton Torgerson[2]; 3. 69-Bud Kaeding[3]; 4. 83V-Dylan Bloomfield[4]; 5. 72W-Kurt Nelson[6]; 6. 68-Jayson Bright[5]; 7. 3D-Caleb Debem[7]; 8. 56Z-Don Hart[8]
Heat 3 8 Laps
1. 10-Dominic Gorden[1]; 2. 22-Mitchell Faccinto[3]; 3. 83T-Tanner Carrick[2]; 4. 121X-Caeden Steele[4]; 5. 72JR-Chris Nelson[5]; 6. 88-Austin Torgerson[6]; 7. 8-Jeremy Chisum[7]; 8. 34B-Glenn Bryan[8]
Qualifying
1. 3-Kaleb Montgomery, 00:11.565[17]; 2. 83V-Dylan Bloomfield, 00:11.572[21]; 3. 121X-Caeden Steele, 00:11.573[4]; 4. 28-Chase Johnson, 00:11.588[5]; 5. 69-Bud Kaeding, 00:11.593[19]; 6. 22-Mitchell Faccinto, 00:11.688[14]; 7. 21X-Gauge Garcia, 00:11.689[18]; 8. 02-Ashton Torgerson, 00:11.734[1]; 9. 83T-Tanner Carrick, 00:11.758[2]; 10. 7P-Jake Andreotti, 00:11.793[6]; 11. 121-Rickey Sanders, 00:11.797[15]; 12. 10-Dominic Gorden, 00:11.869[13]; 13. 2X-Justin Sanders, 00:11.939[20]; 14. 68-Jayson Bright, 00:11.982[16]; 15. 72JR-Chris Nelson, 00:12.005[9]; 16. 25Z-Jason Chisum, 00:12.049[8]; 17. 72W-Kurt Nelson, 00:12.060[12]; 18. 88-Austin Torgerson, 00:12.110[11]; 19. 72S-Bradley Dillard, 00:12.235[10]; 20. 3D-Caleb Debem, 00:12.311[22]; 21. 8-Jeremy Chisum, 00:12.328[24]; 22. 07-Richard Fajardo, 00:12.412[3]; 23. 56Z-Don Hart, 00:12.795[25]; 24. 34B-Glenn Bryan, 00:12.795[7]; 25. 98-Vince Giannotta, 00:12.795[23]