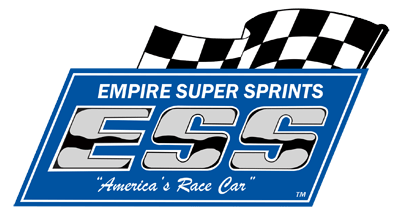 By Curtis Berleue
(Fonda, NY) | Just one week after kicking off the 2023 season, the Empire Super Sprints are back in action this coming Saturday at the Fonda Speedway in Fonda, NY.
The 1/2-mile oval dubbed 'The Track of Champions' has played host to 25 ESS events since the inaugural visit in 1987, with 14 different drivers visiting victory lane. Danny Varin is the tour's most recent winner at Fonda, winning all 6 of the tours last 6 visits dating back to August of 2017.
Following a runner-up finish in last week's season opener at Fulton, Varin is expected to return to Fonda this weekend and see if he can add another tally in the 'W' column. In order to do so, he will have to fend off a strong contingent of tour regulars, including Fulton winner, current point leader and multi-time champion Jason Barney; defending champion Jordan Poirier and many more.
Saturday's event will feature a standard tour purse of $2,000 to win/$300 to start. Gates are scheduled to open at 4pm with hot laps at 6pm and racing set for 7pm. Grandstand admission is $20 for adults, $18 for seniors, kids 11 and under free. Pit admission is $35 for members and $40 for non-members, kids ages 6-12 $10 and children 5 and under $2.
For the latest news, information, and schedule updates regarding the Empire Super Sprints be sure to check the series website (www.EmpireSuperSprints.com) and follow along on Facebook (Empire Super Sprints), Twitter (@ESSprints) and Instagram (@empiresupersprints).
The Empire Super Sprints would like to thank the following series sponsors for their continued support: Rifenburg Contracting Corp, PJC Spray Foam, Hoosier Racing Tire, Cobra Coaches, E&V Energy, Fondations 4 Saisons, Pinnacle Investments, LLC, Lacaillade Masonry, Inc., FX Caprara, ASI Racewear, Lanes Yamaha, Ashley Lynn Winery, Bicknell Racing Products, DirtTrackDigest.com and LC Design.
The ESS Road Ahead:
Saturday, May 6 – Fonda Speedway – Fonda, NY ($2,000 to Win)
Friday, May 12 – Utica Rome Speedway – Vernon, NY ($2,000 to Win)
Friday, May 26 – Brewerton Speedway – Brewerton, NY ($2,000 to Win Don Gillette Memorial)