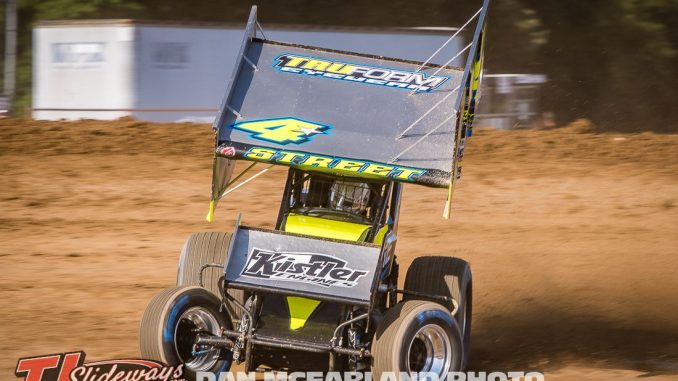 ORRVILLE, Ohio (May 13, 2023) — Tyler Street capped an impressive year-long run of top ten finishes by besting the 30-lap, 28-car field of Pine Tree Towing and Recovering Sprint Cars in Aaron Fry's FAST Series' second appearance of the season at the ultra-fast "Orrville's Historic Oval". Former IMCA National Sprint Car Champion Justin Clark and Ricky Peterson rounded out the top five.
Street, meanwhile, despite being amid an improbable streak of top-10 finishes, and the majority of which were top-five's, put his family-owned No. 4 in victory lane for the first time this season and second time in as many years.
Although Street started on the pole, it was anything but easy. Street survived four complete restarts at the onset of the main event, then withstood an early furious charge from Brandon Spithaler, one of the region's hottest drivers, with FAST point leader Ricky Peterson and a fast-closing Trey Jacobs and 2-time 2022 winner Chris Myers in tow. Peterson and Jacobs' runs came to a halt on the 10th circuit, however, as inadvertent contact in turn 2 sent the duo to the rear. Spithaler then set sail for Street, but his bid for another 2023 victory ended on lap 22 with a flat front tire that put Jordan Ryan, another WCS former winner, in the runner-up slot.
Street held off the challenges from Ryan, a hard-charging Tyler Gunn from sixth, Justin Clark from 16th, and Peterson, who rallied from the tail to ride home fifth.
"It feels great to get this first win early in the season," said Street. "At the end of last year, l was so mad at myself for not getting to victory lane more than we did with all those top ten finishes.
"It's not getting any easier being a family-owned team out here, and not sure how many more years we can keep doing it, but we are going to be here every Saturday and run for both the track championship and the KIng of the County series. The next big step for us, though, will be trying to put this thing in the show (High Limit Series race on Tuesday at WCS) against the top sprint cars in the world."
WCS returns to action with Sheldon Haudenschild's Buckeye Brawl High Limit Series event on Tuesday followed by another edition of the Fast Five program on Saturday May 20.
FAST on Dirt Sprint Car Series
Wayne County Speedway
Orrville, Ohio
Saturday, May 13, 2023
Feature:
1. 4*-Tyler Street
2. 25R-Jordan Ryan
3. 91-Tyler Gunn
4. 78-Justin Clark
5. 2P-Ricky Peterson
6. 16-Danny Mumaw
7. 23JR-Jack Sodeman Jr.
8. D12-Jason Dolick
9. 25-Jamie Myers
10. 19-Sean Rayhall
11. 38K-Chris Myers
12. 22-Brandon Spithaler
13. 38-Leyton Wagner
14. 9-Trey Jacobs
15. 70-Henry Malcuit
16. 15-Mitch Harble
17. 2-Joe Adorjan
18. 24D-Danny Sams III
19. 5-Jeremy Weaver
20. 55-Jake Swanson