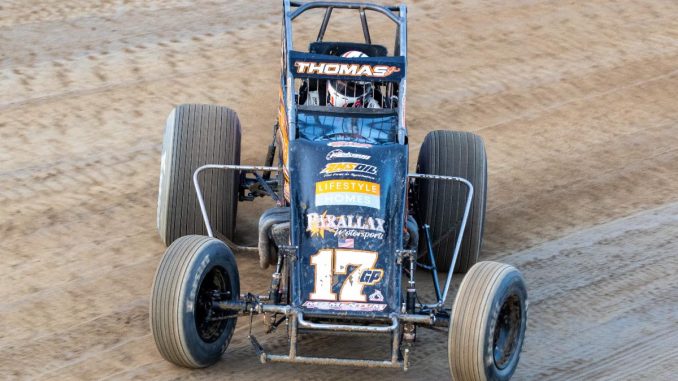 By Richie Murray
Indianapolis, Indiana (May 18, 2023)………At the time of the USAC AMSOIL Sprint Car National Championship's most recent visit to Indianapolis, Indiana's Circle City Raceway, Kevin Thomas Jr. was hitting his stride with a new program and a new team with which he had joined during the summer.
With his BGE/Dougherty Motorsports mount, the Cullman, Ala. native wired all 30 laps to win the September 2022 round with the series at the southeast side Indy quarter-mile dirt oval.
For 2023, Thomas joined the Michael Dutcher Motorsports program where, currently, he's on a similar upward trend as he heads to the Wednesday-Thursday May 24-25 Circle City Salute, featuring two-straight nights of full racing programs for the USAC AMSOIL Sprint Car National Championship, paying $5,000-to-win on night one followed by a $10,000-to-win main on night two during the annual Week of Indy festivities.
Thomas has finished two of his last three USAC Sprint Car features inside the top-five, including a 2nd at Indiana's Tri-State Speedway and a 5th at Ohio's Eldora Speedway. Furthermore, just last Friday, he picked up his first victory of the season outside of USAC competition during the Jack Himelick Tribute at Gas City (Ind.) I-69 Speedway.
At Circle City, KTJ will attempt to become the first driver to win back-to-back USAC National Sprint Car features on an Indianapolis dirt track since Tom Bigelow did so at the Indiana State Fairgrounds during his record 14-win season in 1977.
Thomas will be one of two past Circle City USAC Sprint Car winners in the field along with series point leader C.J. Leary who captured the victory in the summer of 2022. Leary (Greenfield, Ind.) now occupies the seat of a BGE/Dougherty ride, which won the most recent event there last fall with Thomas. Leary, the 2019 series champ, is also one of two drivers to finish inside the top-five in all three of his USAC National Sprint Car starts at Circle City, also scoring a 5th in 2021 and a 4th in September of 2022.
The other driver who fits that particular mold is four-time champ Brady Bacon (Broken Arrow, Okla.), who was 4th in 2021, 3rd in July of 2022 and 2nd in September as he progresses his way closer to the front. In fact, Bacon even finished 3rd in the only USAC National Midget race held at the track in 2021. He also claimed victory in the first sprint car race without a wing at the track, with MSCS, in 2021.
In both of his Circle City USAC Sprint Car appearances, Mitchel Moles set fast time en route to breaking the track record during qualifying. Moles (Raisin City, Calif.) lowered his own mark last fall to 11.819, then raced to a 7th place result in the feature event.
Thomas Meseraull (San Jose, Calif.) has been a master at Circle City ever since the place first opened its gates in 2021. In 2022 alone, he collected three sprint car feature victories on the local scene at the track. With USAC, he's been excellent as well, grabbing a 3rd in late 2022.
Jake Swanson (Anaheim, Calif.) went 3rd in 2021 then 8th during the summer of 2022, and in the fall of 2022, he established a new 12-lap track record of 2:39.26 during his victory in the semi-feature. Additionally, Swanson is the most recent sprint car winner at Circle City, taking a local show held at the track in October of 2022.
Defending series champion Justin Grant (Ione, Calif.) has twice placed within the top-ten at Circle City in USAC National Sprint Car competition with a 9th in 2021 and a superb 12th to 2nd charge in July of 2022.
Chase Stockon (Fort Branch, Ind.) collected a 10th in 2021, then upped his performance to 4th in July of 2022. Matt Westfall (Pleasant Hill, Ohio) has turned in a pair of fine performances in his past two Circle City USAC Sprint starts, including a 6th and a 5th, both in 2022.
Jadon Rogers (Worthington, Ind.), the 2020 USAC National Sprint Car Rookie of the Year, owns the 10-lap track record of 2:04.23 at Circle City, which he set during a heat race victory in late 2022. He ran a personal Circle City best of 9th in the feature that same night.
Emerson Axsom (Franklin, Ind.) and Robert Ballou (Rocklin, Calif.) have twice notched top-ten finishes at Circle City. Axsom, the 2022 series Rookie of the Year, was 7th in 2021 and 8th in 2022. Axsom also ran 4th with the USAC NOS Energy Drink National Midgets at Circle City in 2021. Ballou, the 2015 USAC Sprint titlist, tallied a 9th in July 2022 and 6th in the fall that same year, earning himself hard charger honors after starting 15th.
Also revisiting Circle City for a return USAC National Sprint Car start are Logan Seavey (Sutter, Calif.) who took 12th in 2022. The 2018 USAC National Midget champ's Indiana Midget Week performance at CC in 2021 was memorable, charging from his 22nd starting position to take 7th in the main event.
Daison Pursley (Locust Grove, Okla.) made one of his first career USAC National Sprint Car appearances at Circle City in 2022, finishing 13th. In one career USAC National Midget start at Circle City in 2021, Pursley made a nice advancement from 17th to finish 9th.
Brandon Mattox (Terre Haute, Ind.), the 2020 USAC National Most Improved Driver, has started all three USAC Sprint Car features at Circle City, topping off with a 13th in July of 2022. Max Adams (Loomis, Calif.) picked up a 15th in his latest Circle City appearance last fall. Kyle Cummins (Princeton, Ind.) only owns one USAC Sprint start at Circle City, a 22nd place result in July 2022. However, he was excellent in a midget at the place, scoring 6th back in 2021.
They'll be among the many taking on Circle City for the first time this season, the first of four series visits to the track this year. An Indiana Sprint Week date is scheduled for July 24 and a return trip is slated for September 15.
RACE DETAILS:
On Wednesday, May 24, at Circle City, the program card features the USAC AMSOIL Sprint Car National Championship in addition to the DIRTcar UMP Modifieds. On Thursday, May 25, the Circle City Salutes presents both the USAC AMSOIL Sprint Car National Championship and the USAC Midwest Thunder SpeeD2 Midgets.
Both nights, the pits open at 2pm Eastern with the front gates opening at 5pm. The drivers meeting will take place at 5:30pm with cars set to get on track at 6pm followed by qualifying and racing.
Both nights, general admission tickets will be available at the ticket booth the day of the event. Advance tickets are now on sale at www.circlecityraceway.com. General admission tickets for ages 11-64 are $30. General admission tickets for ages 10 and under are free. General admission tickets for Seniors 65+, Veterans, Military, First Responders and Teacher are $20. Pit passes for ages 11 and older are $45 and two-day pit passes are $80. Pit passes for ages 10 and under are $30 and two-day pit passes are $50.
Both nights of racing at Circle City Raceway can be watched LIVE on FloRacing at https://flosports.link/3ZjeooQ.
===================
USAC AMSOIL SPRINT CAR NATIONAL CHAMPIONSHIP POINTS: 1-C.J. Leary-415, 2-Justin Grant-415, 3-Emerson Axsom-397, 4-Kyle Cummins-390, 5-Brady Bacon-374, 6-Kevin Thomas Jr.-361, 7-Jake Swanson-349, 8-Chase Stockon-348, 9-Mitchel Moles-321, 10-Robert Ballou-292.
USAC NATIONAL SPRINT CAR WINS AT CIRCLE CITY RACEWAY:
1-C.J. Leary, Kevin Thomas Jr. & Tanner Thorson
USAC NATIONAL SPRINT CAR WINNERS AT CIRCLE CITY RACEWAY:
2021: Tanner Thorson (9/17)
2022: C.J. Leary (7/25) & Kevin Thomas Jr. (9/16)
TRACK RECORDS FOR USAC NATIONAL SPRINT CARS AT CIRCLE CITY RACEWAY:
1 Lap – 9/16/2022 – Mitchel Moles – 11.819 – 76.149 mph
10 Laps – 9/16/2022 – Jadon Rogers – 2:04.23 – 72.446 mph
12 Laps – 9/16/2022 – Jake Swanson – 2:39.26 – 67.814 mph
PAST USAC NATIONAL SPRINT CAR RESULTS AT CIRCLE CITY RACEWAY:
SEPTEMBER 2021 FEATURE: (30 laps, starting positions in parentheses) 1. Tanner Thorson (2), 2. Chris Windom (1), 3. Jake Swanson (10), 4. Brady Bacon (6), 5. C.J. Leary (3), 6. Shane Cottle (5), 7. Emerson Axsom (9), 8. Kevin Thomas Jr. (4), 9. Justin Grant (11), 10. Chase Stockon (12), 11. Jason McDougal (13), 12. Robert Ballou (20), 13. Koby Barksdale (14), 14. Matt Westfall (16), 15. Jadon Rogers (22), 16. Max Adams (7), 17. Brent Beauchamp (17), 18. Thomas Meseraull (8), 19. Brandon Mattox (21), 20. J.J. Hughes (15), 21. Ricky Lewis (18), 22. Travis Berryhill (19). NT
JULY 2022 FEATURE: (30 laps, starting positions in parentheses) 1. C.J. Leary (8), 2. Justin Grant (12), 3. Brady Bacon (4), 4. Chase Stockon (7), 5. Jason McDougal (3), 6. Matt Westfall (16), 7. Shane Cottle (22), 8. Jake Swanson (5), 9. Robert Ballou (10), 10. Ryan Timms (6), 11. Dave Darland (18), 12. Matt McDonald (20), 13. Brandon Mattox (P-23), 14. Briggs Danner (2), 15. Kevin Thomas Jr. (1), 16. Emerson Axsom (9), 17. Brent Beauchamp (14), 18. Logan Seavey (19), 19. Brody Roa (21), 20. Dalton Stevens (17), 21. Mitchel Moles (11), 22. Kyle Cummins (13), 23. Scotty Weir (15). NT
SEPTEMBER 2022 FEATURE: (30 laps, starting positions in parentheses) 1. Kevin Thomas Jr. (2), 2. Brady Bacon (4), 3. Thomas Meseraull (8), 4. C.J. Leary (3), 5. Matt Westfall (1), 6. Robert Ballou (15), 7. Mitchel Moles (6), 8. Emerson Axsom (5), 9. Jadon Rogers (9), 10. Jason McDougal (14), 11. Jake Swanson (13), 12. Logan Seavey (10), 13. Daison Pursley (19), 14. Koby Barksdale (16), 15. Max Adams (12), 16. Chase Stockon (21), 17. Anton Hernandez (7), 18. Kyle Shipley (17), 19. Brandon Mattox (23-P), 20. Matt McDonald (22), 21. J.J. Hughes (18), 22. Geoff Ensign (20), 23. Justin Grant (11). NT