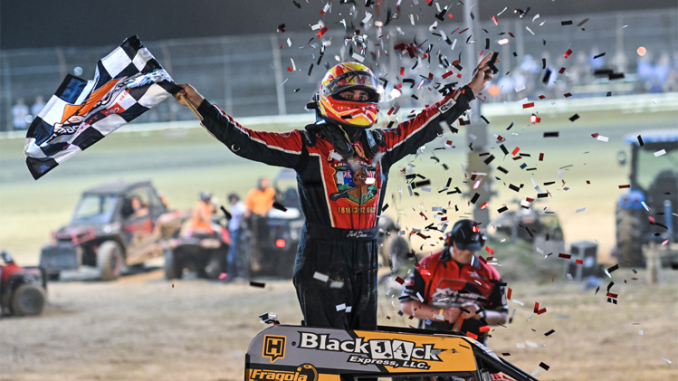 By Jordan DeLucia
WAYNE CITY, IL (June 3, 2023) – He came into the weekend winless on the season with a wrecked racecar at the shop and the frustration building. Three days later, and Zach Daum is headed home with back-to-back Feature wins and a sweep of the Xtreme Outlaw Midget Series presented by Toyota action at Wayne County Speedway.
Daum, the defending Series champion from Pocahontas, IL, filled the open seat at Oklahoma-based Trifecta Motorsports for the weekend – after a hard crash in his own car last week at Millbridge Speedway – and brought the team their first national Midget series victory Friday night. But he wasn't done there, coming back the very next night and capitalizing on Keith Kunz Motorsports prospect Gavin Miller's slip while leading in the closing laps to take the win and his third career Series triumph.
"This one feels just as good as last night did," Daum said. "Last night, we had to earn it. Tonight, we got a little bit lucky."
Similar to Friday night, Daum started on the front row of the 30-lap Toyota Racing Feature, but drifted back to third in the opening laps while Series points leader Cannon McIntosh paced the field out front. After losing a slide-job fest with Karter Sarff, who wrestled the lead away on Lap 9, McIntosh slipped back into second and gave it up to Daum six laps later.
"I couldn't really run [the top lane] consistently," McIntosh said. "I just pushed the nose quite a bit, and Daum was running the bottom, being patient. He just waited on mistakes and was able to get to the lead."
When Sarff bobbled on the cushion one lap later, Daum was there to take advantage. He crossed the stripe with the lead at the halfway point, but Miller was mounting his charge behind him.
Miller, 16, of Allentown, PA, had dropped back as low as seventh at one point after taking the green but had worked his way up into the top five before the halfway point. Lap 16 may have been his best, however, as he passed four cars in the matter of one 12-second lap, ripping right through the middle and the top to advance to second.
Now, only Daum was ahead of him. In four laps, Miller had caught Daum and zipped around him on the open top side to claim the lead on Lap 19. A quick caution displayed that same lap restacked the field with 11 laps left. That's when Miller hit the jets and took off.
At its height, Miller has amassed a gap of two full seconds over Daum as he continued to hammer the top side, lap-after-lap. As the laps began to wind down, Miller could see his first national Midget Feature win drawing closer, and then – contact.
Miller carried a full head of steam in to Turns 3-4, slipped over the small berm and hit the outside retaining wall, nearly stalling the car from the impact. Daum raced into the lead down the frontstretch as Miller was trying to keep his wheels turning, and the cation flag waved.
"It was about to stall, and I got on the gas again and felt it go forward a bit," Miller said. "Just went in too hard."
Daum had squeaked by Miller and completed Lap 27 before the yellow was thrown, making him the leader for the final restart. Miller was blended back into the field and restarted second, now left with only one chance to save his best career race.
"I figured if he was going to make a charge, he was going to make a charge," Daum said. "I knew there was only a handful of laps left, so he was going to have to make some perfect laps to get around me."
Try as he may, however, Miller was unable to make up the ground he needed to retake the lead as Daum crossed underneath the checkers to bag the victory.
"[Miller] drove a good race – he just made a couple mistakes, and it cost him," Daum said.
Though it was a sour ending to what could've been a big first win, Miller did not hang his head over second place – tying the runner-up finish he had one week prior at Millbridge.
"It's just disappointing," Miller said. "I know everyone wants to win, but you've just got to want to win more. You've just gotta go out there and drive your hardest every single time.
"It's gonna come one of these days."
McIntosh came home third, collecting his eighth podium finish in ten Series races. He had a good car early on but was unable to find the speed he's been accustomed to having at the end of races.
"I didn't really have anything on the restart for them, so I just fell back to third and couldn't make up any ground," McIntosh said.
UP NEXT
The Xtreme Outlaw Midgets head into a summer break period and return to competition Friday, July 21, at Doe Run Speedway in Doe Run, MO. Tickets will be available at the gate on race day. If you can't be there in person, stream all the action live on DIRTVision.
ABBREVIATED RESULTS (view full results)
Feature (30 Laps): 1. 7U-Zach Daum[1]; 2. 97-Gavin Miller[5]; 3. 08-Cannon McIntosh[4]; 4. 5G-Gavan Boschele[7]; 5. 97K-Cooper Williams[20]; 6. 5-Chase Briscoe[13]; 7. 21K-Karter Sarff[2]; 8. 23-Kevin Thomas Jr[9]; 9. 40-Chase McDermand[3]; 10. 2X-Landon Brooks[17]; 11. 71-Jade Avedisian[8]; 12. 25K-Taylor Reimer[6]; 13. 31K-Kyle Beilman[19]; 14. 08X-Ricky Stenhouse Jr[11]; 15. 3N-Mitchell Davis[15]; 16. 17B-Austin Barnhill[18]; 17. 26-Chance Crum[16]; 18. 19AZ-Hayden Reinbold[10]; 19. 19M-Ethan Mitchell[12]; 20. 86-Shane Cottle[14]