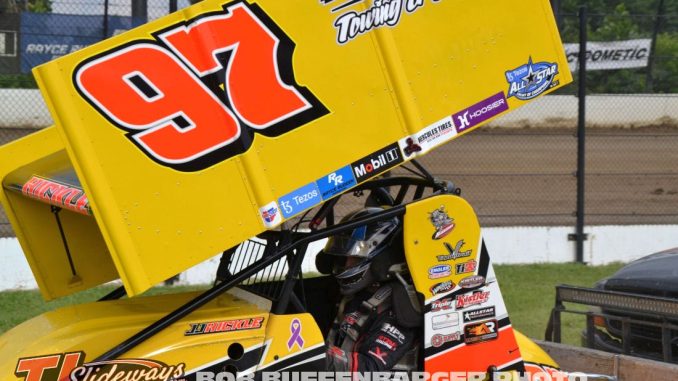 By Brian Liskai
FREMONT, Ohio – J.J. Hickle had an ace up his sleeve Saturday, June 24 at Fremont Speedway – crew chief Andy Potter. Hickle, from Quilcene, Wash., grabbed the lead in the 410 sprint feature on lap 22 and drove to his first ever win at "The Track That Action Built" on Willie's Sales & Service Toro Lawn Mower Night.
It was Hickle's first win with the Seeling Motorsports team and comes under Potter, who has a habit of getting racers their first wins at Potter's home track of Fremont Speedway.
Stuart Brubaker grabbed the early lead in the Fort Ball Pizza Palace 410 Sprint feature but Cap Henry, who came into the night leading the All Pro Aluminum Cylinder Heads/Kistler Racing Products Attica Fremont Championship Series presented by the Baumann Auto Group points, took the top spot on lap 14 and looked headed to his fifth win of the year at Fremont. But a tangle with a lapped car with 13 to go gave Brubaker back the lead. Hickle pounced on a restart on lap 22 and held off Brubaker for the win.
"It was definitely a tough track tonight. You had to be on your A game every single lap and every single corner. I have to thank Andy Potter, AJ, Joe and Diane Seeling and everybody that supports this deal. This is our first win together and I'm really proud of this team," said Hickle beside his Ardent Racing, Windsor Construction, Sugar Street Bar and Grill, Herz Precision Products, McIntire Retirement Services backed #97.
Fremont's Paul Weaver stormed from his 10th starting spot to take the lead with 10 laps to go and then held off a charge from 17th starter Kasey Jedrzejek to earn his second Fremont Federal Credit Union 305 Sprint feature win of the year. Weaver now has 73 career wins at the track to sit third on the all-time win list.
Tyler Shullick led the first two laps before Bryce Lucius drove into the lead. Weaver took the top spot on lap 15 and built up a good lead until a caution on the last lap. Weaver hit his marks perfectly and drove to the win to pad his point lead in the NAPA of Bryan AFCS presented by Jason Dietsch Trailer Sales as he looks for his fourth straight series title.
"It was rough under yellow. When you got going under speed it wasn't that bad. You could maneuver around. I probably would have gone up top if I had to. I found something in the middle where you just don't take off and bounce and you were all right," said Weaver beside his Steve Brown's B&B Drain Service, Hampshire Racing Engines, M&L Excavating, Seagate Sandblasting backed #1W.
Fostoria, Ohio's Shawn Valenti showed why he is a four time Fremont dirt truck champion. While others were having a hard time navigating the ruts, Valenti cruised around the top side and drove to his first win of the season in the Burmeister Trophy Dirt Trucks. It wasn't easy as Keith Sorg closed on the last lap with Valenti winning by only .194 seconds for his 74th career victory at the track. Valenti is now only two wins away from tying Art Ball atop the track's all-time win list.
"I have to give a big thanks to Cory McCaughey because this thing was sitting at the trailer with about five minutes to go. We needed an axle cut. We threw a gear in and thought we had the spare one but it wasn't with us so we had to cut one down and thanks to him we were able to go. The race track had some character tonight but with the weather you're dealt with…it's good to be standing up here on the front stretch. We've had a rough go of it this season. I have to thank Jeff (Babcock) for continuing to believe in me and keeping me in this thing," said Valenti beside his A Plus Auto Center, Craig Miller Trucking, Dave Story Equipment, KS Sales & Service backed #7B.
Fremont Speedway will be back in action Saturday, July 1 with the Fort Ball Pizza Palace 410 Sprints, the Great Lakes Traditional Sprints (non-wing) and the dirt trucks in action.
Keep up to date with Fremont Speedway by going to www.fremontohspeedway.com or on Facebook at www.facebook/FremontSpeedway or on Twitter at https://twitter.com/FremontSpeedway.
About Willie's Sales and Service – www.williesfremont.com
Willies Sales and Service with Toro lawn and garden and STIHL equipment is located on East State Street in Fremont, Ohio. Willies has been providing excellent service in Northwest Ohio since 1957. Willie's specializes in lawn and garden equipment sales and service. With a factory certified staff Willies is confident in assisting you with your lawn equipment needs. As an independent STIHL dealer, Willie's can provide many services the big box chain stores just can't match. Willie's can offer fast, professional service for your STIHL equipment after the sale. Your equipment comes fully assembled and ready to use, and Willie's staff can give you in-store safety and operating demonstration so you can get started on your tasks as soon as you get home.
Fremont Speedway
Saturday, June 24, 2023
410 Sprints – Fort Ball Pizza Palace
Qualifying
1.15C-Chris Andrews, 13.104; 2.33w-Cap Henry, 13.353; 3.11N-Harli White, 13.422; 4.5T-Travis Philo, 13.439; 5.8M-TJ Michael, 13.502; 6.7N-Darin Naida, 13.549; 7.35-Stuart Brubaker, 13.638; 8.5-Byron Reed, 13.711; 9.26W-Cody White, 13.712; 10.21-Larry Kingseed, 13.719; 11.1-Nate Dussel, 13.751; 12.15k-Creed Kemenah, 13.766; 13.97-JJ Hickle, 13.865; 14.X-Mike Keegan, 13.881; 15.75-Jerry Dahms, 13.919; 16.99-Skylar Gee, 13.980; 17.22M-Dan McCarron, 14.005; 18.23-Zeth Sabo, 14.011; 19.83M-Broc Martin, 14.131; 20.9Z-Duane Zablocki, 14.139; 21.3V-Chris Verda, 14.397; 22.98-Robert Robenalt, 14.773; 23.12-Brian Lay, 99.999;
Heat 1, Group A – (8 Laps)
1. 97-JJ Hickle[1] ; 2. 23-Zeth Sabo[7] ; 3. 7N-Darin Naida[3] ; 4. 15C-Chris Andrews[4] ; 5. 83M-Broc Martin[8] ; 6. 15k-Creed Kemenah[2] ; 7. X-Mike Keegan[5] ; 8. 75-Jerry Dahms[6]
Heat 2, Group B – (8 Laps)
1. 8M-TJ Michael[2] ; 2. 33w-Cap Henry[4] ; 3. 22M-Dan McCarron[5] ; 4. 5-Byron Reed[1] ; 5. 9Z-Duane Zablocki[6] ; 6. 5T-Travis Philo[3] ; 7. 3V-Chris Verda[7] ; 8. 12-Brian Lay[8]
Heat 3, Group C – (8 Laps)
1. 35-Stuart Brubaker[3] ; 2. 1-Nate Dussel[5] ; 3. 99-Skylar Gee[6] ; 4. 11N-Harli White[4] ; 5. 26W-Cody White[2] ; 6. 21-Larry Kingseed[1] ; 7. 98-Robert Robenalt[7]
A-Main 1 – (30 Laps)
1. 97-JJ Hickle[2] ; 2. 35-Stuart Brubaker[1] ; 3. 1-Nate Dussel[3] ; 4. 11N-Harli White[8] ; 5. 5T-Travis Philo[17] ; 6. 7N-Darin Naida[9] ; 7. 22M-Dan McCarron[10] ; 8. X-Mike Keegan[19] ; 9. 83M-Broc Martin[13] ; 10. 5-Byron Reed[12] ; 11. 23-Zeth Sabo[7] ; 12. 9Z-Duane Zablocki[14] ; 13. 3V-Chris Verda[20] ; 14. 26W-Cody White[15] ; 15. 12-Brian Lay[23] ; 16. 98-Robert Robenalt[21] ; 17. 75-Jerry Dahms[22] ; 18. 8M-TJ Michael[4] ; 19. 99-Skylar Gee[11] ; 20. 33w-Cap Henry[5] ; 21. 15k-Creed Kemenah[16] ; 22. 15C-Chris Andrews[6] ; 23. 21-Larry Kingseed[18]
305 Sprints – Fremont Federal Credit Union
Qualifying
1.5Jr-Jimmy McGrath Jr, 14.063; 2.28-Shawn Valenti, 14.314; 3.19R-Steve Rando, 14.322; 4.5K-Kasey Jedrzejek, 14.345; 5.4X-Bryce Lucius, 14.352; 6.1W-Paul Weaver, 14.386; 7.36-Seth Schneider, 14.475; 8.78-Austin Black , 14.489; 9.16-Lee Sommers, 14.548; 10.7M-Brandon Moore, 14.564; 11.X15J-Jody Keegan, 14.583; 12.01-Bryan Sebetto, 14.632; 13.20i-Kelsey Ivy, 14.675; 14.26-Jamie Miller, 14.743; 15.9R-Logan Riehl, 14.749; 16.61-Tyler Shullick, 14.752; 17.4K-Blayne Keckler, 14.791; 18.X15-Kasey Ziebold, 14.840; 19.5DD-Dustin Dinan, 14.844; 20.99-Alvin Roepke, 14.858; 21.2s-Jackson Sebetto, 14.908; 22.13-Jeremy Duposki, 14.912; 23.10TS-Tyler Schiets, 15.004; 24.5-Kody Brewer, 15.010; 25.51M-Haldon Miller, 15.017; 26.21G-Roman Gephart, 15.087; 27.0-Bradley Bateson, 15.099; 28.3M-Logan Mongeau, 15.282; 29.8-Jim Leaser, 15.453; 30.1S-James Saam, 15.697; 31.98-Dave Hoppes, 16.242; 32.18-Todd Hinton, 16.473; 33.49I-John Ivy, 17.766;
Heat 1, Group A – (8 Laps)
1. 7M-Brandon Moore[2] ; 2. 61-Tyler Shullick[5] ; 3. 28-Shawn Valenti[4] ; 4. 49I-John Ivy[8] ; 5. X15-Kasey Ziebold[6] ; 6. 16-Lee Sommers[1] ; 7. 78-Austin Black [3] ; 8. 0-Bradley Bateson[7]
Heat 2, Group B – (8 Laps)
1. 5Jr-Jimmy McGrath Jr[4] ; 2. 19R-Steve Rando[3] ; 3. X15J-Jody Keegan[2] ; 4. 4K-Blayne Keckler[1] ; 5. 21G-Roman Gephart[7] ; 6. 98-Dave Hoppes[8] ; 7. 2s-Jackson Sebetto[5] ; 8. 51M-Haldon Miller[6]
Heat 3, Group C – (8 Laps)
1. 1W-Paul Weaver[2] ; 2. 01-Bryan Sebetto[1] ; 3. 4X-Bryce Lucius[3] ; 4. 9R-Logan Riehl[5] ; 5. 5K-Kasey Jedrzejek[4] ; 6. 99-Alvin Roepke[6] ; 7. 1S-James Saam[7] ; 8. 18-Todd Hinton[8]
Heat 4, Group D – (8 Laps)
1. 26-Jamie Miller[3] ; 2. 5DD-Dustin Dinan[2] ; 3. 20i-Kelsey Ivy[4] ; 4. 5-Kody Brewer[6] ; 5. 13-Jeremy Duposki[1] ; 6. 10TS-Tyler Schiets[5] ; 7. 8-Jim Leaser[8] ; 8. 3M-Logan Mongeau[7]
B-Main 1 – (10 Laps)
1. 5K-Kasey Jedrzejek[2] ; 2. X15-Kasey Ziebold[1] ; 3. 16-Lee Sommers[3] ; 4. 99-Alvin Roepke[4] ; 5. 0-Bradley Bateson[7] ; 6. 78-Austin Black [5] ; 7. 1S-James Saam[6] ; 8. 18-Todd Hinton[8]
B-Main 2 – (10 Laps)
1. 10TS-Tyler Schiets[4] ; 2. 13-Jeremy Duposki[2] ; 3. 21G-Roman Gephart[1] ; 4. 3M-Logan Mongeau[8] ; 5. 98-Dave Hoppes[3] ; 6. 51M-Haldon Miller[7] ; 7. 8-Jim Leaser[6]
A-Main 1 – (30 Laps)
1. 1W-Paul Weaver[10] ; 2. 5K-Kasey Jedrzejek[17] ; 3. 4X-Bryce Lucius[4] ; 4. 61-Tyler Shullick[1] ; 5. 19R-Steve Rando[3] ; 6. 49I-John Ivy[13] ; 7. 01-Bryan Sebetto[5] ; 8. 5Jr-Jimmy McGrath Jr[6] ; 9. 26-Jamie Miller[9] ; 10. 7M-Brandon Moore[7] ; 11. X15-Kasey Ziebold[19] ; 12. 4K-Blayne Keckler[14] ; 13. 5-Kody Brewer[16] ; 14. 13-Jeremy Duposki[20] ; 15. 9R-Logan Riehl[15] ; 16. X15J-Jody Keegan[11] ; 17. 28-Shawn Valenti[8] ; 18. 5DD-Dustin Dinan[2] ; 19. 10TS-Tyler Schiets[18] ; 20. 21G-Roman Gephart[22] ; 21. 20i-Kelsey Ivy[12] ; 22. 16-Lee Sommers[21]