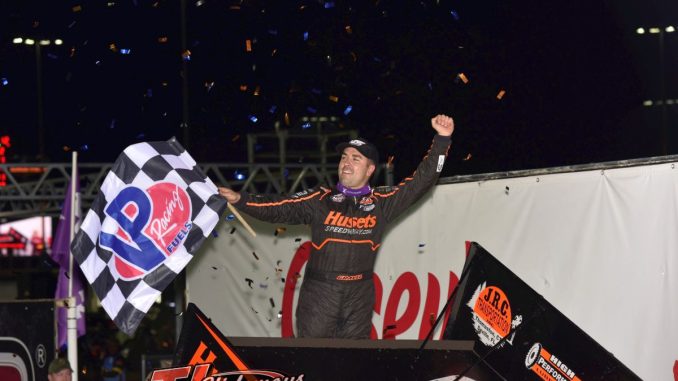 BRANDON, SD (June 24, 2023) – The stage at Huset's Speedway couldn't have been set any better for David Gravel. Competing at the racetrack owned by his car owner – Tod Quiring. A stretch of tough-to-swallow second place finishes that continued into the week. And the biggest payday in World of Outlaws NOS Energy Drink Sprint Car history on the line.
The Billion Auto Huset's High Bank Nationals presented by Menards began with a pair of close runner-ups for Gravel on the Wednesday and Thursday prelims. Those came after two more second place finishes at Beaver Dam the weekend before.
Despite the disappointment of those results, Gravel remained focused and hungry heading into Saturday's $250,000 finale. A win with the biggest stakes in The Greatest Show on Dirt's history on the line would erase the bitter taste of so many second places. A record crowd filled in to watch what would unfold. The stage was set and Gravel delivered.
The Watertown, CT native seized on a perfect opportunity when an expired engine on Buddy Kofoid's machine late in the 40-lap Feature gifted Gravel the lead. From there, he never looked back as he went on to etch a place in Sprint Car history.
In Victory Lane, Gravel and his crew and family erupted with joy. Gravel climbed all the way atop the wing. The rest of the cast celebrated with shouts and hugs as the reality sunk in. A win worth a quarter of a million dollars.
"I guess all the seconds (places) paid off. One of these times I was going to win one, so this is a good one to win," Gravel said. "We've been really good here. Last year we had the gate deal. I thought we had a really good shot at winning last year. To come back and win with Levi (son), my whole family, for Cody (Jacobs, crew chief), Tod and everything he does for the sport. The crowd was amazing. T-shirt trailer was crazy. It just shows you when a track owner commits to trying to build an event here at a racetrack it pays off. He's paying money. There's big fans. It was a great event."
The win upped Gravel's tally with the World of Outlaws NOS Energy Drink Sprint Cars to 83 – one behind fellow full-timer – Brad Sweet's – count of 84. Gravel extended his lead in 2023 wins with his seventh of the season. The 31-year-old now owns a trio of Huset's victories in World of Outlaws competition, making it the ninth different track where he's won at least three times.
Gravel's story with Big Game Motorsports came full circle. Years ago, well before he established himself as one of the nation's best Sprint Car drivers – Gravel approached Tod Quiring about driving for him. The two couldn't work out a deal at the time. But as the years passed and Gravel's win column skyrocketed with other teams, Quiring brought him aboard ahead of 2021. Two years later, Gravel drove to Victory Lane in the marquee event that Quiring has crafted at Huset's.
"It's good to take some of the boss' money tonight," Gravel said with a laugh.
When the green flag flew, Gravel started from the fourth spot aboard the Billion Auto #2. Right off the bat he surged into the second spot with an excellent start.
The race went green for more than 30 laps, and Gravel struggled to challenge pole-sitter – Buddy Kofoid – for the top spot. When it looked like he might close in heavy traffic Kofoid would slip by another lapped car for breathing room.
Kofoid's hopes were dashed, though, when smoke began to rise from under the hood of the Roth Motorsports #83. The Penngrove, CA native came to a stop with an expired engine less than 10 laps away from what would've been the biggest day of his racing career.
"Buddy had a really fast car," Gravel noted. "That race could've went green to checkered, and he could've potentially won the race, but it's a shame for him. He was running really, really good and setting a really fast pace."
Kofoid's devastation was Gravel's gain as he inherited the lead for the restart. One more race stoppage occurred with eight laps remaining for a pileup in Turn 4. But it made no difference for Gravel who went on to cruise to one special victory.
Behind Gravel, Rico Abreu claimed the runner-up spot for his second podium over the four nights. The St. Helena, CA native pocketed $50,000 for his efforts. Abreu continues to credit his dynamic with his crew for their steady speed in 2023.
"I'm just thankful to my crew for never giving up on me," Abreu said. "It's just shows with these results here. We were kind of mediocre all week to be honest. We had a good run Wednesday night then struggled the last two nights. Then Ricky (Warner, crew chief) really made a big swing at our car and made some big changes which allowed us to get in the hunt here."
The final step of the podium belonged to Kyle Larson. "Yung Money" wheeled his way from the third row to position three for a $25,000 payday. With starting where he did, Larson felt he simply needed more laps to have a shot at coming out on top and also couldn't help but think about his late misfortune on Thursday that potentially cost him a better starting spot.
"Once we got the cautions there, the track kind of switched over and my car got really good, just ran out of time there," Larson explained. "I thought we could catch traffic a little quicker and maybe get those guys racing in front of us but just a little too late. Honestly, I look back at Thursday night, and if I don't get into Rico off of (Turn) 2, I finish better and probably starting further forward in the Feature and giving myself a better shot."
Rounding on the top five was Logan Schuchart and Carson Macedo
With a run from 22nd to seventh, Brad Sweet earned the KSE Racing Hard Charger.
CASE No.1 Engine Oil Qualifier One went to David Gravel. NOS Energy Drink Qualifiers Two through Six were topped by Gio Scelzi, Kyle Larson, Carson Macedo, Sheldon Haudenschild, Rico Abreu.
Tyler Courtney claimed the Micro-Lite Last Chance Showdown.
UP NEXT: The World of Outlaws NOS Energy Drink Sprint Cars travel to New Richmond, WI where Cedar Lake Speedway will host the Independence Day Spectacular (June 30 – July 1). For tickets, CLICK HERE.
If you can't make it to the track, catch all of the action on DIRTVision.
High Bank Nationals
World of Outlaws NOS Energy Drink Sprint Car Series
Huset's Speedway
Brandon, South Dakota
Saturday, June 24, 2023
NOS Energy Drink Feature (40 Laps)
1. 2-David Gravel[4]
2. 24-Rico Abreu[3]
3. 57-Kyle Larson[6]
4. 1S-Logan Schuchart[2]
5. 41-Carson Macedo[7]
6. 18-Giovanni Scelzi[5]
7. 49-Brad Sweet[22]
8. 5-Spencer Bayston[10]
9. 11-Cory Eliason[9]
10. 1A-Jacob Allen[11]
11. 15-Donny Schatz[13]
12. 17-Sheldon Haudenschild[8]
13. 7BC-Tyler Courtney[21]
14. 20G-Noah Gass[16]
15. 3-Tim Kaeding[18]
16. 7S-Robbie Price[19]
17. 11S-Parker Price Miller[17]
18. 21-Brian Brown[12]
19. 25-Lachlan McHugh[23]
20. 83-James McFadden[14]
21. 83JR-Michael Kofoid[1]
22. 83H-Justin Henderson[15]
23. 88-Austin McCarl[24]
24. 17B-Bill Balog[20]