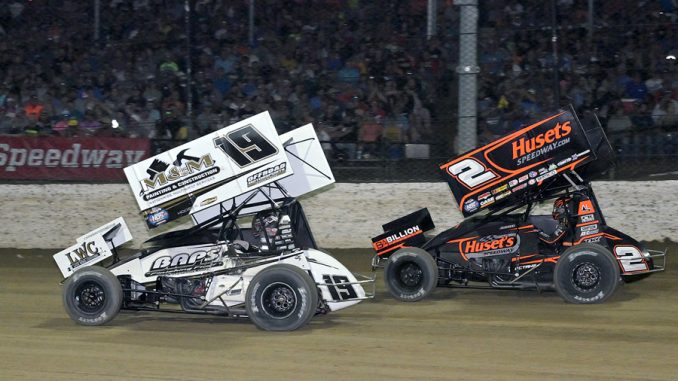 By T.J. Buffenbarger
(July 17, 2023) — David Gravel opened some eyes Saturday at Eldora Speedway when he qualified 33rd overall in the 61 car field Saturday for the 40th Kings Royal at Eldora Speedway. Typically a good qualifier, Gravel's ended up in 33rd spot after time trials were compete, putting him on the pole for a heat race, but precariously close to missing the heat race inversion that ends at 36th position.
I asked Gravel if the qualifying position was intended, which prompted a response from Kings Royal winner Donny Schatz, "Tell the truth, too" with a chuckle. Gravel was up front about his qualifying effort.
"I just did what I had to do to put myself in position to win the race and we didn't take any power away or anything just like pill draw, sometimes you slow down."
Gravel just about parlayed his qualifying effort into a better finishing position, coming up two spots short of winning his first Kings Royal. Because of the games people try to play in qualifying, Gravel is in favor of changes.
"I think the format could use a change in my opinion, just because I know people have been sandbagging for years and it worked out for them," said Gravel. "Donnie, I know he's the guy that never sandbags and runs hard every single lap and he's won a lot of these Kings Royals that way. I just felt like tonight, you're crucifying yourself if you're starting fifth or sixth in the heat race. I felt like you're giving yourself less of a chance. A guy like Spencer Bayston tonight was fourth quick, ran like sixth in his heat race. He started like 18th in the B main. When the lineup doesn't go back on qualifying, and it goes back on finishing position pretty much qualifying doesn't mean anything once you roll out there for the heat race. To me that's a double-edged sword. It's a special race and it creates a lot of excitement. Usually, it puts a couple question mark guys up front and the feature and, maybe they like that, but it's a different format. I was just finally able to hit it, right? I don't know if I've started in the top six, ever, or maybe once in my career. It's a very tricky format with Mother Nature today, it makes it even harder."
Schatz indicated their qualifying draw position helped with where they ended up in the order.
"Sometimes it comes down to luck or where you draw and like David said, I went out late. I think I was a couple cars in front of him and gave it everything I could because normally that's not good enough and it put us 24th. I think it was a 1303 something. You (Gravel) were 07 you are with a 33rd. There's a lot of cars in the small area that you don't want to mess with."
Earlier on Saturday I had tweeted that the Kings Royal winner had qualified better than 18th only once in the past five edition of the Kings Royal (Tyler Courtney was 5th quick the year he won). Schatz became the lowest qualifier to win the Kings Royal after timing in 24th since David Gravel won the race in 2013 after being 35th quick.
Other notes
• Despite the tricky conditions Brent Marks managed to charge from 11th starting spot to second at the Kings Royal that utilized single file restarts the entire event.
"You just must commit to it with the way that the track was tonight," said Marks in the post-race press conference. "You can't get up there and just ease into it, especially on a full fuel load because a lot of times you just get yourself in trouble. It was a decision that I made, and I committed to it and just made sure I didn't get in there and get the car didn't stab the car sideways in a rut or anything like that. Just tried to be as smooth and straighter to drive through it. That was the easiest and best way that I thought I could run my way up through there. It worked out for me tonight."
• The top 13 drivers from qualifying could not overcome their 6th starting position to transfer to the Kings Royal through their heat race. Among those 13, only Carson Macedo transferred through the B-Main. Justin Peck and Rico Abreu earned spots 19 and 20 to start the feature based on being the fastest two cars from qualifying that did not transfer through the heat race.
• Obviously, the rain put a damper on the festivities for Saturday's Kings Royal. Despite the weather the largest crowd in Eldora Speedway history turned out to watch the $175,000 to win affair. Even with heavy rain Saturday morning and a shower in the afternoon the feature still pushed off before midnight, which was impressive considering wet conditions.