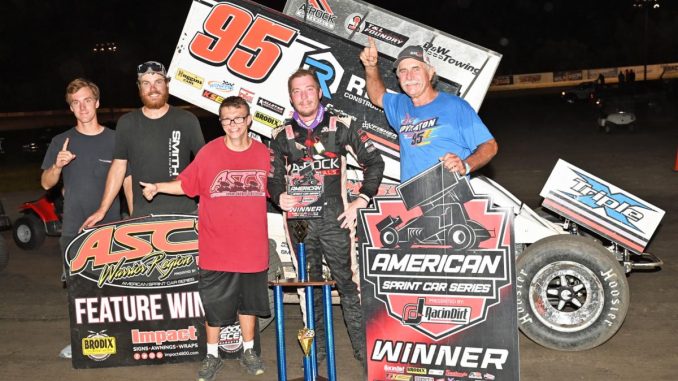 By Bryan Hulbert
KANSAS CITY, Kan. (August 25, 2023) A win that even Matt Covington did not expect so soon, as he is still recovering from injuries sustained during a crash on August 12 during the Knoxville Nationals, the No. 95 defied the odds and rocketed into Victory Lane Friday night with the American Sprint Car Series presented by RacinDirt.com at Lakeside Speedway.
"This honestly not what I was expecting tonight. I was just hoping I could be here at all, but really, right now, I feel pretty good. My back is sore, and my chest is a little more sore after that, but I couldn't be happier," said Covington, who gave props to his crew for stepping up and getting everything ready as he continues to recuperate. "I got Matthew Howard back out here and glad to get him back in Victory Lane, and Steven [Lane] for everything. Those two have worked their butts off."
Winning three times with the National Tour this season, all three have come at Kansas tracks, with his win at Lakeside the first time that Covington's has topped the famed half-mile to bring his overall total to 19.
Taking the green from third, Covington battled pole sitter Wayne Johnson into the first two turns. Nearly wheel-to-wheel through the first five laps, Johnson rocketed off the low side of the second turn to take the point just as the top two completed the fifth revolution.
Keeping Covington at by for two more laps, the T&L Foundry/XXX Chassis No. 95 reclaimed the lead on Lap 8. Able to pull away in traffic, Matt's advantage grew to 1.-978-seconds before red lights came on with five to go. Coming together in the fourth turn, Daryn Langford tangled up Kade Morton. Both drivers are okay.
Pulling away on the restart, Covington gapped the field by 2.177-seconds over the final five laps. Going for broke on the restart around the top of turns three and four. Ayrton Gennetten mounted a charge on Lap 23 for second, and his career fourth podium finish with the National Tour. Wayne Johnson ended up third for the 58th time. Rolling back to seventh on the start, Landon Britt clawed his way back to fourth, with Jordon Mallett in fifth.
Racing in and out of the top five, Brandon Anderson ended up sixth, with Chris Martin seventh. Up from 14th, Miles Paulus was the KSE Hard Charger, followed by Jason Martin in ninth. Jace Park completed the top ten.
The field Friday night consisted of 23 drivers, with Wayne fastest during Driver's Project Qualifying at 14.783-seconds. AR Dyno Specialty Heat Races went to Ayrton Gennetten, Chris Martin, and Matt Covington.
The next event for the American Sprint Car Series presented by RacinDirt.com is Saturday, August 26, at the Salina Highbanks Speedway in Pryor, Okla. The event pays $4,000 to win, $400 to start, and pairs with the American Bank of Oklahoma ASCS Sooner Region presented by Smiley's Racing Products.
Gates opens at 5:00 P.M. with Hot Laps at 6:30 P.M. and Racing at 7:00 P.M. (CDT). Tickets are $20 for adults, $10 for military and youth (6-12), and free for kids five and under. Pits are $40. Salina Highbanks Speedway is located at 30 minutes east of Claremore, Okla., on Hwy. 20. The track's physical address is 3164 OK-20. Pryor, OK 74361. For more information on the track, log onto http://www.salinahighbanksspeedway.com or call (918) 434-7223.
The 2023 season will mark the 32nd year of competition for the American Sprint Car Series. Spearheaded by the American Sprint Car Series National Tour, the ASCS Nation includes Regional Tours that encompass both wing and non-wing competition.
Live coverage of the American Sprint Car Series can be found at http://www.racindirt.com. Fans can choose to subscribe for $32.99 a month or $199.99 a year. RacinDirt.com broadcasts can be viewed on your Smart TV, Mobile Devices, and your Laptop or Computer. New subscribers can receive 25% off when they use promo code ASCS2023 at checkout.
For other news, notes, and information on any of the tours under the ASCS banner, log onto http://www.ascsracing.com, follow on Facebook, Instagram, and Twitter (@ascsracing).
Race Results:
ASCS National
Lakeside Speedway (Kansas City, Kan.)
Friday, August 25, 2023
Car Count: 23
The Driver's Project Group Qualifying
The Drivers Project Qualifying 1 (3 Laps): 1. 2C-Wayne Johnson, 14.783[6]; 2. 36-Jason Martin, 14.922[8]; 3. 19-Ayrton Gennetten, 15.114[3]; 4. 98P-Miles Paulus, 15.148[5]; 5. 8M-Kade Morton, 15.174[4]; 6. 1E-Ian Madsen, 15.403[1]; 7. 7C-Chris Morgan, 15.559[2]; 8. 3Z-Zach Davis, 15.850[7]
The Drivers Project Qualifying 2 (3 Laps): 1. 10-Landon Britt, 15.079[8]; 2. 3-Howard Moore, 15.080[6]; 3. 55B-Brandon Anderson, 15.238[1]; 4. 44-Chris Martin, 15.281[5]; 5. 87J-Jace Park, 15.323[2]; 6. 45X-Kyler Johnson, 15.418[4]; 7. 2P-Chase Porter, 15.509[3]; 8. 111-Chad Frewaldt, 15.852[7]
The Drivers Project Qualifying 3 (3 Laps): 1. 14-Jordon Mallett, 15.086[5]; 2. 95-Matt Covington, 15.215[3]; 3. 2-Whit Gastineau, 15.373[2]; 4. 6-Christopher Townsend, 15.464[4]; 5. 11X-Garet Williamson, 15.581[6]; 6. 91-Michael Day, 15.966[1]; 7. 32D-Daryn Langford, 16.526[7]
AR Dyno Specialty Heat Races (All drivers advance to the A-Feature)
AR Dyno Specialty Heat 1 (8 Laps): 1. 19-Ayrton Gennetten[2]; 2. 2C-Wayne Johnson[4]; 3. 8M-Kade Morton[5]; 4. 98P-Miles Paulus[1]; 5. 36-Jason Martin[3]; 6. 1E-Ian Madsen[6]; 7. 7C-Chris Morgan[7]; 8. 3Z-Zach Davis[8]
AR Dyno Specialty Heat 2 (8 Laps): 1. 44-Chris Martin[1]; 2. 55B-Brandon Anderson[2]; 3. 10-Landon Britt[4]; 4. 3-Howard Moore[3]; 5. 87J-Jace Park[5]; 6. 45X-Kyler Johnson[6]; 7. 111-Chad Frewaldt[7]; 8. 2P-Chase Porter[8]
AR Dyno Specialty Heat 3 (8 Laps): 1. 95-Matt Covington[3]; 2. 14-Jordon Mallett[4]; 3. 2-Whit Gastineau[2]; 4. 11X-Garet Williamson[5]; 5. 6-Christopher Townsend[1]; 6. 91-Michael Day[6]; 7. 32D-Daryn Langford[7]
A-Feature
RacinDirt A-Main (25 Laps): 1. 95-Matt Covington[3]; 2. 19-Ayrton Gennetten[5]; 3. 2C-Wayne Johnson[1]; 4. 10-Landon Britt[4]; 5. 14-Jordon Mallett[2]; 6. 55B-Brandon Anderson[6]; 7. 44-Chris Martin[7]; 8. 98P-Miles Paulus[14]; 9. 36-Jason Martin[12]; 10. 87J-Jace Park[13]; 11. 45X-Kyler Johnson[16]; 12. 1E-Ian Madsen[15]; 13. 7C-Chris Morgan[18]; 14. 6-Christopher Townsend[20]; 15. 91-Michael Day[17]; 16. 8M-Kade Morton[8]; 17. 32D-Daryn Langford[19]; 18. 3-Howard Moore[9]; 19. 2-Whit Gastineau[10]; 20. 111-Chad Frewaldt[22]; 21. 2P-Chase Porter[21]; 22. 11X-Garet Williamson[11]; 23. 3Z-Zach Davis[23]
Lap Leader(s): Matt Covington 1-4; 8-25; Wayne Johnson 5-7
Hard Charger: Miles Paulus +6
Quick Time: Wayne Johnson – 14.783-seconds
High Point Driver: Wayne Johnson
Provisional(s): N/A
ASCS Online:
American Sprint Car Series: http://www.ascsracing.com
Facebook: http://www.facebook.com/americansprintcarseries
Twitter: http://www.twitter.com/ascsracing [@ascsracing]
Broadcast: http://www.racindirt.com
Live-Scoring: My Race Pass App