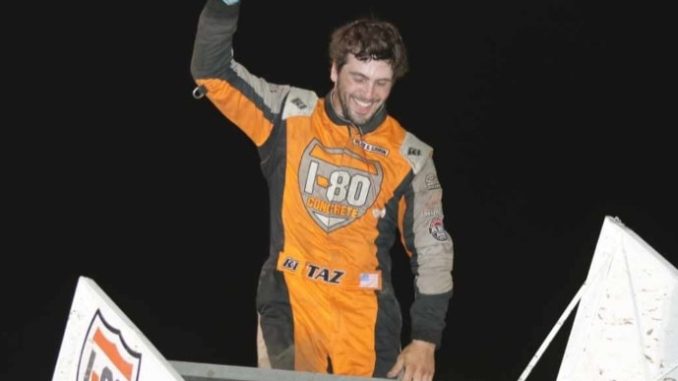 By Bill W
West Liberty, IA, September 2, 2023 – Tasker Phillips is busy combining at home, but found the time to drive the Eckmann family #1E sprint car to victory Saturday night with the Sprint Invaders at West Liberty Raceway. The win was the Pleasantville, Iowa native's second of the season with the Sprint Invaders and brought home a $2,000 reward.
The 20-lap main event saw a single caution, and that was on the first lap when Dustin Clark met the turn three wall and retired with a broken front end.
The complete restart saw Chris Martin shot out to the early lead over polesitter Tyler Lee, Sawyer Phillips and Tasker Phillips. The action was fast and furious from the beginning. Tasker Phillips rode the high side to pass both his brother Sawyer and Lee to capture second by the completion of lap two.
Martin had been dominant in the Shake-up Dash and was riding strong up front. Tasker reeled him in and slid by in turn two on lap five. Sawyer also moved into third. The leader was lapping cars by lap six.
Paul Nienhiser, who had a string of three straight wins with the series snapped, had moved into the top five from row six in the early going and had passed point leader Ryan Bunton for fourth on lap seven.
Phillips continued to lap cars while Martin kept him in sight in second. As the laps ticked off, two-time and defending series' champion, Cody Wehrle moved into the top five on lap thirteen.
Tasker lapped up to the fifth place car of Wehrle by the checkers. Martin, Sawyer Phillips, Nienhiser and Wehrle followed on the lead lap. Bunton, Tyler Groenendyk, Lee, Bret Tripplett and Devin Wignall rounded out the top ten. Sawyer Phillips, Lee and Clark won the heats before Martin dominated the Shake-up Dash.
Colton Fisher, who entered the night just 13 points behind Bunton in the standings, suffered an engine issue as the checkers flew in the Dash, retiring him for the night.
"In the heat race, we were kind of down," said Tasker in Victory Lane. "We needed more cars to get the track wide and slow those guys down. We were able to move around. I could hit the bottom down there in traffic…it was just a blast! I knew I wanted to come here when I saw it on the schedule. First, it's a big half-mile and second, I remember watching a great race here with (Jesse) Giannetto, my brother (Rager) and (Kaley) Gharst. They put on a hell of a show here, and I wanted to get back here. We ended up firing up the combine Thursday so it wasn't looking good (to make the race). If all I have to do is show up and drive, that makes it pretty easy."
"Sometimes people say it's not the best to be the leader," said Martin. "This was one of those instances. I was kind of committed to the top, and Tasker found the middle of three and four and blew our doors off. Good job to that team, and hopefully, we can get them tomorrow. No complaints about the car. It had great drive and great side bite…it just wasn't in the right place."
"(Tasker) drove by in four and we kind of drag-raced down the front straightaway," said Sawyer. "I didn't think I gave him enough room in turn one to drive around me, but sure as heck he got around us in one and two and kind of blew Chris and my doors off. I wish the first start would have stayed. I was able to get to second at the flagstand right behind Chris ready to log some laps. We struggled at Knoxville this year when the track has slowed down. We were definitely better in that aspect tonight."
The Sprint Invaders Labor Day doubleheader continues Sunday at the Benton County Speedway bullring in Vinton, Iowa.
For more information on the Sprint Invaders, visit www.SprintInvaders.net or visit us on Facebook.
Sprint Invaders Results
Shottenkirk Automotive Group A main (started), 20 laps: 1. 1E, Tasker Phillips, Pleasantville, IA (8) 2. 44, Chris Martin, Ankeny, IA (2) 3. 3P, Sawyer Phillips, Pleasantville, IA (3) 4. 50, Paul Nienhiser, Chapin, IL (12) 5. 40, Cody Wehrle, Burlington, IA (11) 6. 6R, Ryan Bunton, Morton, IL (7) 7. 17x, Tyler Groenendyk, Oskaloosa, IA (15) 8. 7, Tyler Lee, Cedar Rapids, IA (1) 9. 99, Bret Tripplett, Lincoln, IL (6) 10. 21, Devin Wignall, Altoona, IA (5) 11. 14, Aidan Zoutte, Knoxville, IA (13) 12. 28, Luke Verardi, Taylorville, IL (9) 13. 4x, Chase Richards, Burlington, IA (17) 14. 31, McCain Richards, Burlington, IA (10) 15. 25, Kelly Graham, Hedrick, IA (16) 16. 17, Steve Pumphrey, Fairfield, IA (14) 17. 16, Dustin Clark, Agency, IA (4) DNS – 11, Colton Fisher, Mediapolis, IA, 357, Ryan Edwards, Waverly, IL. Lap Leaders: Martin 1-4, T. Phillips 5-20. $75 Christine Wahl-Levitt/KSE Hard-charger: Nienhiser.
Randall's Performance Heat one (started), 8 laps: 1. Sawyer Phillips (1) 2. Chris Martin (4) 3. Tasker Phillips (3) 4. Ryan Bunton (6) 5. Aidan Zoutte (5) 6. Kelly Graham (2) DNS – Ryan Edwards
Joshua Denning & Associates Heat two (started), 8 laps: 1. Tyler Lee (1) 2. Devin Wignall (2) 3. Luke Verardi (3) 4. McCain Richards (4) 5. Steve Pumphrey (5) 6. Chase Richards (6)
Mohrfeld Electric Heat three (started), 8 laps: 1. Dustin Clark (2) 2. Bret Tripplett (1) 3. Colton Fisher (6) 4. Cody Wehrle (4) 5. Paul Nienhiser (5) 6. Tyler Groenendyk (3)
Shake-up Dash (started), 6 laps: 1. Chris Martin (2) 2. Sawyer Phillips (4) 3. Dustin Clark (1) 4. Colton Fisher (3) 5. Devin Wignall (6) 6. Tyler Lee (5)
Reid's Landscaping & Turf $50 Draw Award: Ryan Bunton
Contingencies
DMI: Dustin Clark
Saldana: Chase Richards
BMRS High Point Driver: Dustin Clark
Trophy Sponsor: Holtkamp's Trailer Repair