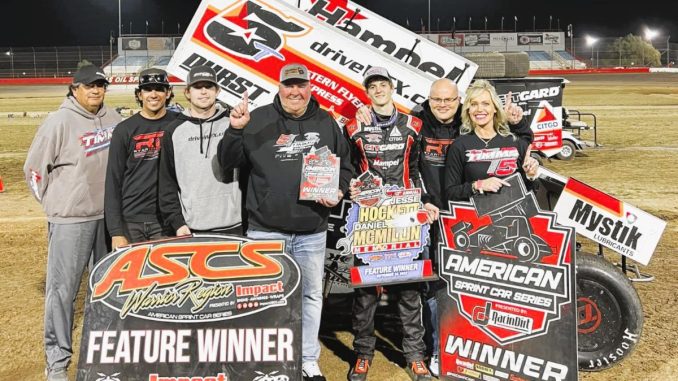 By Bryan Hulbert
WHEATLAND, Mo. (September 17, 2023) Mother Nature delayed things by a day, but it was worth the wait as Ryan Timms followed up his Thursday prelim victory with a $10,000 payday and his first championship feature event win at the Jesse Hockett/ Daniel McMillin Memorial with the American Sprint Car Series presented by RacinDirt.com.
"I'm really happy I was able to get this win. This is a bucket-list race to win, and I'm glad I was able to get it done this year. I want to thank the Hockett family for everything they do for this event," stated Timms, who joined Johnny Herrera as the only other driver to win a Sunday showdown at the Hockett/McMillin Memorial.
Leading all by the opening lap Saturday night, which was led by Jake Bubak, Timms shot into the lead on the second revolution. Challenged once during one of the four-race stoppages, the DriveWFX.com No. 5t rolled to the finish with a 1.667-second advantage, running multiple grooves throughout the 30-lap event.
"It was rubbered up earlier on today and rubbered up for that non-wing feature, so I was really expecting it to all blow off really fast and go straight to the top and just conserve your tires. The track actually stayed together fairly well.
Jason Martin fought his way to a runner-up finish, with Bubak ending up third after slipping back to fifth during the mid-point of the feature event.
Mounting a huge charge and at one point looking like he was going to roll by the field, Tim Estenson railed the cushion for a ten-spot gain to finish fourth. Up from ninth with a late race charge, Hank Davis completed the top five.
Battling sixth to second until Lap 23, Sean McClelland slipped back to where he started, with Blake Hahn following in seventh. Jamie Ball finished eighth, with Matt Covington rolling forward nine spots for a ninth-place finish. Miles Paulus made up the top ten.
The Hockett Hard Charger this year was Jeffrey Newell. The award was worth an extra $3,077. The Non-Wing Hard Charger was Jesse Vermillion. The POWRI WAR feature was topped by California's Ricky Lewis, who did so from the 11th starting spot.
Overall, the 2023 Hockett/McMillin Memorial saw 147 Sprint Cars officially hit the track between both sanctioning bodies.
The night started off with AR Dyno Specialty Qualifiers, with wins going to Hank Davis, Derek Hagar, Jeremy Campbell, Wayne Johnson, and Miles Paulus. Twin BMRS B-Features were won by Howard Moore and Jordon Mallett.
The next event for the American Sprint Car Series presented by RacinDirt.com will be the COMP Cams Short Track Nationals at Texarkana 67 Speedway, happening October 5, 6, and 7, paying $20,000 to win, $1,000 to start. For info and to enter, log onto https://www.67speedwayoftexarkana.com.
The 2023 season will mark the 32nd year of competition for the American Sprint Car Series. Spearheaded by the American Sprint Car Series National Tour, the ASCS Nation includes Regional Tours that encompass both wing and non-wing competition.
Live coverage of the American Sprint Car Series can be found at http://www.racindirt.com. Fans can choose to subscribe for $32.99 a month or $199.99 a year. RacinDirt.com broadcasts can be viewed on your Smart TV, Mobile Devices, and your Laptop or Computer. New subscribers can receive 25% off when they use promo code ASCS2023 at checkout.
For other news, notes, and information on any of the tours under the ASCS banner, log onto http://www.ascsracing.com, follow on Facebook, Instagram, and Twitter (@ascsracing).
Race Results:
ASCS National | ASCS Warrior Region
Lucas Oil Speedway (Wheatland, Mo.)
Sunday, September 17, 2023
Event Count: 85
AR Dyno Specialty Qualifiers
AR Dyno Specialty LCQ 1 (12 Laps): 1. 1H-Hank Davis[2]; 2. 14T-Tim Estenson[4]; 3. 3-Howard Moore[1]; 4. 19-Ayrton Gennetten[3]; 5. 77-Jack Wagner[6]; 6. 8M-Kade Morton[5]; 7. 45X-Kyler Johnson[7]; 8. 71B-Brady Baker[8]; 9. 99D-Tucker Daly[9]; 10. 4-Chase Richards[10]; 11. 96-Brandon Sampson[11]; 12. 22K-Kaleb Johnson[12]; 13. 122-Lane Warner[13]; 14. 71-Channin Tankersley[14]; 15. 91T-Tyler Thomas[15]; 16. 16S-Steven Howell[16]
AR Dyno Specialty LCQ 2 (12 Laps): 1. 9JR-Derek Hagar[1]; 2. 14E-Kyle Bellm[2]; 3. 14-Jordon Mallett[6]; 4. 37-Ayden Gatewood[8]; 5. 1JR-Steven Russell[4]; 6. 47-Dale Howard[5]; 7. 1P-Curtis Evans[10]; 8. 52D-Skyler Daly[11]; 9. 51B-Joe B Miller[3]; 10. 44R-Ronny Howard[9]; 11. 91-Michael Day[7]; 12. 15D-Andrew Deal[12]; 13. 13-Elijah Gile[13]; 14. 9$-Kyle Clark[14]; 15. 73-Samuel Wagner[15]; 16. 22S-Slater Helt[16]
AR Dyno Specialty LCQ 3 (12 Laps): 1. 10C-Jeremy Campbell[1]; 2. 6Z-Zane DeVault[4]; 3. 23M-Lance Moss[7]; 4. 12-Jeffrey Newell[2]; 5. 1K-Kelby Watt[3]; 6. 7M-Chance Morton[6]; 7. 10-Landon Britt[5]; 8. 7C-Chris Morgan[9]; 9. 33-Alan Zoutte[11]; 10. 9C-Tony Crank[10]; 11. 41-Mackenzie Borchers[8]; 12. 4X-Brad Bowden[12]; 13. 74-Tucker Boulton[13]; 14. 16-Hannah Merritt[14]; 15. 12M-Greg Merritt[15]
AR Dyno Specialty LCQ 4 (12 Laps): 1. 2C-Wayne Johnson[2]; 2. 6-Christopher Townsend[3]; 3. 20I-Kelsey Ivy[4]; 4. 55B-Brandon Anderson[1]; 5. 97-Scotty Milan[7]; 6. 2J-Zach Blurton[11]; 7. 79-Gage Montgomery[8]; 8. 57-Billy Butler[14]; 9. 7B-Ben Brown[12]; 10. 44-Chris Martin[5]; 11. 18-Ryan Roberts[6]; 12. 938-Bradley Fezard[9]; 13. 83-Kurt Mueller[10]; 14. 18X-Nathan Ryun[13]; 15. 32D-Daryn Langford[15]
AR Dyno Specialty LCQ 5 (12 Laps): 1. 98P-Miles Paulus[1]; 2. 95-Matt Covington[2]; 3. 187-Landon Crawley[4]; 4. 21-Kameron Key[9]; 5. 2-Chase Porter[8]; 6. 31-Casey Wills[13]; 7. 86-Timothy Smith[5]; 8. 22M-Rees Moran[14]; 9. 55-Chase Howard[12]; 10. 4M-Cameron Martin[6]; 11. 1T-Joshua Tyre[11]; 12. 41H-Colton Hardy[3]; 13. 8-Alex Sewell[7]; 14. 14M-Randy Martin[10]; 15. 2X-Tony Rustad[15]
BMRS B-Feature (Top 2 each advance)
B-Main 1 (15 Laps): 1. 3-Howard Moore[1]; 2. 187-Landon Crawley[3]; 3. 37-Ayden Gatewood[4]; 4. 23M-Lance Moss[2]; 5. 45X-Kyler Johnson[11]; 6. 2J-Zach Blurton[10]; 7. 1K-Kelby Watt[7]; 8. 44-Chris Martin[19]; 9. 99D-Tucker Daly[16]; 10. 55B-Brandon Anderson[5]; 11. 57-Billy Butler[15]; 12. 33-Alan Zoutte[17]; 13. 4-Chase Richards[18]; 14. 52D-Skyler Daly[14]; 15. 2-Chase Porter[8]; 16. 77-Jack Wagner[6]; 17. 47-Dale Howard[9]; 18. 10-Landon Britt[12]; 19. 86-Timothy Smith[13]; 20. 96-Brandon Sampson[20]
B-Main 2 (15 Laps): 1. 14-Jordon Mallett[1]; 2. 12-Jeffrey Newell[4]; 3. 1JR-Steven Russell[6]; 4. 19-Ayrton Gennetten[3]; 5. 20I-Kelsey Ivy[2]; 6. 71B-Brady Baker[13]; 7. 8M-Kade Morton[8]; 8. 22M-Rees Moran[15]; 9. 7C-Chris Morgan[14]; 10. 97-Scotty Milan[7]; 11. 9C-Tony Crank[18]; 12. 1P-Curtis Evans[11]; 13. 21-Kameron Key[5]; 14. 51B-Joe B Miller[16]; 15. 79-Gage Montgomery[12]; 16. 7M-Chance Morton[9]; 17. 31-Casey Wills[10]; 18. 55-Chase Howard[17]; 19. 4M-Cameron Martin[19]
RacinDirt.com A-Feature
RacinDirt A-Main (30 Laps): 1. 5T-Ryan Timms[1]; 2. 36-Jason Martin[3]; 3. 1X-Jake Bubak[2]; 4. 14T-Tim Estenson[14]; 5. 1H-Hank Davis[9]; 6. 1-Sean McClelland[6]; 7. 52-Blake Hahn[4]; 8. 4W-Jamie Ball[5]; 9. 95-Matt Covington[18]; 10. 98P-Miles Paulus[13]; 11. 12-Jeffrey Newell[22]; 12. 9JR-Derek Hagar[10]; 13. 3-Howard Moore[19]; 14. 87J-Jace Park[7]; 15. 45X-Kyler Johnson[24]; 16. 187-Landon Crawley[21]; 17. 10C-Jeremy Campbell[11]; 18. 14-Jordon Mallett[20]; 19. 2-Chase Porter[25]; 20. 6-Christopher Townsend[17]; 21. 6Z-Zane DeVault[16]; 22. 12X-Garet Williamson[8]; 23. 2C-Wayne Johnson[12]; 24. 55B-Brandon Anderson[23]; 25. 14E-Kyle Bellm[15]
Lap Leader(s): Jake Bubak 1; Ryan Timms 2-30
Hard Charger: Jeffrey Newell +11
Quick Time: N/A
High Point Driver: N/A
Provisional(s): Brandon Anderson / Kyler Johnson / Chase Porter
ASCS Online:
American Sprint Car Series: http://www.ascsracing.com
Facebook: http://www.facebook.com/americansprintcarseries
Twitter: http://www.twitter.com/ascsracing [@ascsracing]
Broadcast: http://www.racindirt.com
Live-Scoring: My Race Pass App