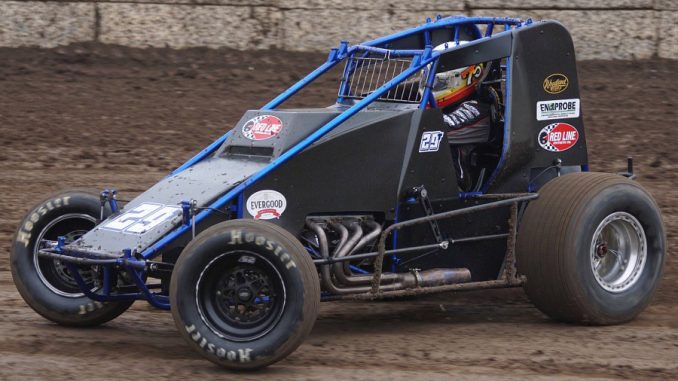 By Lance Jennings
NOVEMBER 20, 2023… Starting this Friday, November 24th, the USAC West Coast Sprint Car Series is back in action for two nights at Ventura Raceway. Promoted by Jim Naylor, the prestigious "ARP 82nd Running of the Turkey Night Grand Prix Presented by the West Coast Stock Car Motorsports Hall of Fame" will begin with a special program for the non-winged 360 sprints and practice sessions for the NOS Energy Drink USAC National Midgets. On Saturday, the Sprint Cars will return with their Consolation, Semi-Mains, and 30-lap feature while the Midgets will run a complete show. The Pit Gates at the "The Best Little Dirt Track in America" will open at 11:00am, the Driver's Meeting will be held at 2:45pm, the Spectator Gates open at 3:00pm, and practice starts at 3:15pm.
LOCATION: Ventura Raceway is located on the Ventura County Fairgrounds at 10 West Harbor Blvd. in Ventura, California. Advance tickets are on sale and for more event information, visit the track's website at venturaraceway.com or call 805.648.RACE.
ENTRIES: At press time, there are 51 USAC West Coast Sprint Cars and over 50 USAC National Midgets entered in the Turkey Night Grand Prix. The Sprint Car entry list is at the end of this release, with more expected on race day.
DEFENDING SPRINT CAR WINNER: Ryan Timms.
GRAND MARSHALLS: Steve Lewis & Chuck Gurney.
LIVE STREAMING: FloRacing.com is the only streaming service that is broadcasting the "82nd Running of the Turkey Night Grand Prix" at Ventura Raceway.
PIT PARKING: Teams can park their trailers in the pit area on Thursday from 10:00am to 4:00pm. Wednesday arrivals can drop off trailers in the parking lot, but must not block the pit gate to leave an open fire lane.
FRIDAY SPRINT CAR FORMAT: A pill pick/passing points format will be used. The pill pick will set the six heat races and the earned passing points will set a round of qualifying races. The top-10 in passing points from the heat races and qualifiers will compete in a 15-lap dash paying $1,200-to-win and $150-to-win. The dash lineup will be straight up by points. The overall point leader after the dash will start on the pole position of Saturday's main event.
FRIDAY DASH PURSE: 1-$1200, 2-$750, 3-$500, 4-$400, 5-$300, 6-$250, 7-$200, 8-$150, 9-$150, 10-$150.
SATURDAY SPRINT CAR FORMAT: Cars finishing eleventh and below after Friday's passing points will run a Consolation and Semi-Mains. The lineups are based straight up on passing points. Saturday's 30-lap feature with twenty-two (22) cars will pay $3,000-to-win and $225-to-start.
SATURDAY FEATURE PURSE: 1-$3000, 2-$1500, 3-$800, 4-$750, 5-$700, 6-$650, 7-$600, 8-$500, 9-$400, 10-$300, 11-22-$225.
DRIVER MEMBERSHIPS: USAC licenses ARE NOT REQUIRED for the event.
RACECEIVERS/TRANSPONDERS: Raceceivers and transponders ARE MANDATORY. Transponders are available for rent for $30 total for both nights.
FUEL: High Tech Performance will have fuel available for sale at the race track.
TIRE RULE: Due to the current tire shortages, ANY Hoosier Right Rear Tire is legal for competition until further notice with the USAC West Coast Sprint Car Series. All four corners must be Hoosier. High Tech Performance and Hoosier will sell tires at the track.
APPROVED/LEGAL MUFFLERS: EXTREME: 6014-3535, 3615-3535, SCHOENFELD: 14272535, 14272735-78, FLOWMASTER: 53545-10, 13516100, 13516101, COAST FABRICATION: 350x625x17-2S, B&B: FRAC-0375S, SPINTECH: 1545P SUPER STOCK, P1 AUSTRALIA: SSM5C. *Failure to comply with the muffler rule will risk disqualification from the event.
USED/OLD TIRES: Ventura Raceway will deduct $50 from the purse for each used/old tire left in the pit area. Racers must take their discarded/old tires and dispose of them properly.
FRONT AXLE TETHER SYSTEMS: Front Axle Tethers (2-Chassis, 1-King Pin to King Pin) ARE MANDATORY.
FULL CONTAINMENT SEATS: Full containment seats ARE MANDATORY.
COCKPIT ADJUSTABLE SHOCKS: Cockpit adjustable shocks ARE ALLOWED.
RULE BOOK: The USAC West Coast Sprint Car Series Rule Book can be found online at usacracing.com.
When the Turkey Night Grand Prix returned to Ventura Raceway in 2016, track promoter Jim Naylor added the USAC West Coast Sprint Cars to the program. "The Human Highlight Reel" Geoff Ensign claimed the victory and the non-winged 360s have been a part of the prestigious event ever since. Last year, Ryan Timms of Oklahoma City, Oklahoma led every lap to earn the victory and the complete winner's list for Sprint Cars at the Turkey Night Grand Prix is at the end of this release.
Since April 4, 2009, the Ventura County Fairgrounds has held twenty-seven (27) West Coast Sprint Car events and nineteen different drivers have claimed victory. Led by Tristan Guardino, Troy Rutherford, and Jake Swanson with three wins, Rutherford also set the 1-lap track record of 11.941 on June 4, 2022.
The USAC West Coast Sprint Car Series thanks BR Motorsports, Brown & Miller Racing Solutions, Competition Suspension Incorporated, Extreme Mufflers, Finishline Promotions, High Tech Performance, Hoosier Racing Tires, P1 Racing Images, Rod End Supply, Saldana Racing Products, SCRAFAN.COM, Sidewaze Designs, Steve Lafond / Tear-Off Heaven Fotos, Wagtimers, Wilwood Disc Brakes, and Woodland Auto Display for their support.
For more information on the series, visit usacracing.com and the social media for USAC Racing. You can also find exclusive content at the USAC West Coast Sprint Car Facebook, Twitter, and Instagram pages.
———————————————–
USAC WEST COAST SPRINT CAR CHAMPIONS: 2009-Justyne Hamblin, 2010-Craig Stidham, 2011-Richard Vander Weerd, 2012-Bud Kaeding, 2013-Danny Faria Jr., 2014-Matt Mitchell, 2015-Danny Faria Jr., 2016-Brody Roa, 2017-Jake Swanson, 2018-Austin Liggett, 2019-Tristan Guardino, 2020-NO AWARD, 2021-D.J. Johnson, 2022-Trent Carter, 2023-Ryan Timmons.
USAC WEST COAST SPRINT CAR ROOKIES OF THE YEAR: 2009-Terry Nichols, 2010-Chris Ennis, 2011-Ryan Bernal, 2012-Austin Liggett, 2013-Landon Hurst, 2014-Trent Carter & Garrett Long, 2015-Trey Marcham, 2016-Ryan Timmons, 2017-Brandon Wiley, 2018-Britton Bock, 2019-J.J. Ringo, 2020-NO AWARD, 2021-Jarrett Soares, 2022-Tyler Hatzikian, 2023-Ron LaPlant.
TURKEY NIGHT GRAND PRIX SPRINT CAR WINNERS: 2001-Tony Hunt, 2002-Tony Stewart, 2003-Michael Lewis, 2004-Michael Lewis, 2005-Dave Steele, 2006-Tony Hunt, 2007-Bobby Santos III, 2008-Tracy Hines, 2009-Cole Whitt, 2010-Kody Swanson, 2011-Tanner Swanson, 2016-Geoff Ensign, 2017-Tyler Courtney, 2018-Carson Macedo, 2019-Chase Johnson, 2020-CANCELLED, 2021-A.J. Bender, 2022-Ryan Timms. (*2001-2011 = USAC Western Pavement Sprints, 2016-Date = USAC West Coast Sprints)
2023 TURKEY NIGHT GRAND PRIX SPRINT CAR ENTRIES:
Car # – Driver – Hometown – Car Owner
2STX-Brent Steck / Roseville, California / John Steck
3-Anthony Pombo / Kerman, California / Tony Pombo
3-Max Adams / Loomis, California / Montgomery Family
3F-Blake Bower / Brentwood, California / Ted Finkenbinder
3QC-Michael Pombo / Easton, California / Tony & Susan Pombo
4-Charles Davis Jr. / Buckeye, Arizona / Rex Calderwood
5J-Elexa Herrera / New Cuyama, California / James Herrera
6-Logan Calderwood / Goodyear, Arizona / Rex Calderwood
6M-Matt Meredith / Thousand Oaks, California / Sheri Clawson
9-Cole Wakim / Simi Valley, California / Chris Wakim
10-Jeremy Stout / Ojai, California / Jeremy Stout
11-Stevie Rogers / Apple Valley, California / Burgeson & Rogers
14-Mariah Ede / Fresno, California / Ede Motorsports
15-Rick Hendrix / Palmdale, California / Rick Hendrix
17A-Tom Dunkel / Menifee, California / Tom & Christy Dunkel
17R-Brody Roa / Garden Grove, California / Tom & Christy Dunkel
18-David Gasper / Goleta, California / Gasper & Kittle
20-Shon Deskins / Phoenix, Arizona / Shon Deskins Racing
21K-Gage Rucker / St. Louis, Missouri / Kruseman Driving School
21T-Carson Macedo / Lemoore, California / Tarlton Motorsports
22-Bryan Whitley / Ventura, California / Bryan Whitley
25-Chase Johnson / Penngrove, California / Chris Muraoka
29-Camie Bell / Bakersfield, California / Tim Bell
29-Brent Yarnal / Phoenix, Arizona / Brent Yarnal
29T-Ryan Timmons / Pleasant Hill, California / Dave Timmons
32-T.J. Smith / Fresno, California / Caden Sarale
33-Heath Holdsclaw / Loomis, California / Tony Holdsclaw
38-Colby Johnson / Penngrove, California / Johnson Racing
38S- Davey Pombo / Kerman, California / Angela Pombo
39-Kyle Edwards / Fountain Valley, California / Gordon Edwards
39R-Mark Henry / Rosamond, California / Mark Henry
41-Ricky Lewis / Oxnard, California / Ricky Lewis
43-Justin Kierce / Reseda, California / George Tuttle Jr.
44-Grant Sexton / Lakeside, California / Brent Sexton
51-Brody Fuson / Bakersfield, California / Bob & Toni Van Meter
51T-Eddie Tafoya Jr. / Chino Hills, California / Eddie Tafoya Sr.
51W-Ronald Webster / Chandler, Arizona / Ron & Shea Webster
60-Scott Clough / Gold Beach, Oregon / Sally Davis
63D-Jon DeWees / Lemoore, California / Jon DeWees
72-A.J. Hernandez / Phoenix, Arizona / Aaron Hernandez
73-Dominic Gorden / Fresno, California / Josh Ford Motorsports
74-Shane Sexton / Warner Springs, California / Sexton-Gatlin Racing
78B-Brody Wake / Lake Havasu City, Arizona / Ryan Wake
84-Aaron Altaffer / Fresno, California / Aaron Altaffer
86-Chris Ennis / Bakersfield, California / Allen Ennis
94-Brandon Nelsen / Arroyo Grande, California / Brandon Nelsen
98-Verne Sweeney / Lomita, California / Rachel Guerrero
98A-Andrew Sweeney / Rattlesnake Mountain, Arizona / Rachel Guerrero
99T- Tanner Boul / Auberry, California / Boul Racing
$-Cash Culp / Apple Valley, California / Cash Culp
VENTURA USAC WEST COAST SPRINT CAR TRACK RECORD: Troy Rutherford – 11.941 (06/04/22)
VENTURA USAC WEST COAST SPRINT CAR WINS: (Includes Non-Point Races) 3-Tristan Guardino, 3-Troy Rutherford, 3-Jake Swanson, 2-Ryan Bernal, 2-Chase Johnson, 1-Jake Andreotti, 1-Brady Bacon, 1-A.J. Bender, 1-Tyler Courtney, 1-Geoff Ensign, 1-Brody Fuson, 1-David Gasper, 1-Johnathon Henry, 1-Austin Liggett, 1-Carson Macedo, 1-Brody Roa, 1-Ryan Timmons, 1-Ryan Timms, 1-Daniel Whitley.
2023 USAC WEST COAST SPRINT CAR WINS: 2-Ryan Timmons, 1-Jake Andreotti, 1-Brody Fuson, 1-David Gasper, 1-Chase Johnson.
FINAL 2023 USAC WEST COAST SPRINT CAR POINT STANDINGS: 1. Ryan Timmons-406, 2. Brody Fuson-373, 3. Kyle Edwards-359, 4. Ron LaPlant®-343, 5. David Gasper®-315, 6. Tom Hendricks-260, 7. Tyler Hatzikian-255, 8. Jon DeWees®-249, 9. Chris Ennis-236, 10. Adam Christian®-224, 11. Cody Majors-197, 12. Camie Bell-187, 13. Elexa Herrera-184, 14. Trent Carter-182, 15. Logan Calderwood-175, 16. Heath Holdsclaw®-163, –. Jake Andreotti®-163, 18. Tom Dunkel®-159, 19. Steve Hix-143, 20. Bryan Whitley®-137, 21. Hannah Mayhew-133, 22. Troy Rutherford-125, 23. A.J. Bender-114, 24. Matt Day-104, 25. James Herrera-93, 26. Cole Wakim®-85, 27. Chase Johnson-79, 28. Tanner Boul-72, 29. Kaleb Montgomery-68, 30. D.J. Johnson-61, 31. Chris Wakim®-60, 32. Verne Sweeney®-49, 33. Joey Bishop-47, 34. Rick Hendrix-46, 35. Aaron Altaffer-45, 36. Malyssa Perkins®-43, 37. Charlie Butcher-41, –. Gage Stickler-41, 39. Bruce Douglass-40, 40. T.J. Smith-38, 41. Austin Grabowski®-33, 42. Grant Sexton®-29, 43. Eathon Lanfri®-28, 44. Tony Everhart®-10.