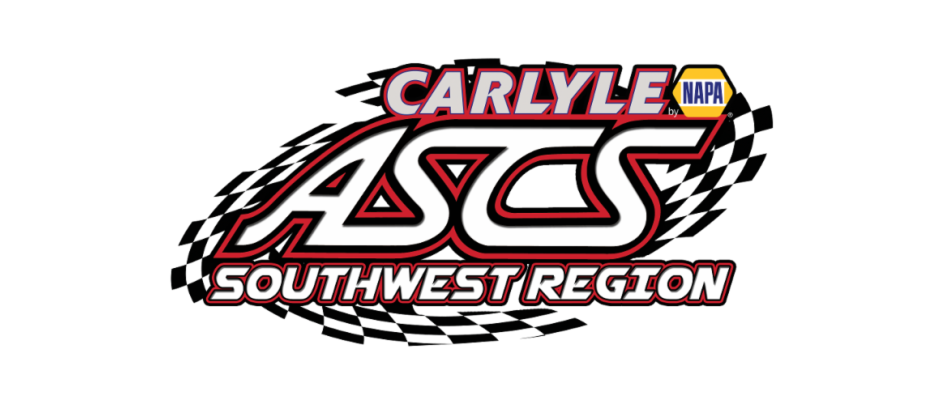 From Bryan Hulbert
CASA GRANDE, Ariz. (April 23, 2016) For the seventh time in his career, Arizona's Bob Ream, Jr. parked the Service Launch No. 8 in Victory Lane with the Carlyle Tools ASCS Southwest Region at the Central Arizona Speedway.
Ream's first win of the year, the victory was enough to push Ream into the points lead, only four points ahead of Rick Ziehl.
Giving chase the first 14 laps as New Mexico's Lorne Wofford showed the way, 90 degrees, little or no humidity, and wind yield rubber, and it was Ream who found if first. Working past Wofford with an inside line move, a pair of cautions near the race's end we're not enough for Lorne to rebound to the point. Colton Hardy made up the night's podium with Ryan Linder and Rick Ziehl completing the top-five.
Jeremy McCune was sixth with Kaylene Verville seventh. Casey Buckman from 13th was eighth with James Aragon taking SpeedMart Hard Charger honors with a run to ninth from 18th. Kyle Danielson made up the top-ten.
Adding to the night's payout, Lorne Wofford, Ryan Linder, and Lance Norick each earned an extra $25 from Ron Gilson. The Carlyle Tools ASCS Southwest Region returns to competition on May 14 at the Arizona Speedway in Queen Creek, Ariz.
For continued updates on the Carlyle Tools ASCS Southwest Region, log onto http://www.ascsracing.com.
Race Results:
ASCS Southwest Region
Central Arizona Speedway – Casa Grande, Ariz.
Saturday, April 23, 2016
Car Count: 22
Heat 1 (8 Laps): 1. 18-Lorne Wofford; 2. 0J-Jeremy McCune; 3. 74-Colton Hardy; 4. 01-Kaylene Verville; 5. 8A-Jordan Stetson; 6. 22-Mike Rux Jr; 7. 14-Cody Sickles; 8. 55-Ryan Murphy
Heat 2 (8 Laps): 1. 9-Ryan Linder; 2. 8-Bob Ream Jr; 3. 20Z-Rick Ziehl; 4. 5C-Billy Chester III; 5. 22B-Jesse Baker; 6. 4U-James Aragon; 7. 2-Shad Peterson
Heat 3 (8 Laps): 1. 90-Lance Norick; 2. 19-Wes Wofford; 3. 75X-J.T. Imperial; 4. 91-Casey Buckman; 5. 17K-Kyle Danielson; 6. 29-Darrell Sickles; 7. 7-Danny Mathus
A Feature (25 Laps): 1. 8-Bob Ream Jr[2]; 2. 18-Lorne Wofford[1]; 3. 74-Colton Hardy[4]; 4. 9-Ryan Linder[3]; 5. 20Z-Rick Ziehl[9]; 6. 0J-Jeremy McCune[7]; 7. 01-Kaylene Verville[6]; 8. 91-Casey Buckman[13]; 9. 4U-James Aragon[18]; 10. 17K-Kyle Danielson[15]; 11. 22B-Jesse Baker[12]; 12. 22-Mike Rux Jr[14]; 13. 55-Ryan Murphy[22]; 14. 7-Danny Mathus[20]; 15. 14-Cody Sickles[19]; 16. 75X-J.T. Imperial[10]; 17. 5C-Billy Chester III[11]; 18. 2-Shad Peterson[21]; 19. 19-Wes Wofford[5]; 20. 29-Darrell Sickles[16]; 21. 8A-Jordan Stetson[17]; 22. 90-Lance Norick[8]