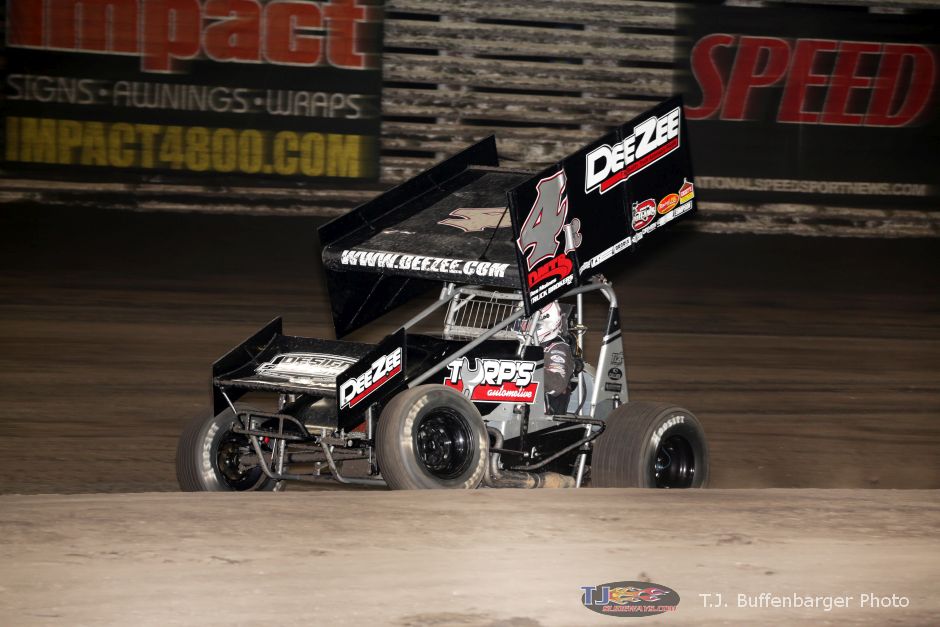 From Bill Wright
Burlington, IA — (May 29, 2016) — Jon Agan has had a rough start to the year. A night after tipping over at Knoxville Raceway, he was the class of the field in sweeping the Shottenkirk.com Sprint Invaders event Sunday night at 34 Raceway in West Burlington, Iowa. The Knoxville, Iowa driver was paid $1,550 for his win thanks to a $50 bonus from the Korner One Crew.
The night took its toll on equipment. Three scratches before the feature in the 25-car field eliminated the need for a B main. After winning his heat and the Shake-up Dash, Agan shot out to an early lead in the 25-lap feature over Jarrod Schneiderman and Harold Pohren. The first eleven laps went green.
Chris Martin, who won the Sprint Invaders opener in early April at 34 Raceway, worked by Pohren on the tenth lap for third. Disaster struck Pohren a lap later, when he made contact with the lapped machine of Rob Weuve and flipped hard. Both drivers were o.k.
Agan led Jarrod Schneiderman, Martin, Donnie Steward and John Schulz back to green, and though Martin took second, green would only last a lap before another crash stopped things. Dustin Clark, who had been running sixth, bicycled and flipped, collecting Damian Getchell. The drivers were uninjured.
Schulz joined Agan and Martin in the top three after charging from row six when the green flew again. His nephew, Josh Schneiderman entered the top five on lap 18 after starting 14th. With five to go, Steward passed Josh Schneiderman, and tried to shoot under Jarrod Schneiderman for fourth. Contact was made with both drivers suffering another hard crash. Again, no one was injured.
Agan was able to hold his lead the last five laps, ahead of Martin. Josh Schneiderman completed his hard-charger run, taking third on the restart, ahead of Schulz and Jordan Goldesberry. Cody Wehrle, Russ Hall, Nate Van Haaften, Dave Getchell and Tim Moore rounded out the top ten. Clark and Jarrod Schneiderman joined Agan as heat winners.
"My guys work really hard," said Again in Victory Lane. "The keep their chin up and keep working. I can't thank them enough. This is exactly what we needed. I used to hate this place, because I sucked. But I like this place a lot more now. It was tough to get off four, but I love this place when you have to get up on the wheel. The lapped cars were interesting for sure too."
"We started the night with a good heat race," said Martin. "Then we were able to get by a few cars in the Dash. I thought we were going to give Jon Agan a run. We just didn't have the motor tonight, and he did an excellent job. He didn't miss his marks. Congrats to him and his team. I know their season has been tough so far. I'll take second. We definitely had to earn it tonight."
"We were trying to weed through some of the traffic early," said Josh Schneiderman. "The car really came in nice late in the race. It slicked off a bit, and that really helped us. We were able to move around, while everyone else was stuck up top. We started in the back, while the other guys were starting up front. It makes it tough when you're chasing those guys. We needed a 34-lap race instead of 25. It's my Dad's birthday today, so that was a good finish for him."
The Shottenkirk.com Sprint Invaders next event will be their first ever trip to the Eldon Raceway in Eldon, Iowa on Friday, June 17. For more information on the Shottenkirk.com Sprint Invaders, visit www.SprintInvaders.com!
Results
Shottenkirk.com A main (started), 25 laps: 1. 4, Jon Agan, Knoxville, IA (1) 2. 44, Chris Martin, Ankeny, IA (4) 3. 49, Josh Schneiderman, West Burlington, IA (14) 4. 99, John Schulz, West Burlington, IA (12) 5. 5J, Jordan Goldesberry, Springfield, IL (9) 6. 40c, Cody Wehrle, Burlington, IA (11) 7. 59, Russ Hall, Pleasant Hill, IA (10) 8. 3, Nate Van Haaften, Otley, IA (15) 9. 83, Dave Getchell, Sperry, IA (19) 10. 10T, Tim Moore, Rock Island, IL (13) 11. 09, Andrew Genkinger, Mt. Pleasant, IA (17) 12. 1st, John Greenwood, Woodward, IA (20) 13. 31P, Travis Porter, Rock Island, IL (18) 14. 3G, Jarrod Schneiderman, West Burlington, IA (3) 15. 16HD, Donnie Steward, West Burlington, IA (8) 16. 83x, Damian Getchell, Sperry, IA (6) 17. 16, Dustin Clark, Agency, IA (5) 18. 17, Shane Quam, Gladstone, IL (7) 19. 50P, Harold Pohren, Lowell, IA (2) 20. 19, Rob Weuve, Oakland Acres, IA (16) 21. 9, Daniel Bergquist, Burlington, IA (21) DNS – 51J, Ryan Jamison, Mediapolis, IA, 98, JC Bland, Springfield, IL, 58, Andy Krieger, Burlington, IA, 84, Ben Wagoner, Emden, IL. Lap Leader: Agan 1-25. KSE Hard-charger: Jo. Schneiderman.
Randall's Performance Heat one (started), 8 laps, top two to Dash: 1. Jon Agan (2) 2. Damian Getchell (1) 3. Shane Quam (4) 4. Russ Hall (3) 5. John Schulz (7) 6. Nate Van Haaften (6) 7. Andy Krieger (5) 8. John Greenwood (8) DNS – Ben Wagoner
CenPeCo Lubricants Heat two (started), 8 laps, top two to Dash: 1. Dustin Clark (2) 2. Harold Pohren (4) 3. Donnie Steward (5) 4. JC Bland (1) 5. Tim Moore (6) 6. Rob Weuve (3) 7. Travis Porter (7) 8. Daniel Bergquist (8)
Fraise Mowersports Heat three (started), 8 laps, top two to Dash: 1. Jarrod Schneiderman (2) 2. Chris Martin (4) 3. Jordan Goldesberry (3) 4. Cody Wehrle (1) 5. Josh Schneiderman (7) 6. Andrew Genkinger (6) 7. Dave Getchell (8) 8. Ryan Jamison (5)
Budweiser King of Beers – Golden Eagle Distributors Shake-up Dash (started), 6 laps: 1. Jon Agan (1) 2. Harold Pohren (2) 3. Jarrod Schneiderman (4) 4. Chris Martin (5) 5. Dustin Clark (6) 6. Damian Getchell (3)
Contingencies
Weld Racing – Jarrod Schneiderman
Saldana Racing Products – Rob Weuve
Kreitz Oval Track Products – Dustin Clark