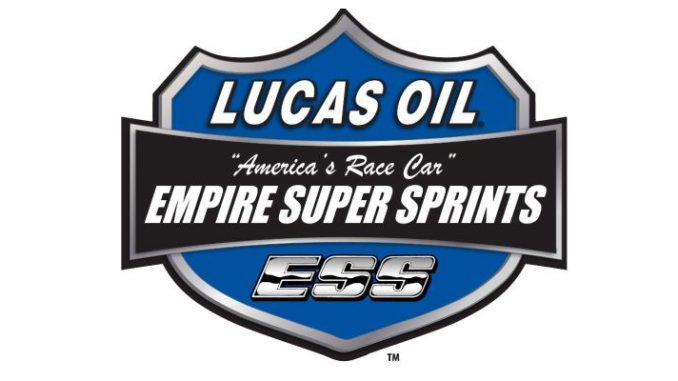 From Mike Mallet
AFTON, N.Y. (August 23, 2016) – And just like that there is a new man sitting atop the all-time wins list with the Lucas Oil Empire Super Sprints. In reality it was only a matter of time before Steve Poirier surpassed Mike Woodring as the Quebec native had six wins already this year to tie the record with several races to go.
Tuesday night at the Mach 1 Chassis Earl Halaquist Memorial at the I-88 Speedway, Poirier snapped the tie. It's only fitting that it was his first ever win at the track in what was also his first ever visit to three-eighths mile oval. The decision was made late in the evening on Monday that the team would head south. The decision paid off with a win which was worth $2,800.
"This is a dream night for us," said Poirier. "We didn't know yesterday if we were going to come. It was a 50-50 decision. I'm really happy about the ending. When I saw the track I wasn't sure, it was really small. As soon as I got on the track for warmups, we got some decent speed so that was fun."
It was a special night for Poirier as he not only advanced his win total, but he did it by beating the very best ESS has to offer as he had to pass both Jason Barney and Chuck Hebing to park his No. 28FM in Victory Lane. Poirier got the lead in the second half of the NAPA Auto Parts Tour of the US 25-lap race and he never looked back.
"I wouldn't have been happy had I won my 60th race starting on the pole on a rubbered up track," stated Poirier. "I got to race Chuck (Hebing) and Jason (Barney). They are two guys I respect and they are two of the best with the club. That was the icing on the cake."
Poirier was originally slated to roll off from the sixth position but a first lap melee drastically altered the lineup. For the ensuing green Poirier was up to third behind Hebing and Barney.
At the drop of the green Hebing raced out in front while Barney and Poirier battled for the runner-up position. Barney snatched it away from him early, but in typical Poirier fashion his car came to life after a few laps. This allowed him to dispose of Barney on lap seven before setting his sights on Hebing.
Poirier was able to make up ground quickly on Hebing. Hebing caught traffic with 10 ten laps complete which gave Poirier the chance to close the gap. At halfway Poirier was all over the back end of the No. 45 of Hebing. It seemed to be only a matter of time.
Just as Poirier was about to make his move the red flag was necessary for Parker Evans on lap 16. Evens got over in turn one. He wasn't injured in the incident. At that juncture Poirier had to figure out his next move to get the lead away from Hebing.
Hebing chose the bottom lane for the restart which put Poirier in his preferred lane on the outside. That proved to be the difference as he went by Hebing to secure the lead as they raced into turn one on the restart. Hebing had his hands full with both Barney and Aaron Ott as they raced off of turn two for the second position.
"I was able to make my move on the outside," mentioned Poirier. "I was waiting to make my move before that. I felt like I wouldn't pass him on the inside. I was waiting for him to be caught in traffic. Before the restart I tweaked my car a little bit. I thought my car in clean air could get into turn one good. I was hoping he would choose the inside. On the outside my car had more grip at the start. I think Chuck might have spun the tires. He left me the wall. It played perfectly into my hands."
Poirier took the lead on the restart while Ott went three wide with Barney and Hebing. The 19th circuit saw Ott finally put Barney away to take second. From there he gained ground on Poirier. He eventually ran out of time putting Poirier in the Winner's Circle while the East Berlin, Pa., driver had to be happy with second.
"We were good all night, but I think we were a little too free," said Ott. "We left it a little freer because we were going to be in traffic with the nine pill. I made some changes under the red that balanced the car a lot more. I could get off the corners better. I got fortunate on the restart to get the 87 (Barney) and the 45 (Hebing). It was four good cars right together where anyone good have won. I think the 28 (Poirier) checked out at the end. I just wish I could have made a race out of it, but I can't complain with second."
Barney was disappointed with third. He admitted that bouncing off the wall while battling with Poirier early didn't help. He also leveled off after the lap 16 red which allowed Poirier and Ott to get away. That cost him some points to Poirier as he chases his first ever series title.
"The caution came out and broke our momentum," cited Barney. "Chuck didn't get a great restart and we got a really good restart. I got up alongside of him. We made a little contact. I wasn't as good after that restart and I'm not sure why. We'll talk about it and see what we did wrong. We'll go to Canada this weekend and pray for some miracles."
Hebing, of Ontario, N.Y., ended up fourth while Joe Trenca made up a lot of ground after starting 16th to finish fifth.
ESS/I-88 Notes – An I-88 Midweek record of 32 cars in the pits…Besides Ott, Jason Shultz was also making his first appearance of 2016…Mike Kiser had a night he would like to forget, after scratching his 360 while redrawing 4th, he was going to start tail with his 305 mount. That got badly damaged in the 305 A-Main right before the ESS A., so he then had to go to the Warren Alexson 305 where he did a few laps before pulling in…Next up is the second weekend to Quebec with visits to Granby and RPM. Each evet pays $2,000 to win and $500 to start.
Earl Halaquist Memorial/Mach 1 Chassis A-Main – Steve Poirier ($2,800), Aaron Ott ($1,630), Jason Barney ($1,175), Chuck Hebing ($945), Joe Trenca ($615), Jason Shultz ($685), Paulie Colagiovanni ($430), Danny Varin ($445), Jordan Thomas ($585), Chad Miller ($500), Paul Kinney ($510), George Suprick ($345), Matt Tanner ($300), Dave Axton ($290), Colman Gulick ($335), Jeff Cook ($80), Denny Peebles ($75), Parker Evans ($275), Shawn Donath ($275), Mike Kiser ($275), Tim Axton ($325), Pete Richardson ($275), Brandon Kidd ($325), Keith Granholm ($275).
Did Not Qualify – Scott Kreutter, Darryl Ruggles, Dan Bennett, Mike Mahaney, Bob Gray, Mike Stelter, Steve Hutchinson, Jonathan Preston
Lap Leaders – Hebing (1-16), Poirier (17-25)
Car Mate Trailers Heat 1 – Varin, Hebing, Richardson, Kidd, D, Axton
Car Mate Trailers Heat 2 – Shultz, Kiser, T. Axton, Kinney, Evans
Car Mate Trailers Heat 3 – Poirier, Barney, Suprick, Trenca, Tanner
Car Mate Trailers Heat 4 – Ott, Colagiovanni, Gulick, Thomas, Donath
Halaquist Family/Cobra Coaches Dash – Kinney, Thomas, Kidd, Trenca
Lacaillade Masonry B-Main – Miller, Granholm
Provisionals – Cook, Peebles
Bonuses:
Halaquist Memorial Lap Money – Poirier ($275), Hebing ($265), Barney ($175), Ott ($80)
Pitre Painting/Cobra Coaches Dash – Kinney ($125), Thomas ($75), Kidd ($50), Trenca ($50)
Beard Sewer and Drain Best Time – Ott, Suprick, Preston, Mahaney – $25
Insinger Fuels Hard Charger – Miller (11 pos.) $50
Engler Machine and Tool Halfway – Hebing $50
Lacaillade Masonry B-Main – Miller $50
E&V Energy – Thomas, Gulick $50
Ohsweken Speedway 21st Anniversary –T. Axton $50
Fondations 55 Pick 5 – Trenca $35
Car Mate Trailers Heats – Varin, Ott, Shultz, Poirier $25
911 Restoration – Thomas, Kinney $25
Lucas Oil ESS 7-12 Challenge – None – $300 Aug. 26 at Granby
Hoosier Tires – $200
Vahlco Wheels – Shultz $190