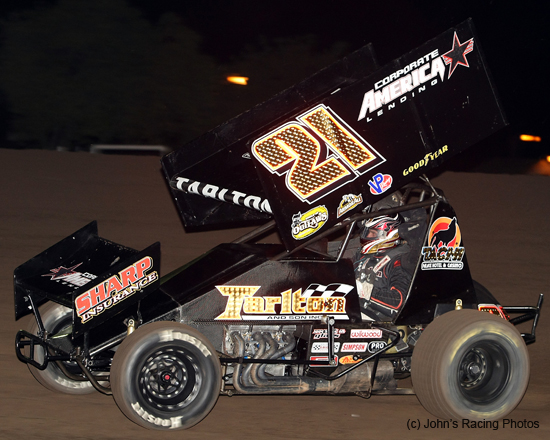 Inside Line Promotions
– EASTON, Calif. (May 31) – Tommy Tarlton wasn't in a sprint car last weekend, but that didn't stop him from going fast.
Tarlton, his family and some friends went camping on the Central Coast of California, where they raced on the dunes among other festivities.
"We camp there and go tear it up," Tarlton said. "I've got a bunch of toys we take out there and break.
"It was great. I had a good time."
The Easton, Calif., native returns to the cockpit of his race car on Friday at Ocean Speedway in Watsonville, Calif., with the Ocean Sprints Series. Tarlton is currently second in the points, only 13 behind Ronnie Day for the lead.
The two-time defending Ocean Sprints champion has recorded two top-four finishes in three races at the ¼th-mile dirt oval this season.
SEASON STATS –
13 races, 13 features, 3 wins, 10 top fives, 10 top 10s, 10 top 15s, 12 top 20s
UP NEXT –
Friday at Ocean Speedway in Watsonville, Calif., with the Ocean Sprints
FAVORITE NUMBER –
13: Points out of the lead in the Ocean Sprints series.
SOCIAL MEDIA LINKS –
Website: www.tarltonandson.com/racing
Twitter: https://twitter.com/#!/tommytarlton21
Facebook: http://www.facebook.com/#!/profile.php?id=100001286852863
APPAREL –
Tarlton has black t-shirts, sweatshirts and hats, and white women's shirts available for purchase at every race he attends. For information on where you can get them, visit http://www.tarltonandson.com/tarlton-racing-schedule.
ON THE AIR –
Tarlton was a guest on the Lucas Oil ASCS Show by Racinboys on May 3. Click on the link below to listen. Tarlton's interview begins around the 32-minute mark.
http://www.meridix.com/mbp/general/index.php?liveid=Racinboys&recordid=18831
Check out the link below to see highlights of Tarlton's King of the West Sprint Car Series' win at Thunderbowl Raceway in Tulare, Calif., on May 14.
SPONSOR SPOTLIGHT – Sharp Insurance & Bonding
Established in 1977, Sharp Insurance & Bonding is a full-service insurance agency located in Visalia, Calif. Sharp Insurance & Bonding specializes in commercial insurance, contractors insurance, contractor bonding and personal lines. For more information, visit www.sharpinsurance.com.
"We've been doing business with Sharp Insurance & Bonding since 1995 and it has been a sponsor since 1997," Tarlton said. "We've got a great relationship. He supports a lot of race teams, and has been a great support of me both on and off the track."
Tarlton would like to thank his sponsors, including Tarlton and Son, Inc., Corporate America Lending, Tachi Palace Hotel and Casino, Bandy & Associates and BG Products for their continued support.