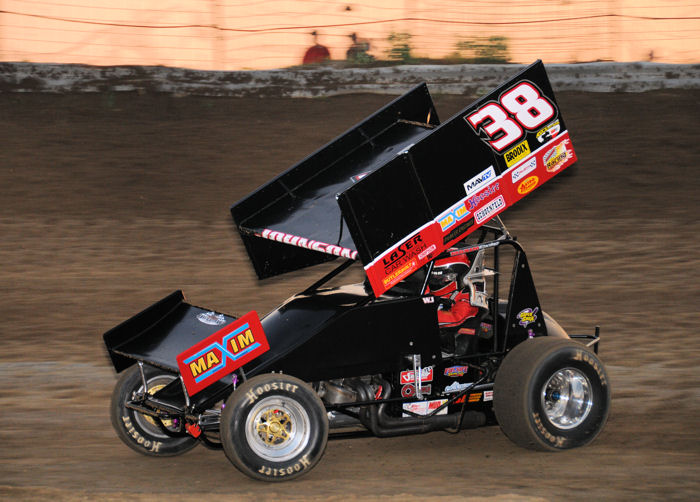 By Bill W
July 20, 2011 – Wayne Johnson and the BDS Motorsports #38 team rolled up three wins in seven days, culminating in a victory at the Cottage Grove Speedway in Cottage Grove, Oregon last Wednesday night. He hoped to run at the Grays Harbor Raceway in Elma, Washington over the weekend at the Fred Brownfield Memorial, but rain washed it away. Elma was where he sustained his debilitating injury last year. This weekend, the ASCS series returns to Cottage Grove, and Wayne hopes to add two more wins at a track he calls, 'the best in the West'.
The ASCS-Northwest region hosted the event last Wednesday at Cottage Grove. Wayne started the heat inside row three and finished third. "We were running well," he says. We were moving in on (Joe Ramaker) for second, we just ran out of laps. We had a really good car."
After a tough start to the season with the draw, things seem to be turning around. Wayne drew inside row two for the main event. "Drawing the three was a good deal," he says. "I think we got the lead within a couple of laps, and just really never looked back. The racecar was just that good."
The bullring was in exceptional shape, and Wayne had the perfect ride. "We could run the top or the bottom on either end," he says. "That's how good our racecar was. That was probably the best car we've had all year, and that is saying a lot, because (owner/mechanic) Bryan (Sundby) has had this thing working every night out."
The race was the perfect preparation for this weekend's events at the same track. The Oklahoma transplant turned Knoxville, Iowa resident is confident. "Of all the shows we've run out West, Cottage Grove is the track we've had the most success at," says Wayne. "That's a plus. Every time we go there it has two good lanes. There is always a top and a bottom. You can always pass there. We've run well there in the past."
Wayne was really looking forward to getting back to Elma. In addition to wanting to conquer the track that sat him down for a while, he had some thank yous. "I really was disappointed," he says of the rain outs. "I wanted to get back on that horse that bucked me. We didn't get a chance to do it, and that sucked. I wanted to get a chance to meet up with some of the safety guys, especially Jerry Donnelly who really helped me when I got hurt. I didn't get to do what I set out to do there."
So, he will focus on Cottage Grove Friday and Saturday night. "I look forward to it for sure," says Wayne. "I said it the other night and I meant it. I think this is the best track on the West Coast."
Big Sale on T-Shirts!
Wayne Johnson Racing has a variety of 2010 apparel and it is ALL on sale! $10 for t-shirts, hats, women and kids' shirts and more! E-mail WayneJohnsonRacing@yahoo.com to place your order!
Buy Your Outlaw Wings from Wayne
Wayne is an Outlaw Wings dealer located in the Knoxville, Iowa area. Wayne credits the new Outlaw top wing for his 2009 wins at Little Rock and Cowtown. Contact Wayne for your Outlaw Wing, as he has some special Holiday deals going! Outlaw Wings – "When Downforce Matters"!
Wayne's Website
To learn more about Wayne and the team, log on to www.WayneJohnsonRacing.com!
Wayne's World
Jake Ericson asks: How do the locals in the Northwest stack up with the rest of the country?
Wayne answers: It's about like anywhere. There are a handful of guys that can beat us just about anywhere we go. These guys get to race these tracks more, and that makes them tough. They get to do it every week. When they come back our way, it's our turn.
Got a question for Wayne? Each week, Wayne will answer your questions about "Tech Tips", or anything that's on your mind. If you ever wondered what a part on a sprint car is all about, send an e-mail to us at sprntcar@iowatelecom.net, and we may answer it in this section! Put "? for Wayne" in your subject line. He'll try to keep it clean if you do!
Wayne's Fast Facts
Wayne drove Harold Main's #35A to a second place finish behind Shane Stewart at Cottage Grove in 2009. Jason Johnson was third, ahead of Roger Crockett and Paul McMahan.
"Wednesday's with Wayne"
"Wednesday's With Wayne" is an up close look at the past, present and future of colorful and talented sprint car driver Wayne Johnson. You'll never know what to expect next with Wayne, so don't miss us on Wednesdays!
To receive "Wednesday's with Wayne", send an e-mail to sprntcar@iowatelecom.net with "Wayne" in the subject line.
Wayne would like to thank the following for making this possible: BDS Motorsports, Parker Machine, Champion Oil, BMRS Brown and Miller Racing Solutions, Max Muscle, Butlerbuilt, Hinchman, Schoenfeld Headers, Super Shox, Hoosier Racing Midwest, Rod End Supply, Fuel Safe, Simpson, Conroy Pneu Controls, KSE, Maxim Chassis, RJR Components, Kinsler Fuel Injection, Astro Titanium, ITI Lubricants, DMI, Laser Carwash and Speedway Motors.