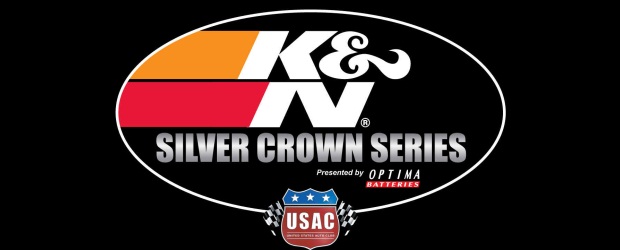 By Dick Jordan

Any one of eight drivers could be leading the USAC TRAXXAS Silver Crown Championship standings after Thursday night's "J.D. Byrider 100" at Lucas Oil Raceway, part of a "tripleheader" program kicking off the track's "Kroger SpeedFest." Included in the "tripleheader" are the USAC Mopar National Midgets and the "Ansell Protective Gloves 200" for the ARCA Stock Car Series presented by Menards.
Jerry Coons Jr. of Tucson, Ariz. is the point leader by 11 over Bobby East of Brownsburg, Ind. Coons won the series-opening "Hoosier Hundred" at the Indiana State Fairgrounds in May and has added a second at Milwaukee, Wisc. and a seventh at Iowa Speedway. East won both the Milwaukee and Iowa races and has not been beaten on pavement in Silver Crown racing this year.
Other drivers within the 66-point range (66 total points are available Thursday) are Tanner Swanson of Kingsburg, Calif. (12 back), Bub Kaeding of Campbell, Calif. and Levi Jones of Avon, Ind. (-15), Kyle Larson of Elk Grove, Calif. (-34), Brian Tyler of Mount Pleasant, N.C. (-48) and Bobby Santos III of Franklin, Mass. (-51).
Round four of the 2011 TRAXXAS series features a half-dozen drivers who have already posted series wins at Lucas Oil Raceway, namely Tracy Hines (last year), Bobby Santos III, Bobby East (three times), Brian Tyler, Russ Gamester and former series champion Ryan Newman, who recently announced his intention to compete, as he did last year.
The 100-lap race continues a rich tradition of USAC Silver Crown racing at the .686-mile oval. Former race winners at Lucas Oil Raceway include Ken Schrader, Mike Bliss, Kenny Irwin, Jr., Tony Stewart, Jason Leffler, Kasey Kahne and J.J. Yeley.
USAC TRAXXAS SILVER CROWN POINT STANDINGS
1-Jerry Coons Jr.-159, 2-Bobby East-148, 3-Tanner Swanson-147, 4-Bud Kaeding-144, 5-Levi Jones-144, 6-Kyle Larson-125, 7-Brian Tyler-111, 8-Bobby Santos III-108, 9-Tracy Hines-92, 10-Zach Daum-87.