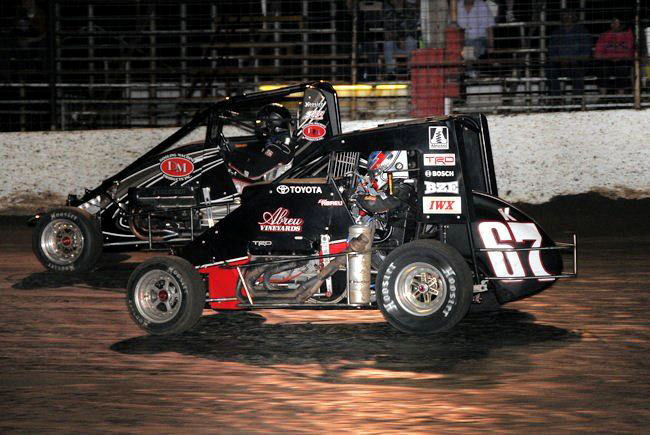 PETERSEN MEDIA
Over the weekend, Rico Abreu made a pair of debuts- his USAC National Midget Debut, and his debut to pavement racing, and overall the results weren't primo, Abreu was pleased with how he ran and the things he learned in the car.
Taking place at the Ace Speedway in North Carolina, Abreu put in identical qualifying times both nights, as he timed his Keith Kunz Motorsports/Toyota/Abreu Vineyards machine in 18th quickest during both nights of the "The Real Deal Tribute to Shane Hmiel".
Friday night saw Abreu grab an early lead in his heat race, as he nearly led from flag to flag, but was over taken on the last lap, and fell back to second at the stripe.
Lining up 18th in the 30-lap feature, Abreu fell in line as he looked to learn from the best in the business.
Though there wasn't a lot of passing during the event, Abreu continued to run inside the top-15 until the 14th lap when the youngster lost the handle and spun is No.67 machine out, and ended his night.
Saturday night the Abreu continued to take his rookie lumps, as he again timed in 18th quick, but this time he had issues in his heat race.
Again losing the handle, Abreu spun his mount out, but luckily kept it out of the wall, and only had minor issues to repair.
Lining up in the 18th spot, Abreu's comfort level seemed to improve as he was dicing it up with some of the best drivers USAC has to offer.
Though he wasn't able to work up through the field and challenge for the win, Abreu scored a 15th place finish, and was very pleased with the weekend."
"Going from dirt to pavement is definitely tough," said Abreu. "The finishes weren't the best, but Keith (Kunz) and the guys worked hard to get me comfortable on the pavement, and I feel like I learned a lot, and am hoping for better results the next time we hit the pavement."
ON TAP: Rico now heads to California where he will take part in a pair of season openers aboard his Abreu Vineyards/Kaeding Performance/Stadelhofer Construction No.89 winged sprint car at the Silver Dollar Speedway for their season opener, and on Saturday at the Antioch Speedway for the opening round of the 2012 King of the West Series.
STAY CONNECTED: Stay updated with Rico by visiting his website at www.ricoabreuracing.com, 'liking' him on facebook at www.facebook.com/ricoabreuracing or following him on twitter @RicoAbreu24.
VIDEO: Be sure to check out http://www.youtube.com/ricoabreuracing for video of Rico, as content is constantly being uploaded!